Xi Jinping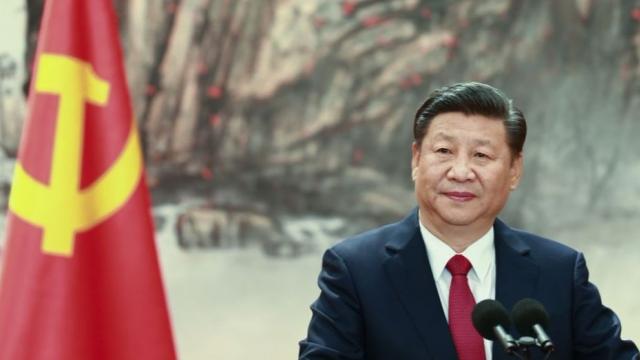 China's rubber-stamp lawmakers have passed a historic constitutional amendment that abolishes term limits and will enable President Xi Jinping to rule indefinitely.
The National People's Congress' nearly 3,000 hand-picked delegates endorsed the constitutional amendment on Sunday, voting 2,958 in favour with two opposed, three abstaining and one vote invalidated.
The move reverses the era of 'collective' leadership and orderly succession that was promoted by form Deng Xiaoping to ensure stability following the turbulent one-man rule of Communist China's founder Mao Zedong.
Delegates of the National People's Congress applauded after each vote on the constitutional amendment to lift the limit of two five-year terms for the presidency.
At the same time, he gained a measure of popularity among Chinese people through a relentless crackdown on corruption that has punished more than a million party officials, and sidelined potential rivals.
'I think that during the past five years, he has been carrying out a soft coup, including making the Politburo a mere figurehead,' Chinese political commentator Wu Qiang said, referring to the 25-member Communist Party body one level under the ruling council.
'He wants to prevent power from falling into the hands of technocrats like Jiang (Zemin) and Hu (Jintao),' Wu said, referring to Xi's two predecessors.
While attention has focused on the term limits, the amendments also include major provisions that will engrave Xi's eponymous political mantra in the constitution and hand the Communist Party an even larger role in the country's affairs.
Read more: Chinese lawmakers rubber-stamp change to their constitution to allow President Xi Jinping to rule for life by 2,958 votes to two
( Daily Mail ) United States President Donald Trump and Chinese President Xi Jinping have arrived in Palm Beach for two days of talks.
The leaders arrived separately on Thursday and will not see each other until early this evening, when they'll meet for the first time at a dinner that will also be attended by their wives.
Xi was greeted at the tarmac in Florida, where a red carpet was stretched out for his arrival, by Secretary of State Rex Tillerson.
Trump touched down just before 3pm.
Speaking to reporters who traveled with him on Air Force One from Washington, Trump was optimistic about the coming conversations. 'I think China will be stepping up,' he said of the pressure he expects the country to put on North Korea.
Read more: The year of The Donald! President Trump greets Chinese leader and his wife at Mar-a-Lago as Melania dons a stunning red dress ahead of dinner at start of two-day summit in Palm Beach 
While China humiliated Obama at G20 summit from the minute they forced him to exit from 'ass' of Air Force One, Russia's President Vladimir Putin in the meantime received a friendly red carpet treatment from Chinese leader Xi Jinping. In return, Putin brought a box of Russian ice-cream as a gift to Chinese leader, a big fan of Russian ice-cream.
"I promised you I'd bring some ice-cream," Putin said. "I've brought for you a box of it as a gift."
"Thank you very much for the gift, for the tasty ice-cream. In my every trip to Russia I always ask to buy Russian ice-cream. And then, at home, we eat it," the Chinese leader said.

"You have the best cream, and it makes it so tasty. I like it very much. Thank you for this courtesy," he added.