violence
A widespread disease called left-wing violence, dangerously attacking brains of liberals in the country and sadly, under Trump presidency, the lunatics deliberately stopped taking their medications so they can fully enjoy with pride and glee every minute of their Trump derangement syndrome.
15 Times Celebrities Envisioned Violence Against Trump and the GOP
Breitbart by Daniel Nussbaum & Jerome Hudson 14 Jun 2017
1. Kathy Griffin 'Beheads' Trump in Graphic Photo
The 56-year-old My Life on the D-List star sparked a firestorm (and a U.S. Secret Service investigation) when she was photographed holding the fake, bloodied, decapitated head of the president in an image that critics said was reminiscent of Islamic State propaganda.
Griffin was fired from her job on CNN's New Year's Eve broadcasts and saw the cancellation of at least five of her scheduled performances, but remained defiant in an emotional press conference, blaming the backlash on sexism and vowing to continue to "make fun" of the president.
2. Madonna – "I've thought a lot about blowing up the White House."
The pop singer became heated during the anti-Trump Women's March on Washington in January, where she addressed an audience of thousands.
"Yes, I'm angry. Yes, I'm outraged. Yes, I have thought an awful lot about blowing up the White House, but I know that this won't change anything," she told the crowd to roaring applause.
"Are you ready to shake up the world?" Madonna asked. "Welcome to the revolution of love, to the rebellion, to our refusal as women to accept this new age of tyranny, where not just women are in danger but all regionalized people. Where being uniquely different, right now, might truly be considered a crime."
The singer later said her remarks were taken out of context.
3. Snoop Dogg "Shoots" Trump in the Head in Music Video
The California rapper pointed a gun at the president (dressed to look like a circus clown) and pulled the trigger in a music video for his song "Lavender" earlier this year — though the gun is shown to be a prop gun, with a "Bang!" flag popping out of the barrel.
Still, the imagery was unmistakable.
"I feel like it's a lot of people making cool records, having fun, partying, but nobody's dealing with the real issue with this f*cking clown as president, and the sh*t that we dealing with out here, so I wanted to take time out to push pause on a party record and make one of these records for the time being," the rapper told Billboard.
4. Robert De Niro: "I'd Like to Punch Him in the Face"
The Oscar-winning actor participated in a voter registration PSA during the 2016 presidential race, but was filmed going off on Trump in a monologue during an outtake.
"He's a punk, he's a dog, he's a pig, he's a con, he's a bullsh*t artist, a mutt who doesn't know what he's talking about, doesn't do his homework, doesn't care, thinks he's gaming society, doesn't pay his taxes," the 73-year-old Godfather star said in the clip.
"He's an embarrassment to this country," he added. "He talks [about] how he wants to punch people in the face… I'd like to punch him in the face."
Read more: 15 Times Celebrities Envisioned Violence Against Trump and the GOP

( Daily Mail ) Muslim men are allowed to hit their wives if they disobey them and domestic violence is a 'beautiful blessing', according to the women's branch of a radical Islamic group.
Sydney primary school teacher Reem Allouche told the women's arm of hardline political group Hizb ut-Tahrir that men are permitted to hit women with sticks.
During the 30-minute discussion at a meeting in Sydney's west, Ms Allouche and fellow panellist Atika Latifi – who are both wearing headscarves – describe how beating women is a 'symbolic act'.
At one point they even demonstrated how to use a small stick called a 'sivaak' to hit 'disobedient' women.
In a video of the debate, which has been posted on Facebook, Ms Allouche says men should use the sivaak to punish their wives.
She then uses one of the sticks to hit Ms Latifi while the pair laugh.
Other permissible methods to punish women involve using a twisted scarf or piece of fabric, the women say.
Ms Allouche says the act is 'symbolic', while Ms Latifi claims it's 'a beautiful blessing'.
READ MORE: Moment Muslim teacher demonstrates how a man should BEAT a woman – as Islamic group says a husband's violence is a 'beautiful blessing'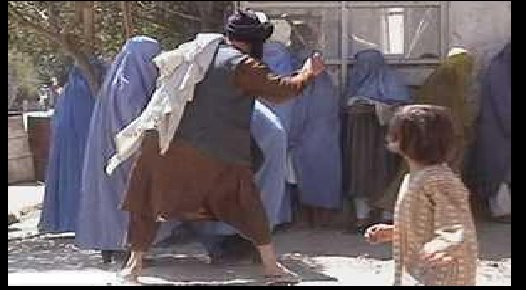 'I'm gonna kill you n****!', the staff member says as he continues to pummel the man.
( Daily Mail ) One customer was certainly not 'lovin' it' after a McDonald's worker lost his cool and beat up a guest whom he claimed had 'disrespected' him.
As soon as the video begins fists are already seen to be flying.
The worker, dressed in black, looks to be virtually sitting on top of the customer who is laid out on the floor.
'Somebody call the police please!', shouts a woman who can be heard in the background.
The punches then come at an astonishing rate from both the right and left smacking the man about the head and in his face.
The guest has no chance to recover, nor is able to defend himself as he is struck continuously with tremendous force.
'I've got customers in the dining room!' the woman yells back at her staff member to no effect whatsoever.
'I'm gonna kill you n****!', the staff member says as he continues to pummel the man.
Read more: A Big Whack and fries! McDonald's employee goes crazy and beats up customer he claims 'disrespected' him