Trump hat
Hilarious! Chelsea Clinton freaked out after seeing an Abraham Lincoln picture with a Trump MAGA hat:
 "Please tell me this is photoshopped. Please?"
Via Newsbusters—
The Republican Party of Palm Beach County put President Lincoln in a #MAGA hat this year for its Lincoln Day Dinner.
An alarmed Chelsea Clinton, a graduate of Oxford University, asked her followers if the image was photoshopped!
The responses to Chelsea's tweets were EPIC!
"No, this is the exact hat Lincoln was wearing when he signed the Emancipation Proclamation. People forget that."

"Nope, Lincoln was wearing that exact hat at the Theater."

"Nope, they found a picture of Lincoln wearing a MAGA hat from the nineteenth century. No photoshop needed."

"I remember this photo was taken at the 1856 Republican National Convention and is real."

"It's as real as those Bosnian snipers."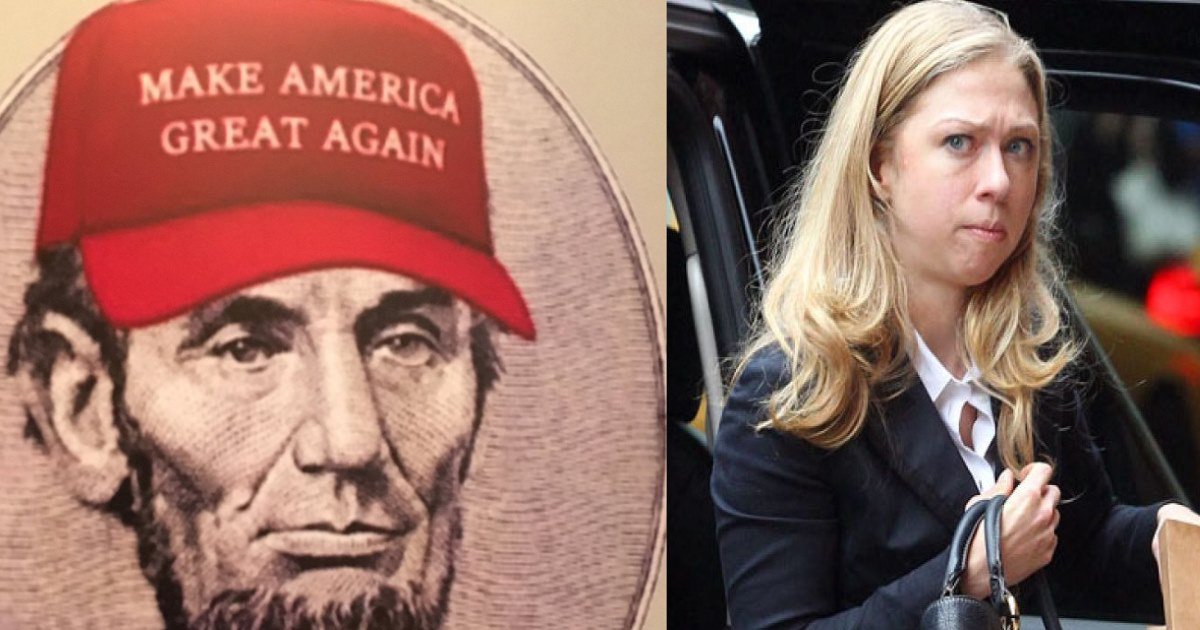 Greg Piatek is suing a New York City bar 'The Happiest Hour' after bartenders and owner Jon Neidich refused to serve him drinks because he was wearing a "Make America Great Again" hat.
Bartenders at a West Village hot spot served up discrimination — with a liberal twist — refusing to serve a customer because he was wearing a "Make America Great Again" hat, according to a lawsuit.

Greg Piatek, 30, an accountant from Philadelphia, claims he was snubbed and eventually 86'd by workers at The Happiest Hour on West 10th Street over his conservative fashion statement, popularized by Donald Trump on the campaign trail, he told The Post.

"Anyone who supports Trump — or believes what you believe — is not welcome here! And you need to leave right now because we won't serve you!" Piatek claims he was told as he was shown the door by a manager.

The shake-up started when Piatek and two pals, after a visit to the 9/11 Memorial, ordered drinks at the posh tavern around 6:30 p.m. on Jan. 28.

A female bartender served Piatek a $15 jalapeño margarita and his pals beers. But when he tried to order a second round, a male bartender noticed his hat — and skipped them, he said.

One of Piatek's pals pointed out it was their turn to be served, but the bartender scoffed. "Is that hat a joke?" the Manhattan Supreme Court suit claims.

"Immediately it clicked," Piatek said, adding that bartenders didn't see the pro-Trump slogan until he turned his back to the bar.

"Ignoring me because I'm wearing the hat is ridiculous," Piatek said. "It's really sad."

The "flustered" bartender got them a second round but allegedly "slammed the drinks down."

Bar owner Jon Neidich did not respond to calls. A manager at the bar refused to comment.
The Happiest Hour NYC owner Jon Neidich :
A sixth grade student from St. Louis, Missouri, was beaten up on a school bus for wearing a Trump hat.  Not only Gavin was attacked, the school also suspended the 12-year-old after the incident.
His outraged mother Christina Cortina told News 4: 'As a parent it's so upsetting. I feel like my son was made an example of, it was a tricky situation, it was politically charged.'
Her son was ganged up on by multiple students as one yells 'you want to build a wall? You want to build a f****** wall?' before the situation became physical.
SOURCE: Middle school student attacked on bus for wearing 'Make America – KMOV.com