Trey Gowdy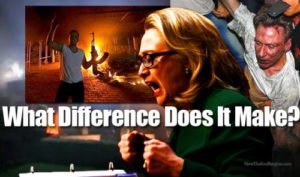 The Benghazi guy is taking over, so that's not necessarily something that Democrats will appreciate that much."
( Daily Caller ) While discussing House Intelligence Chairman Devin Nunes' recusal from the Russia probe on MSNBC Thursday, Zerlina Maxwell cast doubt over Trey Gowdy's ability to conduct the investigation in a "completely transparent," bipartisan fashion.
Gowdy, along with Mike Conaway and Thomas Rooney, were announced Thursday morning as the three committee members now heading the probe, to which guest Kristin Tate said she was "happy to hear."
"The Benghazi guy," Maxwell, who previously served as Hillary Clinton's director of progressive media, incredulously responded to Tate. "The Benghazi guy is taking over, so that's not necessarily something that Democrats will appreciate that much."
Read more: Ex-Hillary Flack FREAKED OUT When She Heard Who's Taking Over The Russia Probe
Hillary Clinton email scandal has taken a new turn. Tech company Bleachbit , the publicly-available application that was used to delete some of Clinton's emails ahead of an FBI investigation, said it had not yet been served a subpoena over its involvement in the destruction of potentially classified records from 30,000 scrubbed emails.
The company's website brags: "BleachBit stifles investigation of Hillary Clinton."
Last year when Hillary was asked about wiping her email server she joked, "Like with a cloth or something?" Maybe BleachBit was that cloth, says by Sen. Trey Gowdy.
"Perhaps Clinton's team used an open source application [like BleachBit] because, unlike proprietary applications, it can be audited, like for backdoors," BleachBit noted in a post on its site.

"As of the time of writing BleachBit has not been served a warrant or subpoena in relation to the investigation," the company wrote. "BleachBit is free of charge to use in any environment whether it is personal, commercial, educational or governmental, and the cleaning process is not reversible."
Rep. Trey Gowdy told Fox News that Clinton's emails were so fully deleted that "even God can't read them."
Rep. Gowdy told Fox News:
She and her lawyers had those emails deleted. And they didn't just push the delete button; they had them deleted where even God can't read them. They were using something called BleachBit. You don't use BleachBit for yoga emails or bridemaids emails. When you're using BleachBit, it is something you really do not want the world to see.
 During Edward Snowden NSA leaks in 2013, privacy expert Bruce Schneier advised, "Closed-source software is easier for the NSA to backdoor than open-source software." He also admitted he used BleachBit:
Since I started working with Snowden's documents, I have been using GPG, Silent Circle, Tails, OTR, TrueCrypt, BleachBit, and a few other things I'm not going to write about.
When the Bleachbit  story broke the morning of August 25, traffic to its web site and download servers spiked. As the trending story went viral on Twitter, a second, larger wave of traffic came to the site which were passed to  new servers that are now fully handling the loads.