Terry McAuliffe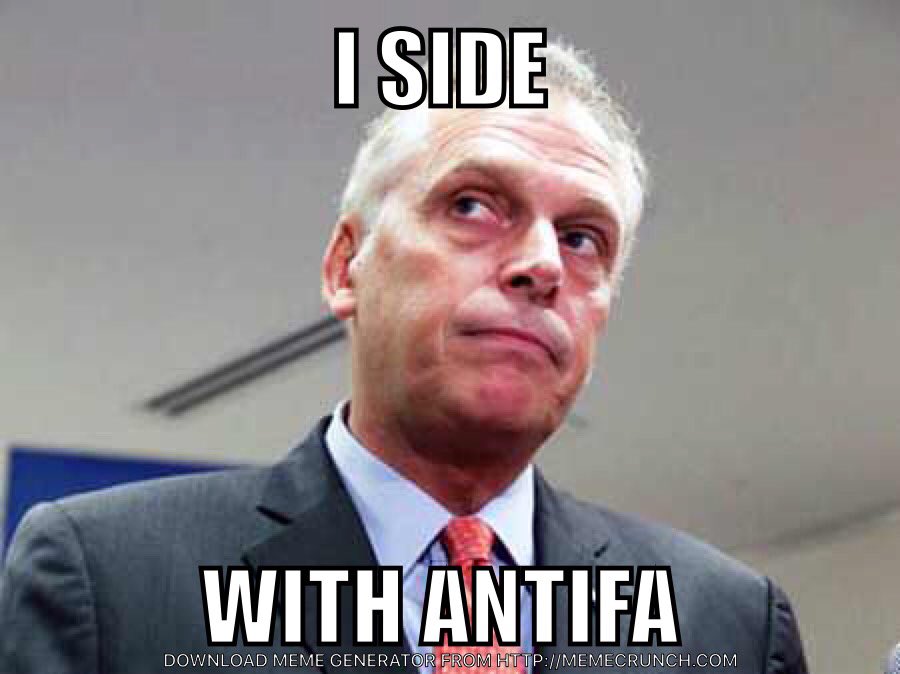 Virginia Governor Terry McAuliffe (D.) :' They had better equipment than our State Police had'
Virginia State Police:  "No, the State Police did not have inferior equipment. Our personnel are equipped, and were equipped, with the necessary protective and tactical gear for their safety and, obviously, to protect those that were in attendance of the event.""
Washington Free Beacon:
The Virginia State Police were prepared for the protests-turned-riots in Charlottesville, Va., on Saturday that left three dead and dozens injured despite what Governor Terry McAuliffe (D.) has said publicly, a state police spokesperson told the Washington Free Beacon on Monday.
"No, the State Police did not have inferior equipment," Corinne Geller, Virginia State Police public relations manager, told the Free Beacon. "Our personnel are equipped, and were equipped, with the necessary protective and tactical gear for their safety and, obviously, to protect those that were in attendance of the event."
The State Police did not release specifics on what kind of equipment they employed during the event but did say its officers were well prepared for what they faced on Saturday.
"We don't release our tactical gear or anything of that nature for the protective purposes of our law enforcement," Geller said. "They had the necessary inventory and gear that they needed for this event. There were no shots fired at the event or anything of that nature but our folks had the proper gear and tactical equipment they needed in order to safeguard themselves and everybody in attendance."
McAuliffe told the New York Times the protesters had better equipment than the State Police, and that accounted for part of the reason police took what critics have decried as a hands-off approach to the violence.
"It's easy to criticize, but I can tell you this, 80 percent of the people here had semiautomatic weapons," McAuliffe told the paper. "You saw the militia walking down the street, you would have thought they were an army. I was just talking to the State Police upstairs; they had better equipment than our State Police had. And yet not a shot was fired, zero property damage."
Read more: http://freebeacon.com/national-security/virginia-state-police-say-not-outgunned-charlottesville-riot-despite-mcauliffe-claim/
( Washington Examiner ) Virginia Gov. Terry McAuliffe, an important ally of Democratic nominee Hillary Clinton, funneled nearly $700,000 in donations and support to the campaign of the spouse of an FBI official who then oversaw Clinton's email investigation.
The Virginia governor's office was full of denials about the connection on Sunday.
"Any insinuation that his support" for state Senate candidate Dr. Jill McCabe, wife of FBI deputy director Andrew McCabe, "was tied to anything other than his desire to elect candidates who would help pass his agenda is ridiculous," a spokesman for the governor told the Wall Street Journal.
READ MORE: Clinton ally funneled money to wife of FBI agent who oversaw emails