surgery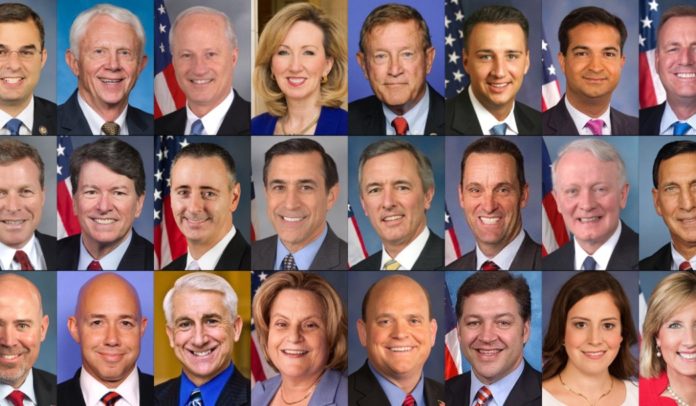 The House of Representatives voted down a Republican proposal to ban the Pentagon from paying for gender-transition surgeries after 24 GOP congressmen crossed party lines to join the Democratic side.
These are the 24 Republicans who voted against the legislation that would have removed funding for transgender military members' medical costs:
California Rep. Paul Cook
California Rep. Jeff Denham
California Rep. Steve Knight
California Rep. Darrell Issa
Colorado Rep Mike Coffman
Florida Rep. Carlos Curbelo
Florida Rep. Lena Ros-Lehtinen
Florida Rep. Brian Mast
Michigan Rep. Justin Amash
Michigan Rep. Jack Bergman
New Jersey Rep. Leonard Lance
New Jersey Rep. Frank Lobiondo
New Jersey Rep. Tom MacArthur
New York Rep. John Faso
New York Rep. Elise Stefanik
New York Rep. Tom Reed
New York Rep. John Katko
New York Rep. Claudia Tenney
Pennsylvania Rep. Ryan Costello
Pennsylvania Rep. Charles Dent
Pennsylvania Rep. Bill Shuster
Pennsylvania Rep. Brian Fitzpatrick
Virginia Rep. Barbara Comstock
Washington Rep. David Reichert
Read more:
( Daily Caller ) House Committee on Oversight and Government Reform Chairman Jason Chaffetz could potentially be unable to work for up to a month due to a medical emergency.
Chaffetz took to Instagram Wednesday to announce doctors at the University of Utah recommended immediate surgery on his foot to prevent a serious infection caused by screws from a former injury.
"Almost 12 years ago, I shattered several bones in my foot which required 14 screws and a metal plate to repair," he said in the caption. "Yes, I wish I could say I was cliff diving in Mexico but the truth is I fell off a ladder while repairing something in my garage."
Read more: Chaffetz Potentially Out For Weeks Due To Medical Emergency