Seth Rich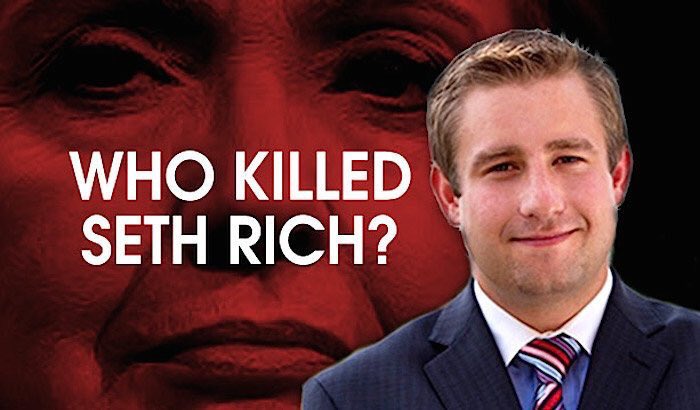 It was called the Clinton body bags. People threatening to expose the Clintons during 2016 election campaign die suspiciously and one of them was Seth Rich. On July 8, 2016,  27- year-old Democratic staffer Seth Conrad Rich was murdered a block from his D.C. home at 4 am, shot twice in the back, yet nothing was taken. The killer or killers took nothing from Rich, leaving behind his wallet, watch and phone.  It was alleged he was going to meet with an FBI to discuss election fraud that happened during the Democrat Party primary. Surprisingly, the DNC never let the FBI looked into their server.
Today, Wikileaks released a bombshell. Seth Rich was the DNC leaker, not Russia. Wikileaks posts a series direct messages from "Russian spy" Guccifer 2.0 to actress model Robin Young (according to Young).  In the stream of texts the discussion leads to the DNC leaker.
And according to Guccifer, his name is "Seth":
Guccifer 2.0: his name is seth.he was my whistleblower
I suppose you know who I'm talking about

Robin Young: Yes, and it was horrifying to hear abut his death. I have no facts, but my opinion is Hillary had him murdered.
The mysterious death of DNC staffer Seth Rich, 27,  who was beaten up and gunned down on July 10 at an affluent neighborhood in Washington D.C.,  has taken a new twist. Wikileaks founder Julian Assange offer $20,000 reward for information leading to conviction for the murder of Rich. Assange suggested the DNC leak was the work of a DNC insider and online speculations claim Rich leaked the DNC emails and that he was on his way to the FBI when he was killed.
The Clinton body bags in the warehouse are reserved for any enemies that will try to get in their way. If people don't know that by now, their ignorance will put them in danger.