Saudi
German Chancellor Angela Merkel, the host of G20 summit, appears to bow to Saudi Arabia's State Minister Ibrahim al-Assaf.
Well, hers is not as 'low' compared to what Obama gave to Saudi King and Japan's Emperor, right Angela?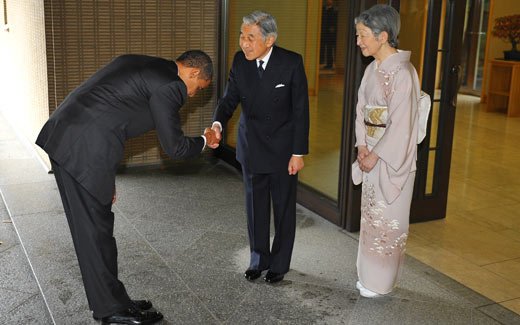 Merkel greets Trump and Putin – no bowing down?
Saudi deputy crown prince, Trump meeting a "turning point" – Saudi adviser
WASHINGTON, March 14 (Reuters) – Saudi Arabia's Deputy Crown Prince Mohammed bin Salman and U.S. President Donald Trump agreed in a meeting on Tuesday that Iran represents a regional security threat, a senior adviser to the deputy crown prince said
The adviser also said the talks marked a "historical turning point" in U.S.-Saudi relations.
Saudi Arabia had viewed with unease the administration of U.S. President Barack Obama, whom they felt considered Riyadh's alliance with Washington less important than negotiating a nuclear deal with Iran in 2015. It has been encouraged by the Trump administration's hardline stance on Iran and its nuclear program.
"The meeting today restored issues to their right path and form a big change in relations between both countries in political, military, security and economic issues," the senior adviser said in a statement. (Writing by Yara Bayoumy; Editing by Paul Tait)
RELATED LINK: Trump holds his first White House meeting with Arab Muslim leader as he dines with Saudi Arabia's Deputy Crown Prince Mohammed bin Salman – and invites Ivanka's Egypt-born advisor
( Daily Mail ) Saudi officials have been mocked for launching a Girls' Council without any girls at the launch.
It was meant to be an initiative to show the world the kingdom had moved on from oppressing women's rights, but when the Qassim Girls' Council was formed, the authorities appeared to have omitted a key ingredient at the launch event.
Instead 13 men introduced the initiative on stage, while it was reported the women were kept out of site in another room and contributed via video link.
The picture of the group of men on stage has sparked a wave of criticism online.
Prince Faisal bin Mishal bin Saud, al-Qassim's governor, spearheaded the launch, and even said he was proud to be a part of the first initiative of its kind in Saudi Arabia.
'In the Qassim region, we look at women as sisters to men, and we feel a responsibility to open up more and more opportunities that will serve the work of women and girls,'he said, according to the BBC.
Rana Harbi posted the picture with the caption: 'This is not a joke. I repeat, not a joke. The first meeting of the first "Girls Council" in Saudi Arabia.'
Fellow writer did the same with a caption reading: 'Satire? Comedy? No.
'This is actually happening: The very first meeting of the first "Girls Council" in Saudi Arabia… with ZERO girls.'
READ MORE: 'This is not a joke': Saudi officials mocked online for launching girls' council WITHOUT ANY GIRLS (as they are 'kept out of sight in another room')