Samantha Power
Samantha Power sought to unmask Americans on almost daily basis, sources say
Samantha Power, the former U.S. ambassador to the United Nations, was 'unmasking' at such a rapid pace in the final months of the Obama administration that she averaged more than one request for every working day in 2016 – and even sought information in the days leading up to President Trump's inauguration, multiple sources close to the matter told Fox News.
Two sources, who were not authorized to speak on the record, said the requests to identify Americans whose names surfaced in foreign intelligence reporting, known as unmasking, exceeded 260 last year. One source indicated this occurred in the final days of the Obama White House.
The details emerged ahead of an expected appearance by Power next month on Capitol Hill. She is one of several Obama administration officials facing congressional scrutiny for their role in seeking the identities of Trump associates in intelligence reports – but the interest in her actions is particularly high.
OBAMA OFFICIAL MADE 'HUNDREDS OF UNMASKING REQUESTS,' GOP CHAIRMAN SAYS
UNMASKING SCANDAL: Four Obama officials to be investigated by DOJ for unmasking and leaking 'unmasked' Trump officials to the media:
Susan Rice: Obama's national security advisor
John Brennan: Former CIA Director John Brennan
Ben Rhodes: former Obama deputy national security advisor
Samantha Power:Former U.N. Ambassador
Daily Caller reports:
The calls came as House Permanent Select Committee on Intelligence Chairman Devin Nunes identified a fourth Obama national security official as a "person of interest" who improperly "unmasked" Trump officials and leaked the information to the news media.

In a letter Tuesday to the National Security Agency (NSA), the California Republican requested the agency report on improper "unmasking" requests made by Ben Rhodes, former President Barack Obama's deputy national security advisor for strategic communications, according to Circa. As such, he was the number two ranking official on the National Security Council (NSC).

Rhodes' name is now added to three other top Obama national security officials who are accused of improperly requesting the identities of Trump officials whose phone calls were intercepted by the NSA. Those names were later leaked to the media.

The three individuals are Susan Rice, Obama's national security advisor, former CIA Director John Brennan and former U.N. Ambassador Samantha Power.

Unmasking or identifying U.S. citizens who are communicating with foreign governments or foreign principals for genuine intelligence purposes is legal, but obtaining the identity of U.S. citizens for partisan political purposes is not permitted under any circumstances. The leaking of "unmasked" U.S. citizens to the news media is unlawful.

Former U.S. Attorney Joseph DiGenova told TheDCNF Wednesday that now is the time for the Justice Department to launch an official criminal investigation. The latest revelation about Rhodes "demands a federal criminal investigation with a grand jury and subpoenas."

"It is obvious that Obama, Brennan, Rice, Power and Rhodes were involved in massive — underscore massive — unmasking of Trump people, friends and associates after Trump's nomination and after the election," DiGenova said.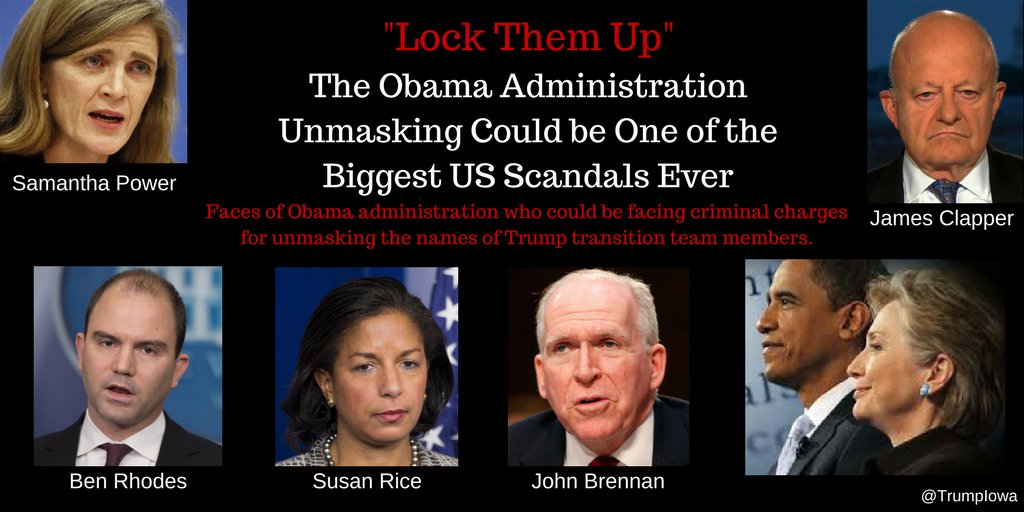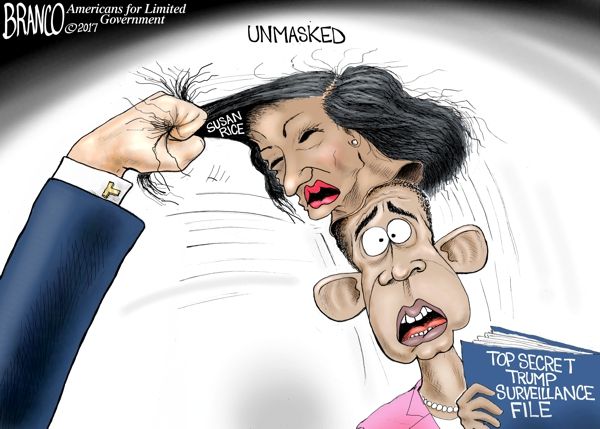 House Intelligence Committee issued seven subpoenas to National Security Agency, FBI and the CIA for information about the "unmasking" incidents requested by top Obama officials national security adviser Susan Rice, former CIA Director John Brennan and former United Nations Ambassador Samantha Power.
The Wall Street Journal reported:
The House Intelligence Committee issued seven subpoenas on Wednesday, in a sign that its investigation into alleged Russian meddling in the 2016 election is ramping up in scope and intensity, according to people familiar with the matter.

The Republican-led committee issued four subpoenas related to the Russia investigation. Three subpoenas are related to questions about how and why the names of associates of President Donald Trump were unredacted and distributed within classified reports by Obama administration officials during the transition between administrations.

The committee has subpoenaed the National Security Agency, the Federal Bureau of Investigation and the Central Intelligence Agency for information about what is called "unmasking." Republicans on the committee have been pushing for a thorough investigation of how the names of Trump campaign officials became exposed in classified intelligence reports based off intelligence community intercepts.

Those subpoenas seek information on requests made by former national security adviser Susan Rice, former CIA Director John Brennan and former United Nations Ambassador Samantha Power for names to be unmasked in classified material. The three didn't personally receive subpoenas, the people familiar with the matte said. Mr. Brennan, Ms. Rice and Ms. Power didn't immediately