Robert E. Lee
 San Antonio confederate statue cost to take down:  $258,680
Councilman: 'We've already incurred $17 million in police officer overtime'
Dallas recently removed a statue of Robert E. Lee for around $450,000 
Confederate monument at Pioneer Park in downtown Dallas : $800,000
( Fox News ) As cities across the country continue to debate and, in some cases, remove Confederate monuments from their municipalities, the costs are piling up for taxpayers.
In San Antonio, which removed its lone confederate monument last month from Travis Park, city officials found out Monday in a memo it cost $258,680 to take down that statue.
The memo, obtained by Fox San Antonio, showed it cost $147,775 for a third-party company to remove and transport the monument, $103,809 for police staffing, including officer overtime, fencing, barricades, and surveillance cameras. There was an additional charge of about $7,000 to cover replanting costs
Some city council members, however, felt they were misled by the final total of removal costs.
"Being told directly to my face by a city director that this was $150,000 and no more, then to see this — I think that deserves further research," Councilman Greg Brockhouse said.
Brockhouse said in a separate interview with KENS-TV it made "absolutely no sense" to go over the original amount.
"There was no way this item was budgeted for, there was no way this item was put in there," he said. "We've already incurred $17 million in police officer overtime. So this was an overtime situation that was generated as a result of the statue. There was no way it was budgeted or a part of the chief's budget."
In Dallas, which recently removed a statue of Robert E. Lee for around $450,000 according to CBS 11, the city may spend more money to remove another Confederate monument and change street names.
The Dallas Confederate Task Force Committee recommended last month at its final meeting the removal of the Confederate monument at Pioneer Park in downtown Dallas next to the convention center.
The monument in park cemetery was built in 1896, and has a Confederate soldier atop a six-story tower surrounded by four Confederate leaders. Moving it will cost an estimated $800,000, FOX 4 News reported.
Read more: http://www.foxnews.com/us/2017/10/06/confederate-monument-removal-costs-piling-up-for-cities.html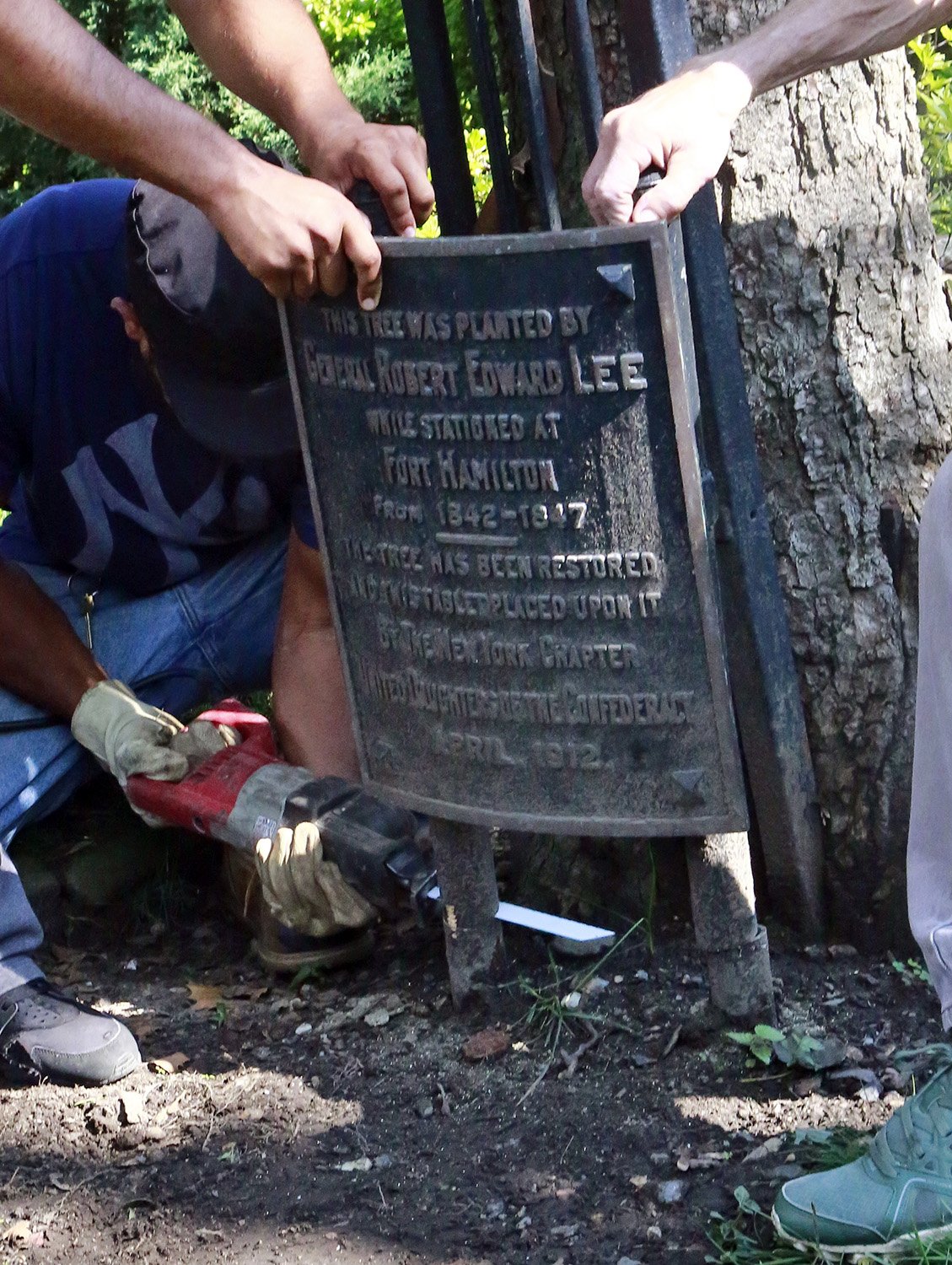 UNHINGED! Watch out for the left mental disorder metastasizing across the country.
After more than 100 years affixed to a maple tree, the Robert E. Lee Memorial is being removed in Brooklyn, New York.
Video by Fox & Friends First
From ABC News:
Leaders of a New York Episcopal diocese removed two plaques honoring Confederate Gen. Robert E. Lee from a church property in Brooklyn on Wednesday.
The plaques were removed by the Episcopal Diocese of Long Island, which owns the property.
The larger of the two plaques was placed outside St. John's Episcopal Church by the United Daughters of the Confederacy in 1912. It commemorated the spot where Lee is said to have planted a tree while serving in the Army at Fort Hamilton in New York in the 1840s, two decades before he became commander of the Confederate Army of Northern Virginia.
The plaque marked a tree that was a descendant of the one Lee is believed to have planted. A second plaque made note of that. Workers used power tools to remove them Wednesday
Read more: http://abcnews.go.com/US/wireStory/nyc-church-remove-plaques-honoring-robert-lee-49246111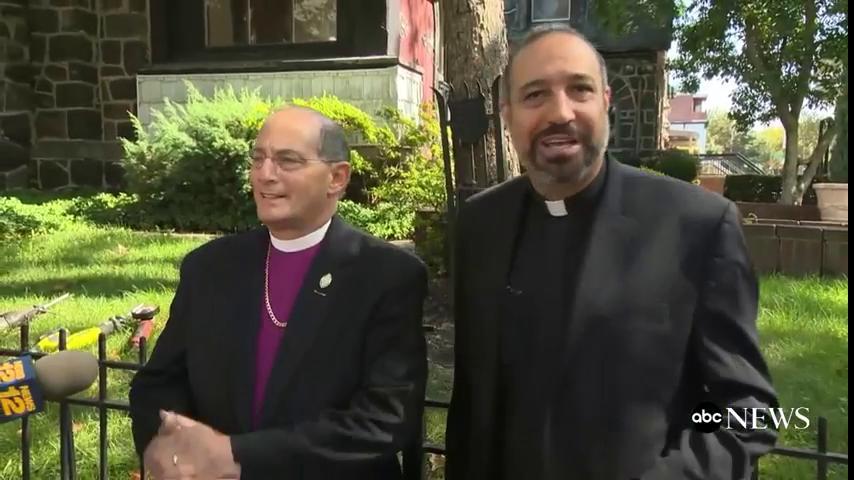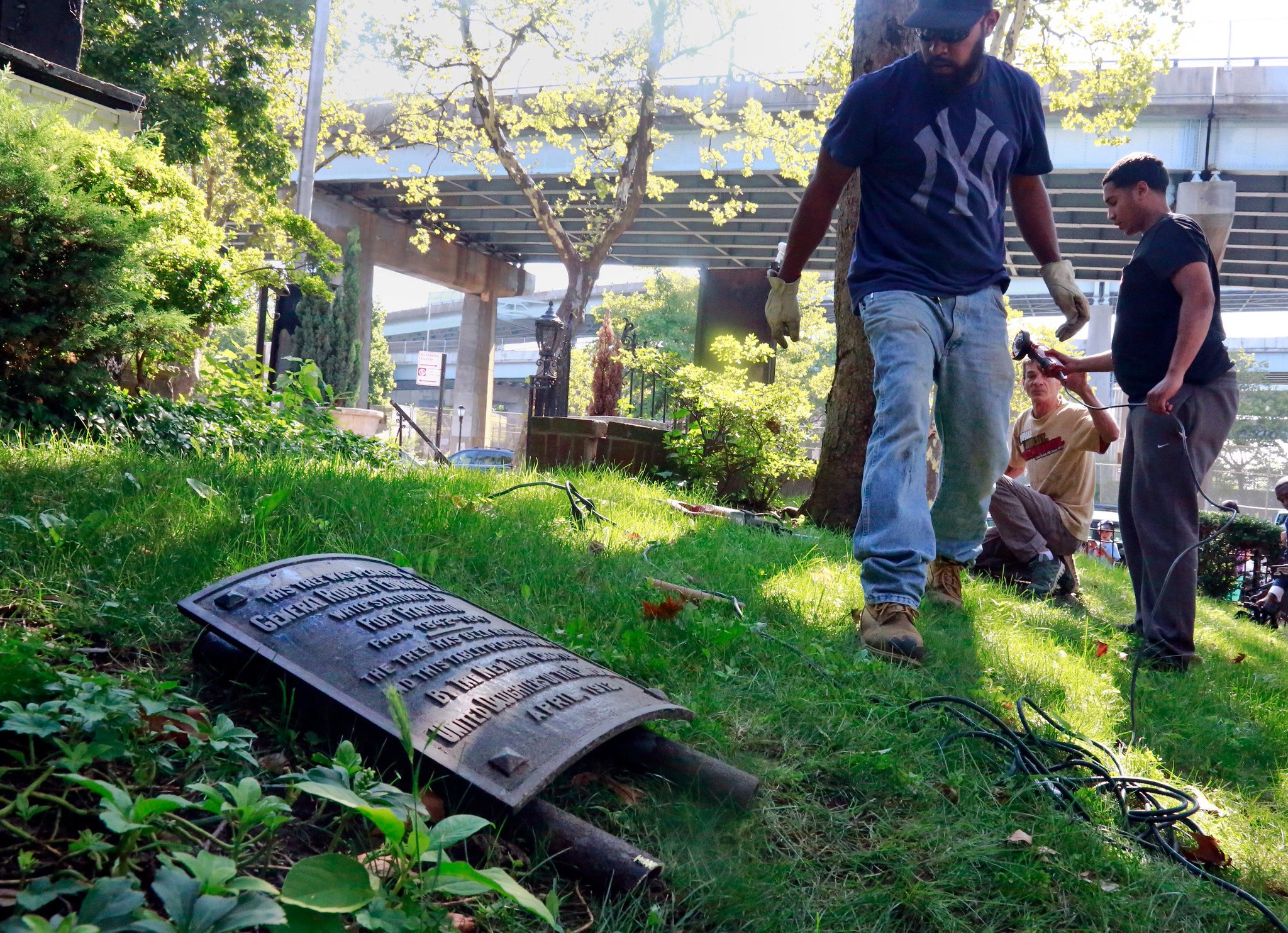 Trump: " I wonder is it George Washington next week and is it, Thomas Jefferson, the week after?"
President Trump at  Trump Tower in New York City on left-wing rampage removing  Confederate statues like the statue of Gen. Robert E. Lee in Charlottesville, VA:
 "Many of those people were there to protest the taking down of the statue of Robert E. Lee. So this week it's Robert E. Lee. I noticed that Stonewall Jackson is coming down. I wonder is it George Washington next week and is it, Thomas Jefferson, the week after? You know, you really do have to ask yourself where does it stop."

"George Washington was a slave owner. Was George Washington a slave owner? So will George Washington now lose his status? Are we gonna take down–are we gonna take down our statues of George Washington," Trump asked a reporter.

"How about Thomas Jefferson? What do you think of Thomas Jefferson? You like him? Ok good. Are we gonna take down his statue because he was a major slave owner. Now, are we gonna take down his statue?"

"You're changing history, you're changing culture…"