Republican
( Daily Mail ) Republican candidate Greg Gianforte used his victory speech after winning the Montana special election on Thursday to apologize for body-slamming a Guardian journalist the day before.
Within minutes of being declared the winner, Gianforte appeared on stage at his campaign headquarters in Bozeman, Montana, with his wife Susan.
Between chants of 'drain the swamp' from his gathered supporters, he found a moment to apologize to reporter Ben Jacobs who he 'body-slammed' the previous day.
'Last night, I made a mistake and I took an action that I can't take back and I'm not proud of what happened.
'I should not have responded in the way that I did…I should not have treated that reporter that way and for that I am sorry, Mr Ben Jacobs,' he said.
It was a marked change from the campaign statement he issued on Wednesday which blamed the scuffle on 'liberal journalist' Jacobs and came after calls from House Speaker Paul Ryan who implored him to apologize.
Gianforte won the election with 50.4 percent of the vote over his Democrat opponent Rob Quist's 43.9.
Read more: 'I made a mistake… I'm sorry': Republican candidate Greg Gianforte apologizes for body-slamming reporter after WINNING Montana special election despite facing assault charge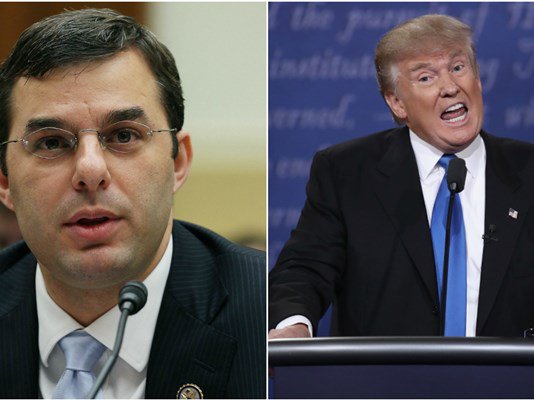 Republican Justin Amash wants impeachment of  President Trump if so-called Comey memo is true. The over the phone memo leaked to NYT allege Trump told former FBI Director James Comey to end an investigation  on former national security adviser Michael Flynn. New York Times used an over the phone UNSEEN, UNVERIFIED memo from a James Comey associate as their source…so much for journalism.
From The Hill :
Rep. Justin Amash (R-Mich.) on Wednesday said reports that President Trump pressed ousted FBI Director James Comey to end an investigation would merit impeachment if true, becoming the first Republican lawmaker to broach the idea.
The New York Times on Tuesday reported that Trump tried to pressure Comey to stop investigating former national security adviser Michael Flynn, citing a memo written by Comey.
Asked by The Hill if the details in the memo would merit impeachment if they're true, Amash replied: "Yes."
"But everybody gets a fair trial in this country," Amash added as he left a House GOP conference meeting.
Asked by another reporter whether he trusted Comey's word or Trump's, Amash said: "I think it's pretty clear I have more confidence in Director Comey."
Via Hannity
The GOP wimps and traitors! Conservative radio host and author Laura Ingraham told Sean Hannity on Tuesday that Senior Republican Senators "laughed out loud" and said "Don't worry, it's not going to happen" when talking about President Trump's promise of building a border wall. Drain the GOP swamp!
Laura Ingraham: One thing I know for sure, Sean, is that we have way too many people on Capitol Hill who are not on the president's side of this. I'm talking Republicans. So I have no doubt in my mind that Donald Trump wants this wall to be built. Congress has to appropriate the money. I heard over two months ago that GOP leadership, the most senior senators on Capitol Hill, and I heard it from someone who was in the room with them, they were laughing at an idea a wall would ever get built. Out loud laughing. They were recently telling that source of mine, "Don't worry, it's not going to happen."