Rand Paul
Kentucky Sen. Rand Paul brushed off suggestions that President Trump holds a racial animus against Haitians because he once supported Paul's trip to the Caribbean nation to do eye surgeries on poor Haitians.
Paul said on NBC's "Meet The Press" Sunday that Trump donated money to a medical mission trip Paul took before he was president. Paul did about 200 surgeries on Haitians that allowed them to see while he was on the trip, and he said that's evidence Trump isn't prejudiced against the country.
"It is unfair to draw conclusions from a remark that I think wasn't constructive is the least we can say and I think it is unfair to all of a sudden, paint him, well, he's a racist, when I know for a fact he cares very deeply about the people in Haiti because he helped to finance a trip, we were able to give vision back for 200 people in Haiti," Paul said.
The comments come days after Trump reportedly said Haiti and some African nations are "shithole countries."
Read more: http://www.washingtonexaminer.com/rand-paul-trump-isnt-prejudiced-against-haiti-because-he-helped-fund-my-medical-mission-trip-there/article/2645894
Dr. Rene Boucher is an anesthesiologist and pain specialist who developed a product called Therm-a-Vest.
Boucher was charged with fourth-degree assault with a minor injury.
UPDATE: Sen. Rand Paul suffers five broken ribs after being attacked by his Democrat-voting neighbor who 'tackled him from behind while he was mowing the lawn'
( Daily Mail ) Rand Paul's neighbor has been arrested after he allegedly assaulted the Senator while he was mowing the lawn of his Kentucky home.
Kentucky State Police said in a news release Saturday that Paul suffered a minor injuries when 59-year-old Rene Boucher assaulted him at his Warren County home in a gated community on Friday afternoon.
The release did not provide details of the assault or the nature of Paul's injury. In a statement, Paul spokeswoman Kelsey Cooper said the Republican senator is 'fine.'
The statement said Paul was 'blindsided' by the assault but she did not provide further details.
Neighbors told local TV station WAVE that the pair share a corner adjacent to their homes and have been in the midst of a feud.
Boucher allegedly ran onto Paul's property and tackled him from behind.
According to the arrest warrant the Republican politician suffered injuries to his face and had trouble breathing because of a blow to the ribs.
The FBI is also investigating to see if the assault is politically motivated. Online records state that Boucher's party affiliation is Democrat.
Read more: Rand Paul is 'tackled from behind and ATTACKED by his Democrat-voting doctor neighbor' while mowing the lawn at his home in exclusive Kentucky gated community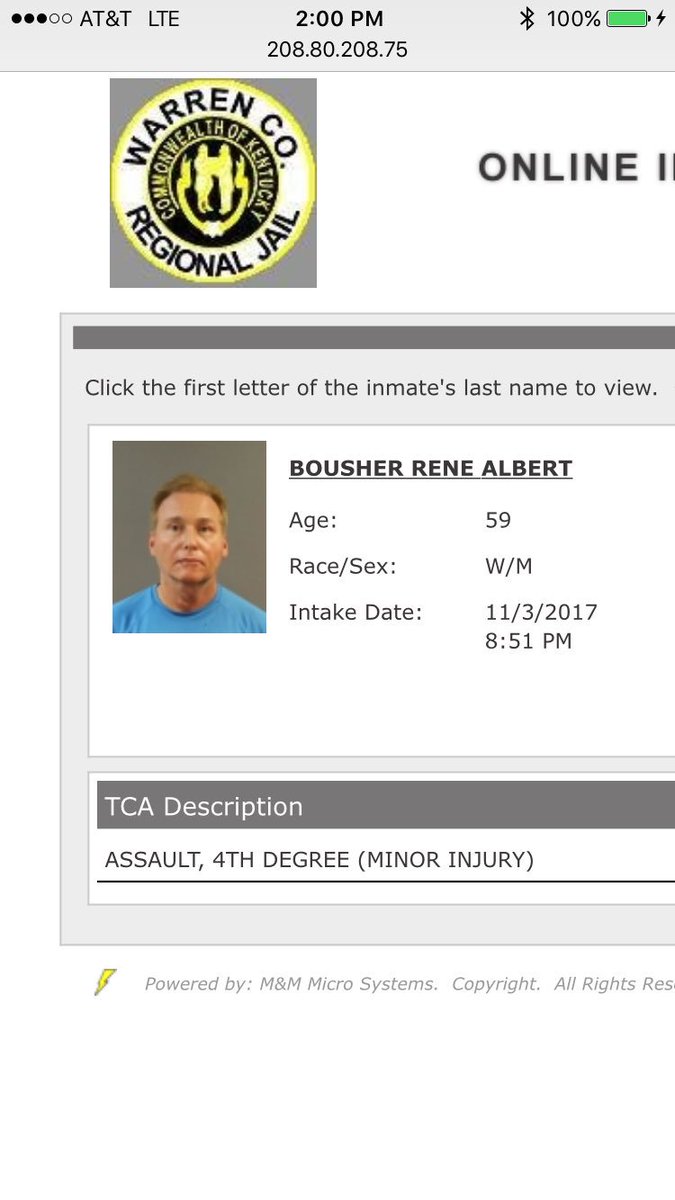 Rand Paul: GOP subsidizing insurance companies for pre-existing conditions is "deplorable."
Breitbart by Ian Hanchett4 May 2017
On Thursday's broadcast of the Fox News Channel's "Your World," Senator Rand Paul (R-KY) argued the revised American Health Care Act is "the first time that Republicans have affirmatively put their stamp of approval on a program where federal money, taxpayer money, is paid to insurance companies." He later characterized subsidizing insurance companies as "deplorable."
Rand said the House Freedom Caucus "made the bill a lot less bad." He added, "But what I'm still concerned with is, this'll the first time that Republicans have affirmatively put their stamp of approval on a program where federal money, taxpayer money, is paid to insurance companies. … And it boggles my mind how that became a Republican idea."
Rand further stated, "It's going to take a little bit of work to get me to a yes vote, but I do have an open mind. I mean, there's not been a louder voice up here for repealing Obamacare. I really want to repeal it. I just don't want to replace with Obamacare-lite, or another federal program. The programs they put in place will be there forever. So the refundable tax credit, which is a subsidy by another name, will be there forever. And this — these buying — these high-risk pools they want to create, Republicans used to hate the idea. They hated the idea when they were called risk corridors, and there were giving money to insurance companies. They were bailouts, when it was a Democrat idea. Now that it's a Republican idea, they keep sweetening it up."
He later argued that the bill offers people who won't get subsidies anymore "Santa Claus-lite."
Rand also said, "I want everybody in the individual market to be protected against pre-existing conditions, by getting into the group market, and let market forces work. It can work, but the current bill acknowledges that it doesn't work, and then we just subsidize the insurance companies, which I think is deplorable."
SOURCE: Rand: AHCA 'First Time' GOP Has Supported 'Deplorable' Practice of Subsidizing Insurance Companies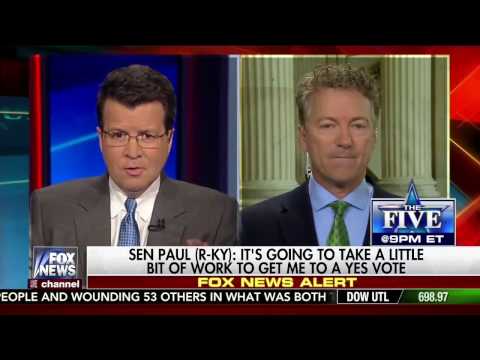 Rand Paul said Susan Rice needs to be asked:  'Did President Obama ask her to do this? Was this a directive from President Obama?  I think she should testify under oath on this."
(DAILY CALLER) — GOP Kentucky Sen. Rand Paul said he believes former National Security Advisor Susan Rice should testify before Congress on her request to unmask the names of Trump transition officials collected during routine intelligence-gathering operations.
Paul argued the situation should not be downplayed, saying reforms need to be made to prevent individuals from being blackmailed on personal aspects of their lives through unmasking. He noted there was nothing stopping the former administration from looking through Trump officials and national security advisers' conversations during the transition window.
"If it is allowed, we shouldn't be allowing it, but I don't think should just discount how big a deal it is that Susan Rice was looking at these," he told reporters Monday. "And she needs to be asked, 'Did President Obama ask her to do this? Was this a directive from President Obama?  I think she should testify under oath on this."
Paul said he has long thought there are too many people with the ability to unmask individuals.
Read more: Read the full story ›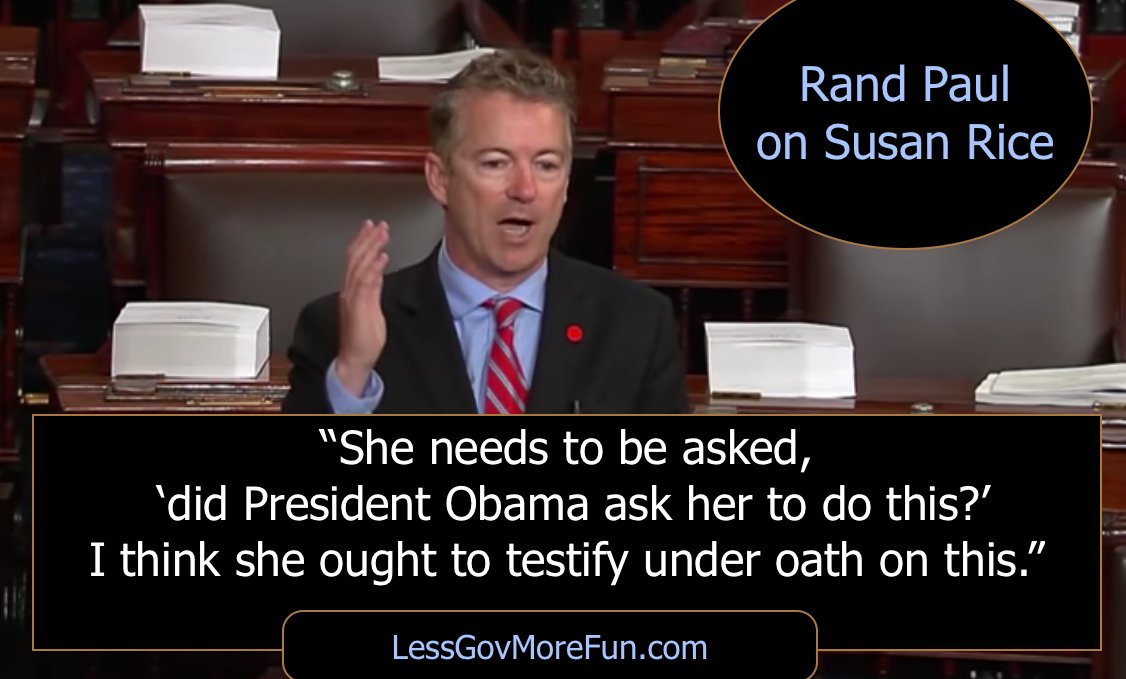 After Senator John McCain went on a long winded rant from the Senate floor accusing Rand Paul of working for Vladimir Putin simply because he blocked a treaty that would allow tiny country of Montenegro to join NATO.  Paul dismissed that and fired back at McCain on MSNBC.
MSNBC: "What's your reaction to Senator McCain's characterization of your objection?"

Rand Paul: "Well you know I think he makes a really really strong case, you know for term limits. Umm I think maybe he's uh past his prime. I think maybe he's gotten a little bit unhinged.

I do think that when we talk about NATO there can be a rational discussion about the pros and cons of expanding it."
Montenegro is a sovereign state in Southeastern Europe. It has a coast on the Adriatic Sea to the south-west and is bordered by Croatia to the west, Bosnia and Herzegovina to the northwest, Serbia to the northeast, Kosovo[a] to the east, and Albania to the south-east. Its land area is only 5,333 sq. miles and it has 620,029 citizens according to 2o11 census.
Fox News – Kentucky Sen. Rand Paul vowed Saturday night that he would reveal a bill to replace ObamaCare next week.
Paul, a Republican, tweeted a photo of the first page of the bill he titled the "Obamacare Replacement Act." He added: "Done drafting the bill & will be discussing on CNN Sunday AM and all week next week!"
Last week, Paul was the lone Republican to vote against the budget which would repeal the Affordable Healthcare Act after expressing his displeasure because it endorsed huge budget deficits. He wasn't the only one to have expressed anxiety over dismantling the law without a replacement to show voters.
READ MORE: Paul Says He Finished Drafting Bill to Replace ObamaCare