Rachel Maddow
Drinking while watching MSNBC's The Rachel Maddow Show led to death threats against Republicans Mitch McConnell and Scott Pruitt that sparked an FBI investigation.
An individual admitted to sending threatening tweets against the Senate majority leader and Environmental Protection Agency administrator, according to the EPA's inspector general investigation document, first reportedby E&E News.
The unidentified person from Paragould, Ark., said they meant the threats as a "flippant comment" and sent the tweets when they were "drinking while watching the Rachel Maddow show."
The threats were serious enough for the Office of Investigations to open a joint inquiry with the FBI, the Joint Terrorism Task Force, and the Tulsa Police Department in Oklahoma.
Agents discovered the threatening tweets sent while watching the episode on April 9. The suspect was questioned on April 12. The individual was investigated for violating title 18 of the U.S. code for "influencing, impeding, or retaliating against a federal official by threatening." – READ MORE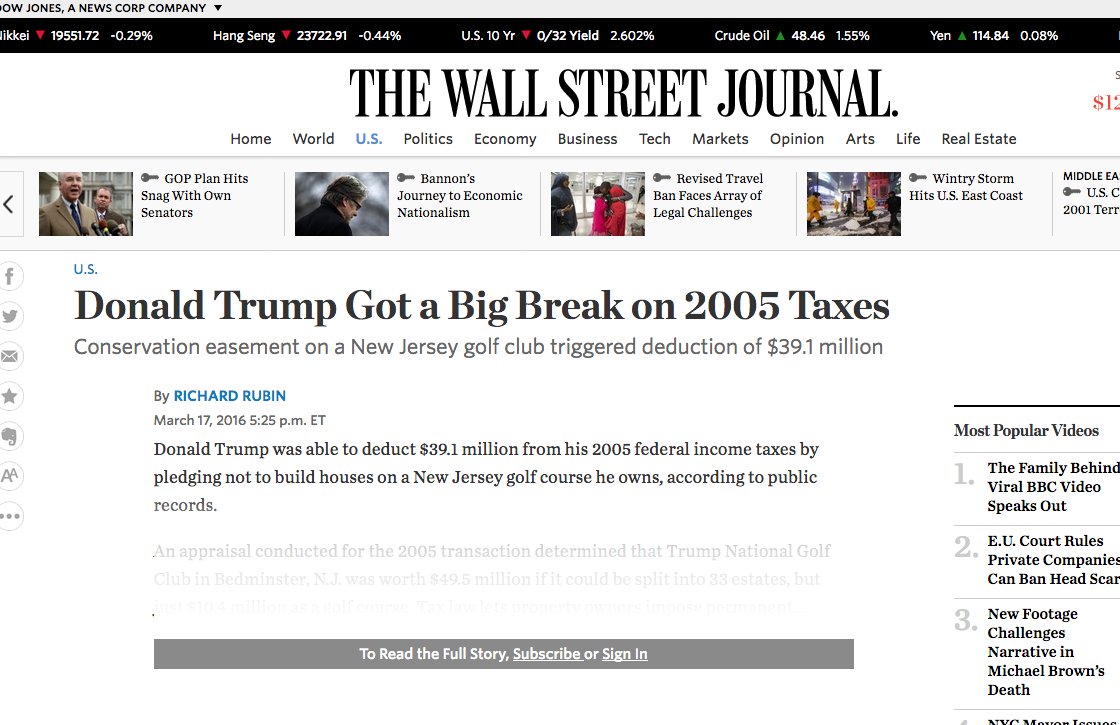 FAIL! MSNBC Rachel Maddow released a 12-year-old tax returns of Donald Trump, which the White House had already released and published last year by Wall Street Journal. Even worse, it shows Trump paid higher tax rate than Obama and socialist Bernie Sanders.
What Maddow and the fine folks over at MSNBC actually managed to do was get part of a copy of Trump's 2005 tax return. Which was already 12 years old. And which the White House had already released.

And which the Wall Street Journal had already reported on – a year ago
TRUMP PAID 25% TAX RATE: WASHINGTON (AP) — President Donald Trump earned $153 million and paid $36.5 million in income taxes in 2005, paying a roughly 25 percent effective tax rate thanks to a tax he has since sought to eliminate, according to highly sought-after tax documents disclosed Tuesday night.
TRUMP PAID HIGHER THAN OBAMA: Obamas paid effective tax rate of 18.7 percent in 2015: President Obama and first lady Michelle Obama paid more than $81,000 in taxes last year on reported adjusted gross income of $436,065, for an effective tax rate of 18.7 percent, according to tax returns released Friday afternoon by the White House.The Obamas paid $81,472 in total tax. Last year their effective tax rate was 19.6 percent, on income of $477,383
TRUMP PAID MORE THAN BERNIE: Businessman Donald Trump paid

$38 million on $150 million

in income in 2005.
Socialist Bernie Sanders paid only

13%

according to his 2014 tax returns.
READ MORE: TRUMP PAID HIGHER TAX RATE [25%] THAN MSNBC COMCAST [24%]… MUCH HIGHER THAN OBAMA [19%]… AND BERNIE [13%]!
( Daily Mail ) The White House was left fuming Tuesday night as Rachel Maddow revealed that she had obtained Donald Trump's tax returns, which he filed in conjunction with wife Melania.
In her MSNBC show, Maddow said that the 2005 document had been obtained by Pulitzer Prize-winning journalist David Cay Johnston, who received it from an unknown source in his mail box.
In response, an indignant White House told CNN: 'You know you are desperate for ratings when you're prepared to violate the law to push a story about tax returns from over a decade ago.'
The release concludes that 'it is totally illegal to steal and publish tax returns,' and fired off a parting shot about the 'dishonest media.'
Johnston told Maddow that as he had not solicited the documents, neither he nor Maddow had done anything illegal.
Maddow added that the First Amendment protected her right to report on the documents, which were the first two pages of his 2005 1040 form.
The White House claimed that Trump paid $38 million on an income of $150 million that year, in addition to sales and excise taxes and employment taxes.
He made a total of $253 million, but wrote off $103 million in losses. Money came from the sale of two New York properties to the Chinese as well as a salary from The Apprentice, which had premiered the previous year.
Read more: Trump is forced to reveal his tax returns: White House slams 'desperate' Rachel Maddow after she obtains 2005 filing showing President paid $38m after declaring income of $150m