Paul Ryan
Via ">Varney and Co.
Border Patrol Council President Brandon Judd blasted Speaker Paul Ryan for not funding President Trump's border wall in this year's budget.
Judd joined Stewart Varney this morning on Varney and Co.
Stewart Varney: There is a report this morning that Speaker Paul Ryan is suggesting that Congress delay border wall funding until next year. What do you say about that?

Brandon Judd: I disagree. President Trump promised he was going to secure the border and part of securing the border is putting in place the proper technology and resources that allows us to be successful. And a border wall in strategic locations is one of those things that must get done. President Trump has come in and has not politicized it. He's said he's going to secure the border, and he's done exactly what he's said he would do."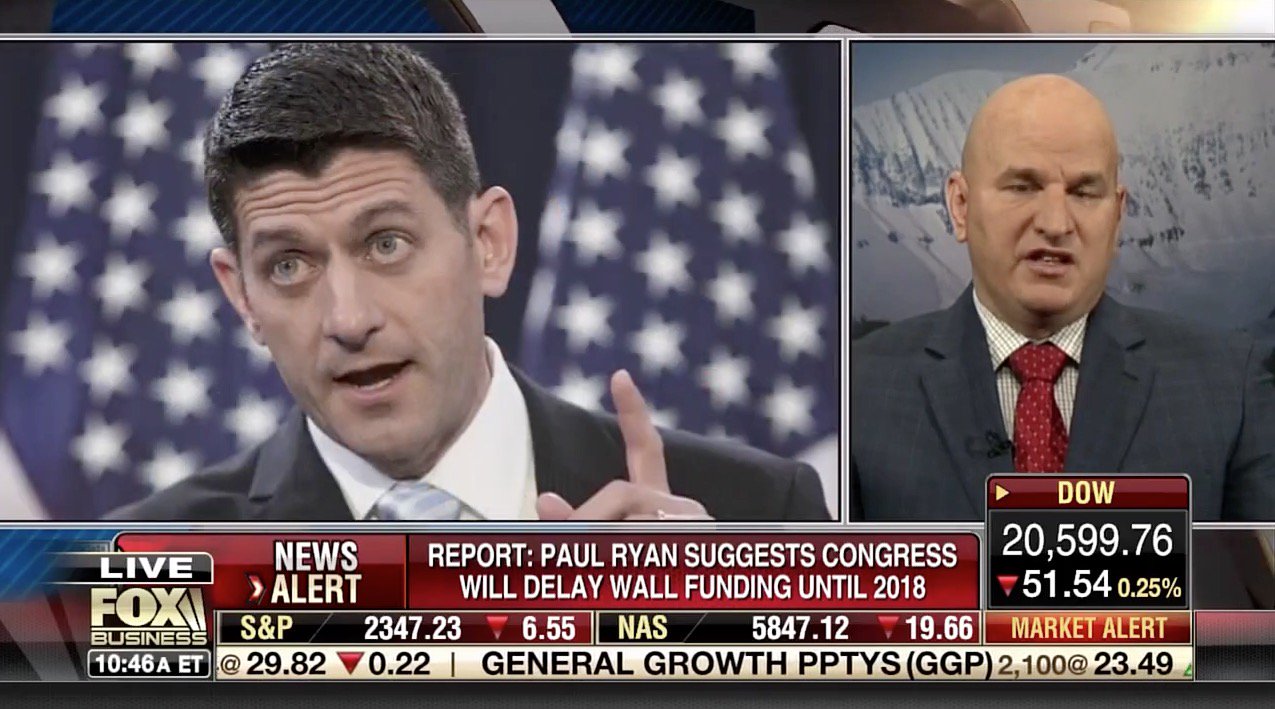 'Art of the Deal' Healthcare Bill Failure a Way to Oust Paul Ryan and Achieve Full Repeal of Obamacare?
( Gateway Pundit by Cristina Laila  ) Today, President Trump pulled the healthcare bill after it fell short of the votes needed to pass. The highly unpopular 'Ryancare' replacement of Obamacare left the Republicans divided.
Did Trump give Paul Ryan just enough rope to hang himself? It is no secret that Paul Ryan has contempt for President Trump and is working to sabotage him. This may Trump's plan to have Paul Ryan ousted and replaced.
Breitbart also reported on an author who predicted this..
Exactly two weeks ago, this author predicted the defeat of the American Health Care Act – and explained it was a step towards the final, actual deal that will repeal and replace Obamacare.

President Donald Trump faces three irreconcilable factions: the GOP establishment, conservatives, and Democrats. He must bring them together — to "deliver the goods," a key rule in The Art of the Deal. But first he must show them "the downside" — and convince them they will fail on their own.

So he let them make the first move — and he exposed two things about them: first, that they had not come up with a plan that was ready for prime time; second, that they had not done any of the political legwork necessary to sell their plan to voters.

Trump gave Speaker Paul Ryan and the House Republican leadership enough rope to hang themselves. Instead of dictating terms to him, they will now depend on him to save them, politically. They must accept whatever plan he will put forward.

But Trump will not make the next move. He will let the conservatives move first. They are the big winners in the first round — much more so than the Democrats, who are enjoying the spectacle of Republican dysfunction but have no role to play yet.

The conservatives will proceed with their demand for a full repeal of Obamacare. And then they will face the ire of voters who are deeply unhappy with Obamacare but upset about losing the paltry, expensive health insurance they currently have.

That, too, will strengthen Trump, and convince conservatives they need his leadership.
A never-before released audio of Speaker Paul Ryan on a conference call with House Republican was revealed tonight: "I am not going to defend Donald Trump—not now, not in the future."…Maybe he changed his mind?
Breitbart with the exclusive report:
In the Oct. 10, 2016 call, from right after the Access Hollywood tape of Trump was leaked in the weeks leading up to the election, Ryan does not specify that he will never defend Trump on just the Access Hollywood tape—he says clearly he is done with Trump altogether.

"I am not going to defend Donald Trump—not now, not in the future," Ryan says in the audio, obtained by Breitbart News and published here for the first time ever.

The October conference call apparently was intended only for House Republican members. It's unclear which or how many House Republicans took part in the call, whether the participants knew it was being recorded, who made the recording, or whether a recording exists of the entire call. The remarks on the portion provided to Breitbart News certainly sound like they were coming from Speaker Ryan, who seemed to be abandoning his party's presidential nominee altogether just weeks before the election. He says not only will he not defend the Access Hollywood comments, but he will not campaign with Trump at all between this call on Oct. 10, 2016, and the general election for the presidency on Nov. 8—and that Ryan would not defend Trump on anything generally.
Read the full report by Breibart here.