nuclear bomb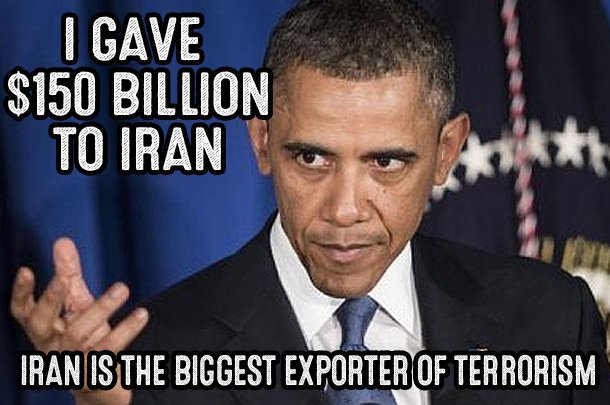 Blame it on Obama! Iran claims to have developed "father of all bombs," a monster 10-ton bomb, said to rival the United States' 'mother of all bombs," or MOAB and also brags how it has infiltrated the U.S. military over the recent years.
Washington Free Beacon reports:
A senior Iranian military leader claims the Islamic Republic has developed the "father of all bombs," a 10-ton bomb that is said to rival the United States' 'mother of all bombs," or MOAB, according to regional reports.

Iranian General Amir Ali Hajizadeh, commander of the Iranian Revolutionary Guard Corp's airspace division, claimed in an interview over the weekend with the country's state-controlled media that Iran has developed the 10-ton bomb and has the capability to drop them from aircraft.

[…]Hajizadeh also claims that Iran has infiltrated the U.S. military and has sensitive documents in its possession.

"We have infiltrated into the Americans' command control centers over the recent years," he was quoted as saying in a television interview broadcast on PressTV, another Iranian-controlled outlet.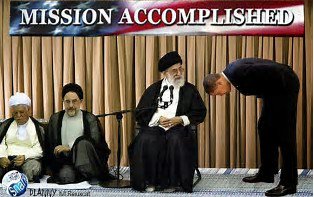 Washington Free Beacon reports:
Iran's clandestine spy network has been threatening and blackmailing scores of journalists, even going so far as to detain and threaten the family members of these reporters, in order to ensure positive coverage in global media outlets, according to a new report that estimates at least 50 international journalists have been threatened in just the past year.

[…]Outlets such as the BBC and Voice of America have been subjected to threats and in some cases have had their computers hijacked by Iran, according to the report, which states that "all international media outlets with Persian-language services are concerned" about the Islamic Republic's often-secret efforts to blackmail reporters in order to gain positive headlines.
A 5.6 magnitude earthquake has struck near a test site in North Korea, sparking fears the regime has launched its sixth nuclear test.
China's earthquake administration said it detected the quake in northeastern North Korea and described it as a 'suspected explosion', according to Reuters.
The depth was recorded as zero meters deep. Yonhap, South Korea's official news agency, reports the quake struck in Kilju county where North Korea's nuclear test site Punggyeri is located.
South Korea's Joint Chiefs of Staff says the quake was artificial and it's analyzing whether the North conducted a nuclear test.
It says it detected a seismic wave from 12.34pm to 12.36pm Sunday around Punggyeri.
North Korea conducted its fifth test last September – which also caused a massive earthquake.
Just hours earlier, the country claimed it has developed a more advanced nuclear weapon that has 'great destructive power'.
Photos released on Saturday show the country's leader Kim Jong-un inspecting a hydrogen bomb that will be loaded on a new intercontinental ballistic missile.
The hydrogen bomb's power is adjustable and can be detonated at high altitudes. The regime claims it can build as many of the nuclear weapons as it wishes.
Read more: BREAKING NEWS – Fears North Korea has launched its SIXTH nuclear test: 5.6 'artificial' earthquake is detected near test site, after regime boasted it had loaded a hydrogen bomb onto an ICBM
US fear North Korea plans to detonate nuclear device in a tunnel on Saturday
Pyongyang is reportedly in its final stages of preparing for its sixth nuclear test
Foreign reporters were told to prepare for a 'big and important' event today
Pyongyang is marking biggest national day called 'Day of the Sun' on Saturday
( Daily Mail ) North Korea is preparing to detonate a nuclear bomb to coincide with its 'Day of the Sun' national day on Saturday amid mounting tensions with President Trump, US officials fear.
The regime warned foreign journalists to prepare for a 'big event' on Thursday and is thought to have put a nuclear device in a tunnel at its Punggye-ri Nuclear Test Site.
Tensions in the region are running high after President Trump sent a US Navy strike group steaming toward the western Pacific in a show of force and North Korea warned of a nuclear attack at any sign of America aggression.
North Korea's most important national day is on Saturday April 15 when North Korea commemorates birth anniversary of its founding president Kim Il Sung. Ahead of the event, Kim Jong-un yesterday oversaw a commando operation in which special forces dropped from light transport planes 'like hail' and 'mercilessly blew up enemy targets'.
It comes as Japanese Prime Minister Shinzo Abe today underscored fears about possible threats from North Korea, telling parliament in Tokyo that Pyongyang could have the capacity to deliver missiles equipped with sarin nerve gas.
Meanwhile, China today said it would step up its protection of North Korea should the isolated state halt its nuclear programme.
READ MORE: North Korea is preparing to detonate a new nuclear bomb to mark 'Day of the Sun' as Kim Jong-un warns of a 'big event' TODAY and President Trump's armada moves in