Navy
( Daily Mail ) Rescuers are searching for seven US Sailors thought to be lost at sea or trapped inside a damaged Navy destroyer which collided with a 29,000 ton cargo ship 56 miles off the coast of Japan Saturday.
The guided missile destroyer USS Fitzgerald suffered severe damage when the container ship ACX Crystal – which is four times the size of the naval vessel – plowed into it at 2.30am local time.
Aerial footage shows the crushed exterior of the 9,000 ton $1.5billion destroyer which is commanded by Commander Bryce Benson, who took over in May.
Japanese coast guard spokesman Yoshihito Nakamura said the rescuers are searching for the seamen who were thought to have been thrown into the sea or possibly trapped inside damaged sections of the destroyer. Two crew berthings and one engineering main space have been flooded.
Three aboard the destroyer were medically evacuated, including the ship's commanding officer, Cmdr. Benson, who was reportedly in stable condition after being airlifted to the U.S. Naval Hospital in Yokosuka, the Navy said.
The other two injured were transferred to the hospital for lacerations and bruises, while other injuries were being assessed, it said.
'It was a was real fight by crew to keep the ship afloat. Our concerns now are with ship mates; seven sailors missing and 2 evacuees. When the news came we were all focused on the safety of or ship and the crew,' a naval spokesman in Yokosuka told DailyMail.com. 'We at the base are still reeling from the events.'
Read more: Seven sailors missing feared dead after $1.5bn US Navy destroyer collides with 29,000 ton cargo ship at 2.30am off Japan – crushing sleeping quarters and leaving the crew 'fighting to keep her afloat'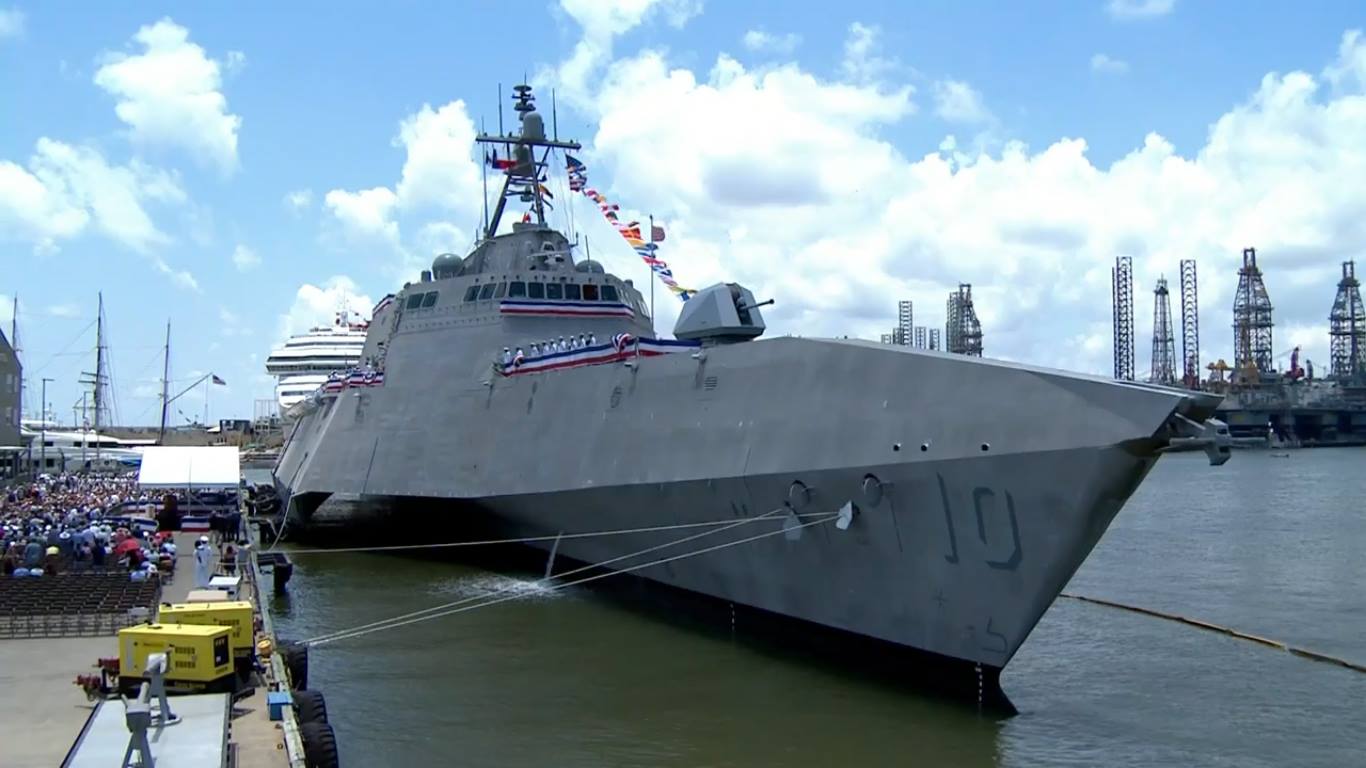 MOBILE, Ala. — Seeking to honor a retired congresswoman and 2011 shooting victim in the most considerate and respectful way possible, the Navy today christened the future USS Gabrielle Giffords (LCS-10), a first-of-its-kind, gun-free warship.
Designed to hold a core crew of 40 sailors, the Independence-class littoral combat ship has been stripped bare of its Mk 110 57-millimeter gun, all four of its Mk2 .50-cal machine guns, its Evolved SeaRAM 11 cell missile launcher, and its entire cache of small arms, which are typically issued to boarding teams and watch standers.
"Having this mighty warship be 100% gun-free not only helps to honor its heroic namesake, Gabby Giffords, but it also helps the Navy to steer clear of promoting a culture of violence," said Secretary of the Navy Ray Mabus, who reportedly lobbied hard to get Congress and the Secretary of Defense on board with leaving the Navy's newest addition to the fleet completely defenseless.
"Once commissioned and put into service," Mabus continued, "this vessel will truly embody the Navy's new motto of Semper Modestis— always considerate."
The Navy Secretary went on to say that he hopes Giffords sets a new trend Navy-wide, and that it's merely the first ship of many to go weapons-free.
"We have this whole new generation of millennials joining the Navy and becoming sailors on a daily basis, and most of them don't even like guns," he said. "So it's important we listen to their concerns and do what we can to adapt to them."
Mabus also said that going gun-free with the Giffords was a huge cost saver, and that much of the money saved on armament for the vessel was able to be redirected to a vegan-friendly galley, unisex uniforms for the whole crew, and numerous "safe spaces" throughout the ship — places where sailors can go to relax and decompress whenever they feel overly-stressed by the rigors of life at sea.
Read more: USS Gabrielle Giffords Christened As First Gun-Free Warship
WARNING! This is satire news from http://www.duffelblog.com :
We are in no way, shape, or form, a real news outlet. Everything on this website is satirical and the content of this site is a parody of a news organization. No composition should be regarded as truthful, and no reference of an individual, company, or military unit seeks to inflict malice or emotional harm.