McCarran International Airport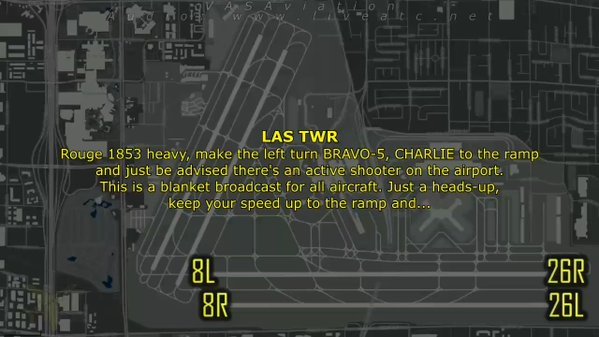 Air traffic control audio from the night of the Las Vegas shooting reveals there were "active shooters on the runway"
LAS Tower: Shutting down may not be a good idea. There's active shooters on the runway.
LAS Tower: The nineteens are closed, we are in the process of trying to round them up. They are on the property.
LAS VEGAS (INTELLIHUB) — Air traffic control audio recordings from the night of the Oct. 1 massacre reveal that there were indeed "active shooters on the airport property" just 1000 yards away from the venue where 58 people were reportedly shot to death.
McCarran International Airport is located at 5757 Wayne Newton Blvd and is just a hop, skip, and a jump from both the Mandalay Bay Hotel and Casino and the venue that was hosting the Route 91 Music Festival. It would make perfect sense that assailants would want to retreat to the airfield where they could make there escape, possibly in an aircraft.
Political strategist and co-founder of "The New Right" Mike Tokes released a portion of the tower audio on his twitter feed early Sunday morning.
Read more: Air traffic control audio from the night of the Las Vegas shooting reveals there were "active shooters on the runway"
NO WAY! Las Vegas' McCarran International Airport would be renamed Dirty Dingy Harry Reid International Airport if bill gets passed. Reid called for McCarran's name to be removed from the Las Vegas airport in 2012 – because he wanted his name instead. Why not just call it Las Vegas International Airport, because that's what it really is and that's what people call it.
CARSON CITY — Taxpayers will not be on the hook if supporters of Harry Reid are successful in getting the Las Vegas airport renamed for the former U.S. senator.
An amendment to a bill from state Sen. Tick Segerblom, D-Las Vegas, seeking to rename McCarran International Airport as Harry Reid International Airport says any costs of such a change must come from private donors.
Senate Bill 174 to rename the airport will be heard by the Senate Government Affairs Committee on Friday. It could be contentious given the polarizing effects of Reid's Senate tenure on Nevada voters.
"I've gotten a little bit of push back on Harry Reid, but not as much as I thought," Segerblom said. "I think we will have a very positive hearing.
"To me he symbolizes modern Nevada," Segerblom said. "When he started that was the old Nevada. And he really grew with Nevada and at the end of his career he really led Nevada."
First elected to the U.S. House in 1982, Reid served two terms before being elected to the Senate. He assumed the leadership role after Sen. Tom Daschle lost re-election in 2004. Prior to his more than three decades in Washington, Reid served in the Nevada Assembly and as Nevada's youngest lieutenant governor at age 30 when he was elected in 1970.
READ MORE: Taxpayers will not have to foot the bill if Las Vegas airport is renamed