Martin Luther King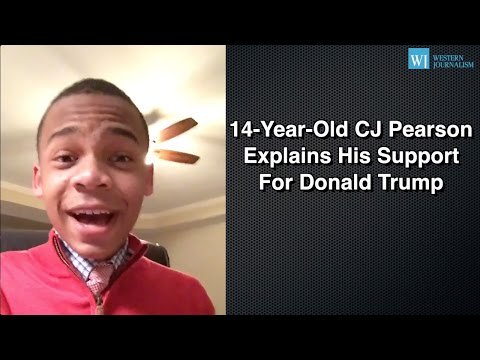 CJ Pearson: "Under President Trump, black employment is at an all-time low.
This is also a president who set his sights on saving inner cities across America, lowering the violent crime in these cities so that black babies aren't scared to go play in the playground without the threat of being shot hanging over their head,"
"Something that President Obama never did in the entirety of his eight years in office,"
CJ Pearson, popular 15-year-old conservative blogger and Trump supporter, is gaining massive support online after presenting the case for why Martin Luther King Jr. would be proud of President Donald Trump.
Pearson argues that President Trump "has done more for black folks in one year than Obama did in eight."
From The Gateway Pundit:
"Under President Trump, black employment is at an all-time low. This is also a president who set his sights on saving inner cities across America, lowering the violent crime in these cities so that black babies aren't scared to go play in the playground without the threat of being shot hanging over their head," Pearson began. "He's also focused on bringing jobs to these communities, bringing economic investments to these communities and bringing rising wages to these communities."
"Something that President Obama never did in the entirety of his eight years in office," Pearson states.
The young student from Georgia, who comes from a Democratic family, goes on to credit the president for his work to save historically black colleges.
"I would argue that President Trump has lead a presidency that Martin Luther King would be proud of — and it's kind of funny to say because everyone in the media and everyone on the left is hellbent on accusing this president of being a racist, a bigot and all these other baseless accusations that have no merit at all," Pearson asserts.
Pearson grows upset as he discusses accusations of Trump being racist, and fiercely defends the president.
"I as a black teenager, I saw the devastation that liberal policies have had within the black community, I have seen the hurt that they have caused," Pearson emotionally demands. "I have seen the pain that President Obama's inaction has caused in places like Chicago, Detroit, Atlanta and so forth and so on."
The teen concludes that MLK and Trump share the common goal that "America First" is "America together" and that both men believed that every person of every color deserves to thrive.
"As a 15 year old Black American, I saw firsthand the devastation the Obama Administration caused within my community. President Trump has sought to heal those wounds and has done a darn good job. Perhaps, the Left should take notes," Pearson told the Gateway Pundit.
Read more: 15-Year-Old Black Student: MLK Would Be Proud of President Trump (VIDEO)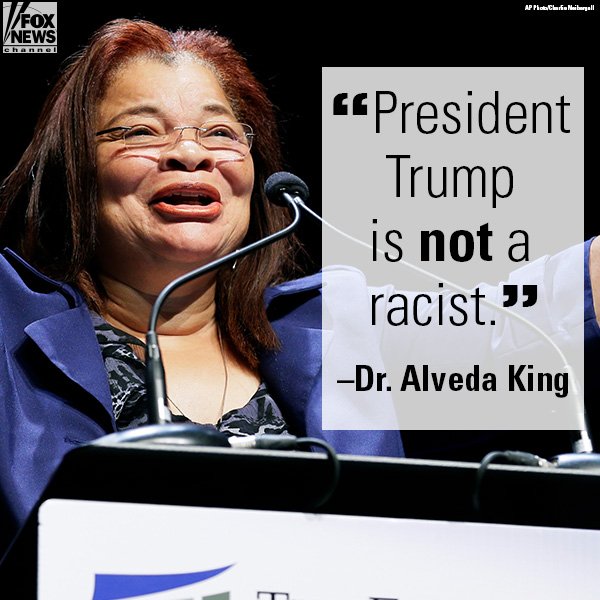 The Rev. Martin Luther King Jr.'s niece ripped accusations that President Trump is a "racist" for speaking in an off-color manner about third world countries.
Illinois Democratic Sen. Richard Durbin claimed Trump referred to Haiti and the African continent as a "s**thole," prompting critics to label the president a racist.
Dr. Alveda King said Saturday on "Fox & Friends" such claims about Trump are "outrageous."
She said that Trump has done excellent work in highlighting the important accomplishments of her uncle, including officially declaring his Georgia birthplace a national historic park.
"Racism is just a word that is being bandied about and thrown… at the president unjustly," she said. "President Trump is not a racist."
New Black Panther Party Leader Quanell X was a guest on the local FOX Houston station to discuss Donald Trump's outreach to the black community.
Quanell X had this to say about the Democrat Party: "We're being pimped like prostitutes and they're the big pimps pimping us."
New Black Panther Leader Quanell X: Donald Trump decided to go to Milwaukee and speak about the conditions in American and why he thought black people should vote for him. He even went on to lay out reasons why we should. Let me say this to the brothers and sisters who listened and watched that speech. We may not like the vessel that said what he said, but I ask us to truly examine what he said.

It is a fact that for 54 years we have been voting for the Democratic Party like no other race in America. And they have not given us the same loyalty and love that we have given them. We as black people have to reexamine the relationship. We're being pimped like prostitutes and they're the big pimps pimping us politically, promising us everything and giving us nothing in return. We gotta step back now as black people and we gotta look at ALL the parties…

…Barack Obama, the president, the first black president ever, but did our condition get better? Did things get better? The condition got worse.
Dr. Aveda King, Dr. Martin Luther King Jr.'s niece endorsed Donald Trump for president after she 'listened very carefully to everything Mr. Trump has said in the last 72 hours or so and I fully agree with so many of the things that he's saying.'
Dr. Alveda King spoke with FOX Business Network on Friday.
Dr. Alveda King: I listened very carefully to everything Mr. Trump has said in the last 72 hours or so and I fully agree with so many of the things that he's saying. He has taken a page from the book of my daddy, A. D. King, and my uncle Dr. Martin Luther King, Jr. looking at the climate, people and really being concerned about what's happening in every community across America.