Margaret Sanger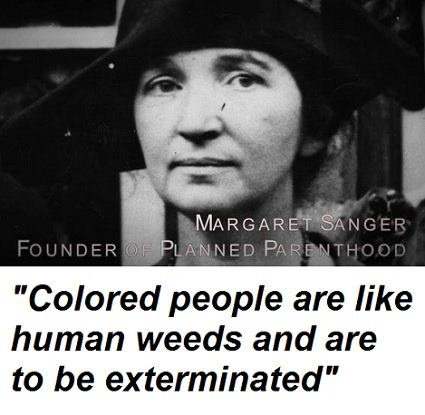 Planned Parenthood founder Margaret Sanger: We don't want the word to go out that we want to exterminate the Negro population
In a letter to Dr. Clarence Gamble in December, 19, 1939, Sanger exposited her vision for the "Negro Project," a freshly launched collaboration between the American Birth Control League and Sanger's Birth Control Clinical Research Bureau. The letter echoes the eugenic ideologies still visible within the corporate vein of Planned Parenthood today.
We should hire three or four colored ministers, preferably with social-service backgrounds, and with engaging personalities. The most successful educational approach to the Negro is through a religious appeal.

We don't want the word to go out that we want to exterminate the Negro population, and the minister is the man who can straighten out that idea if it ever occurs to any of their more rebellious members.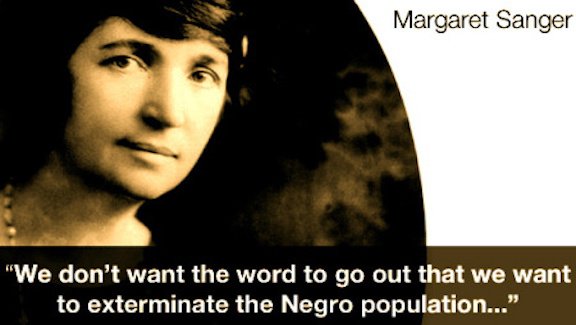 NFL Player: Planned Parenthood Was Created To Exterminate Black People
David Hookstead
( Daily Caller ) Baltimore Ravens tight end Benjamin Watson made it very clear that he is anti-Planned Parenthood during an interview with Turning Point Friends.
Watson was asked about race and abortion, and he gave an incredibly blunt answer. (RELATED: Clay Travis: 'Nobody Saves More Lives For Black People Than The Police' [VIDEO])
He said in part:
I do know that blacks kind of represent a large portion of the abortions, and I do know that honestly the whole idea with Planned Parenthood and [PP founder Margaret] Sanger in the past was to exterminate blacks, and it's kind of ironic that it's working. We (as minorities) support candidates, and overwhelmingly support the idea of having Planned Parenthood and the like, and yet, that is why she created it. We are buying it hook, line, and sinker, like it's a great thing. It's just amazing to me and abortion saddens me period, but it seems to be something that is really pushed on minorities and provided to minorities especially as something that they should do.
This isn't the first time that Watson has weighed in on hot button issues. He previously took a strong pro-police stance and said that people need to comply with the orders of police officers.
Read more: http://dailycaller.com/2016/08/05/nfl-player-planned-parenthood-was-created-to-exterminate-black-people/#ixzz4GY22Cm14