Lindsey Graham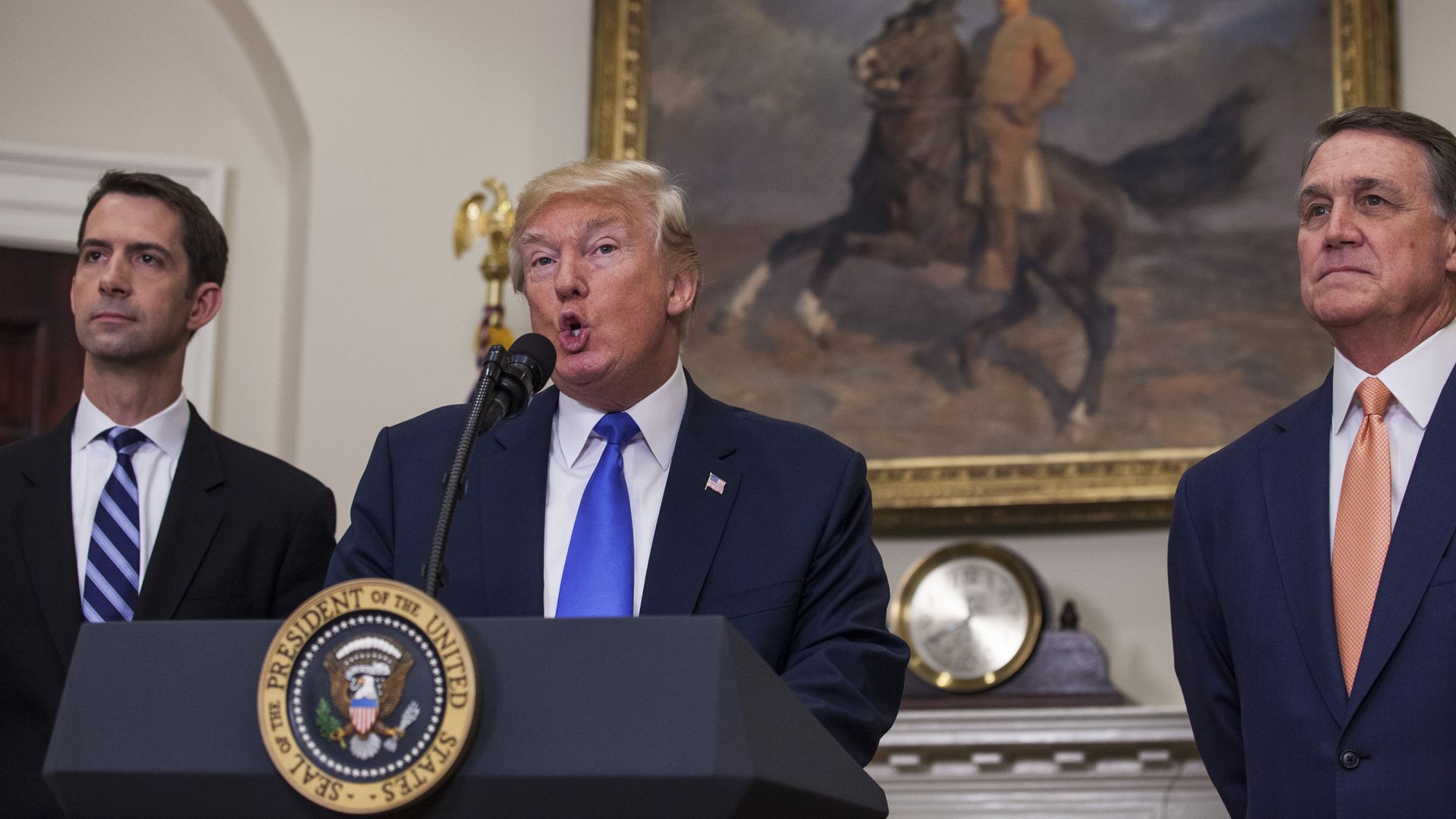 ( Axios ) Sens. David Perdue and Tom Cotton released a joint statement in response to backlash over President Trump's "shithole countries" remarks, claiming that they "do not recall the President saying these comments specifically."
Read the full statement below:
"President Trump brought everyone to the table this week and listened to both sides. But regrettably, it seems that not everyone is committed to negotiating in good faith. In regards to Senator Durbin's accusation, we do not recall the President saying these comments specifically, but what he did call out was the imbalance in our current immigration system, which does not protect American workers and our national interest. We, along with the President, are committed to solving an issue many in Congress have failed to deliver on for decades."
— Senators Tom Cotton and David Perdue
Read more: Republicans in Oval Office meeting "do not recall" Trump's "shithole" comments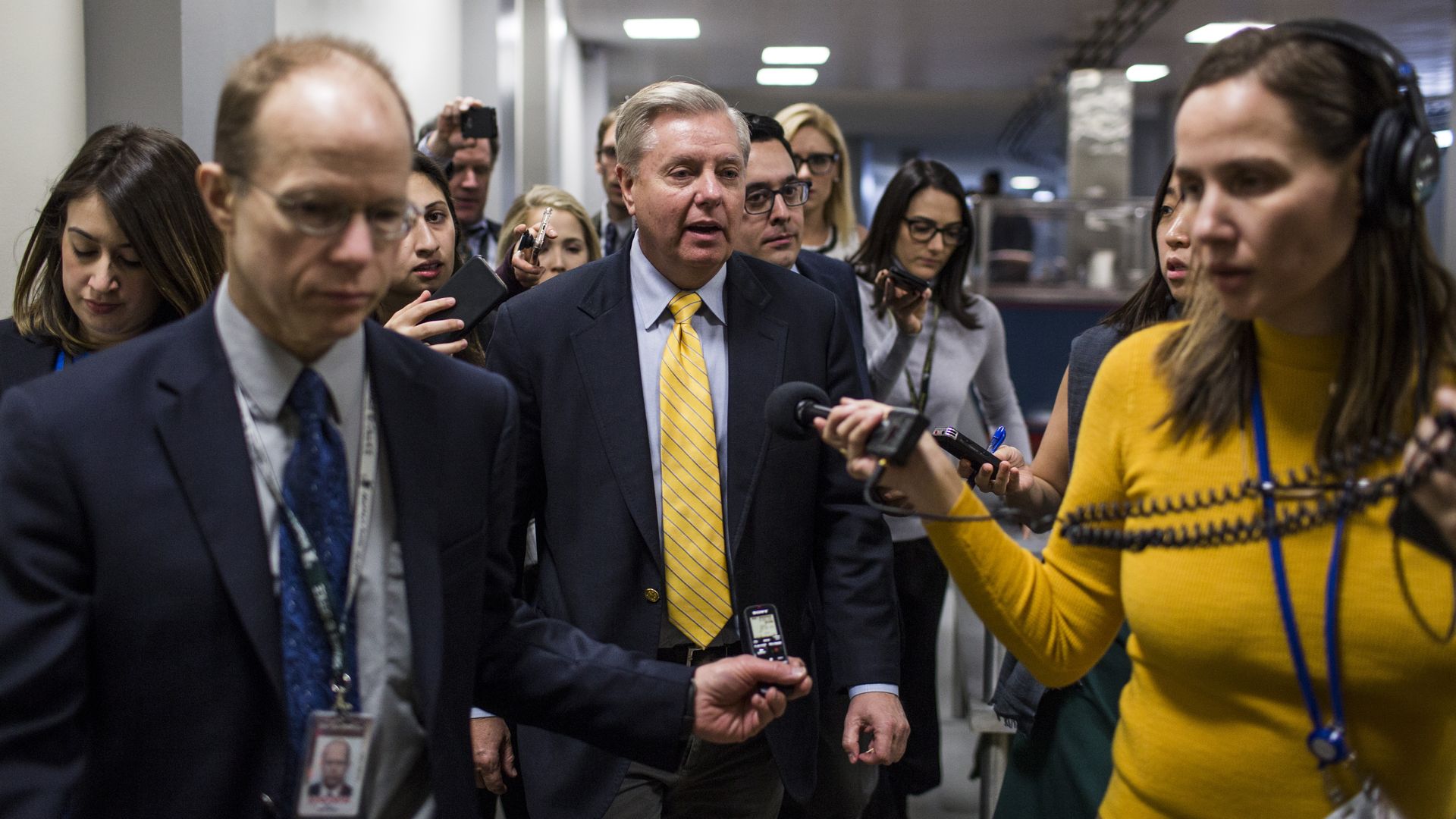 Sen. Tim Scott told the Post and Courier that Sen. Lindsey Graham confirmed Trump's "shithole countries" comment to him. He added that Graham said reports of the remarks are "basically accurate."
Inside the room: Sen. Dick Durbin said Graham, who was in the Oval Office meeting on Thursday, "spoke up and made a direct comment on what the president said," which took "extraordinary political courage," per the Post and Courier.
Read more: Graham confirmed Trump's "shithole" remark to Tim Scott
During an appearance on CBS News's "Face the Nation," Senator Lindsey Graham suggests Comey is under criminal investigation.
The Hill reports:
Graham said he did not agree with Trump's description of the bureau, but said Comey will have to answer for decisions he made during his time helming the FBI.

Trump fired Comey in May, in a decision that triggered the appointment of Mueller to take over the federal investigation into Russia's election meddling and its possible collusion with the Trump campaign.

"I think he made some decisions that were really very, very wrong," Graham told host John Dickerson regarding Comey. "There's an ongoing criminal investigation; Comey may be part of it. You tweet and comment regarding ongoing criminal investigations at your own peril. I'd be careful if I were you, Mr. President. I'd watch this."

Some observers expect Comey to face more questions about his time leading the FBI investigation.
Disgusting GOP swamp Lindsey Graham is working on a bill 'Democrats will support' that will prevent President Trump from firing witch-hunt Special Counsel Robert Mueller.
 "Any effort to go after Mueller could be the beginning of the end of the Trump presidency," says John McCain's swamp brother.
POLITICO reports:
Sen. Lindsey Graham sent a sharp warning Thursday to President Donald Trump that it "could be the beginning of the end" of his presidency if he makes moves to fire special counsel Robert Mueller.

The South Carolina Republican, who in the late 1990s served as a House impeachment manager against President Bill Clinton, said Trump would be crossing a serious "red line" by ordering the ouster of the lead investigator who is probing his campaign's ties to Russian meddling in the 2016 election.

"Any effort to go after Mueller could be the beginning of the end of the Trump presidency unless Mueller did something wrong," Graham told reporters on Capitol Hill, where he outlined plans to introduce legislation next week that would move to block any Trump attempts to fire Mueller.

Graham said his bill — which he promised would have Republican support and "all the Democrats" — would mandate that any special counsel established to investigate either a president or his staff can't be fired "unless you have judicial review of the firing."