lifestyle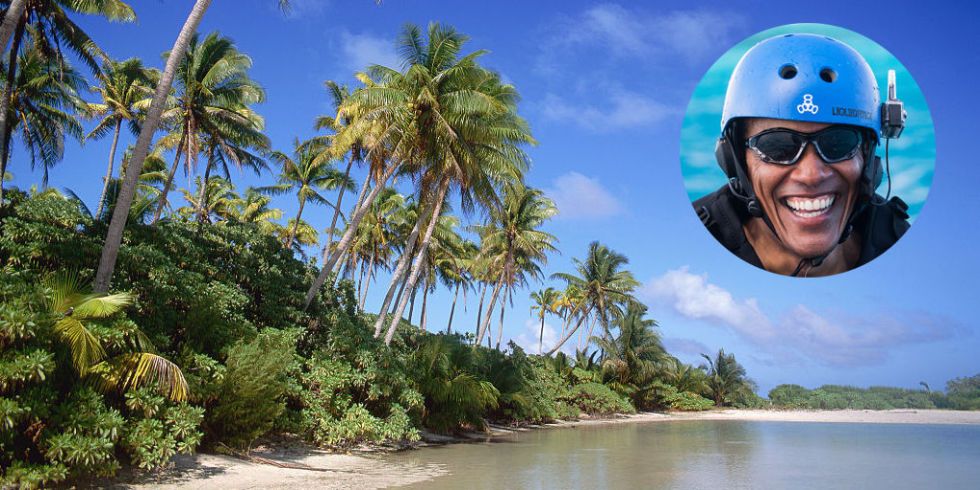 Obama "trips are like the lifestyles of the rich and famous,"
Every time Obama opens his mouth, the fair question is: Which billionaire's paradise island did he do it from?
Liberal HBO host John Oliver : "I'm a little sick of seeing photos of President Obama on vacation "
( Fox News ) Ex-presidents, understandably and un-controversially, go on vacations immediately after leaving office. But the level of luxury the Obamas enjoy on their vacations is unprecedented for a modern-day president, say travel experts.
Since leaving office in late January, Obama has visited late actor Marlon Brando's private island; the Four Seasons in Bali — where rooms cost upward of $2,000 per night; a Palm Springs estate; Sir Richard Branson's Necker Island; the exclusive Mid Pacific Country Club in Oahu; the 13th-century Borgo Finocchieto in Tuscany; and the Rising Sun, Hollywood studio mogul David Geffen's private yacht.
"These are some of the most luxurious travel destinations in the world. Many of our clients spend tens of thousands of dollars or more to stay at these resorts, which cater to the most discriminating and demanding guests," said Kendra Thornton, travel expert and owner of luxury travel agency Royal Travel. "For example, Necker Island has a nightly price tag of $80,000. Anyone who stays at these properties does so because they want the best of the best."
"These trips are like the lifestyles of the rich and famous," said Democratic strategist Pat Caddell. The former adviser to ex-President Jimmy Carter believes that President Obama's vacations are unprecedented, and a far cry from how Carter spent his first few months out of office.
"I think the Bernie Sanders wing of the party, when they see President Obama, whom they instinctively want to defend being the corporatist president, I think it makes the base uneasy," said Caddell.
Left-wing activists told Fox News they are troubled by what they see as a trend by Obama to distance himself from the base of the party. It's not just vacations. The president also has enjoyed hefty fees for speeches to prominent Wall Street firms. It's all part of a trend, they say, of Obama trying to join the fabled 1 percent.
…..The left-wing media is also worried about Obama's luxury vacations.
"I'll tell you who should kick back a little less," said HBO host John Oliver in an interview with Seth Meyers on Late Night Monday. "This might be controversial – I'm a little sick of seeing photos of President Obama on vacation with Richard Branson. Just tone it down with the kite-surfing pictures. I'm glad he's having a nice time – America is on fire."
…"I think every time Obama opens his mouth, the fair question is: Which billionaire's paradise island did he do it from? When is he going to do anything to help people other than enrich himself?" Caddell said. "How can he possibly be doing things? How do you do things from Marlon Brando's island? It's in stark contrast to Carter."
"Obama has a right to do whatever he wants," Caddell said. "But these trips really are a little bit rich."
Read more: Fox News: Obamas under fire from the left for never ending, sizzling ultra-luxury vacations
WOW! Bill Gates tells how he BANNED his kids from having mobile phones until they turned 14, loves McDonald's and wears a $10 Casio watch.
Read full story below:
---
Microsoft founder Bill Gates, the world's richest man, says that he did not permit his children to own a mobile phone until they turned 14.
Gates made the revelation during an interview on Thursday with the British newspaper The Mirror.
Not only does Gates force his kids to wait until age 14 to get a smartphone, but he also limits the amount of time they could use them before going to bed.
Smartphones are also banned from the dinner table.
'We often set a time after which there is no screen time and in their case that helps them get to sleep at a reasonable hour,' the tech titan told The Mirror.
Gates and his wife, Melinda, are parents to Jennifer, 20; Rory, 17; and Phoebe, 14.
Despite the irony of Gates playing a pivotal role in the technological revolution of the digital age, he still thinks limits need to be in place for children.
'You're always looking at how it can be used in a great way – homework and staying in touch with friends – and also where it has gotten to excess,' the Microsoft founder said of smartphones and social media.
…The Mirror reports that during its interview with Gates, he was wearing a Casio watch worth $10.
He also insists that he's 'big on pretty mainstream American hamburgers, McDonald's, Burger King.'
Read more: Bill Gates tells how he BANNED his kids from having mobile phones until they turned 14, loves McDonald's and wears a $10 Casio watch