license plate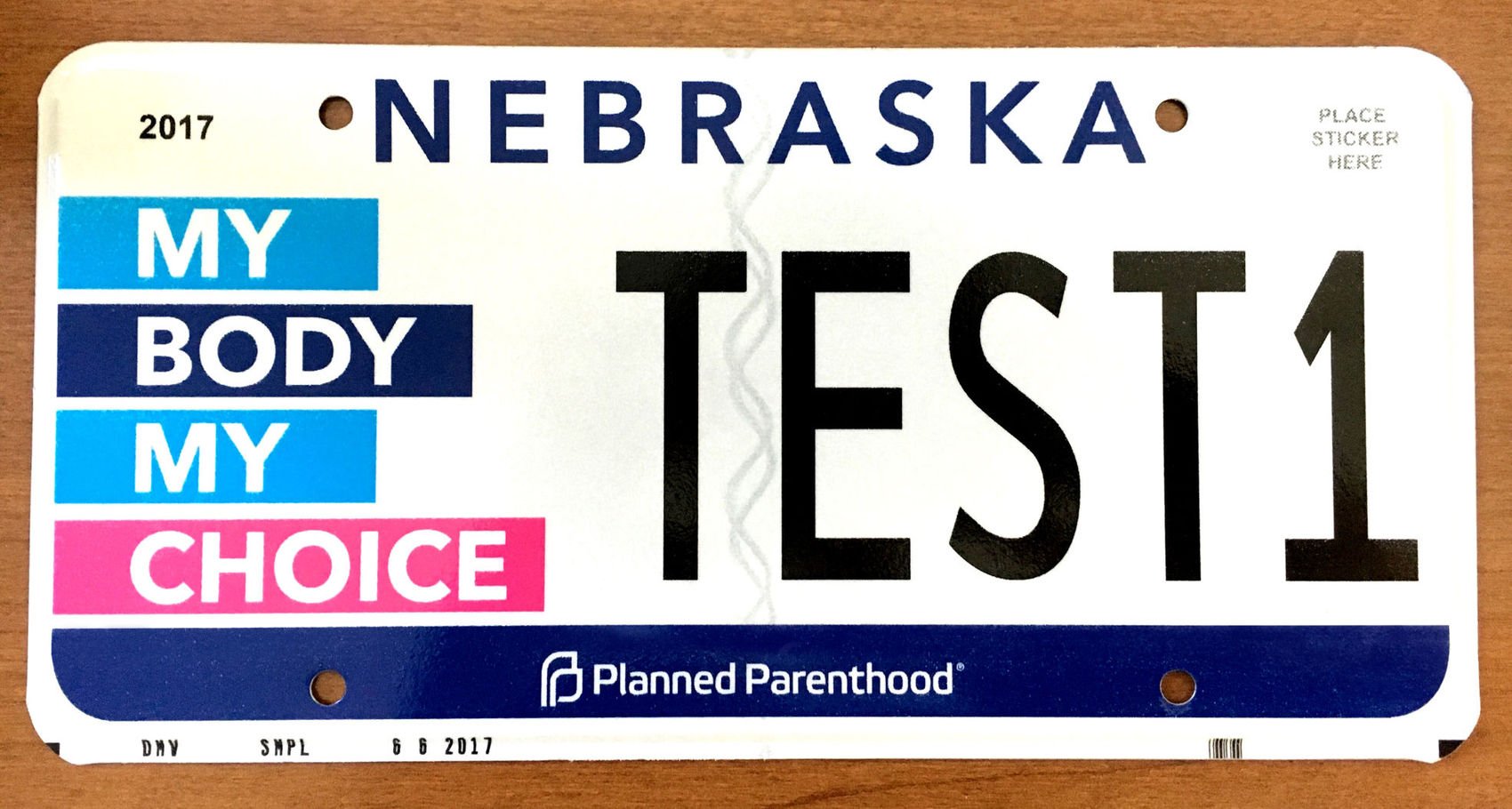 Planned Parenthood Unveils Pro-Abortion License Plates: "My Body, My Choice"
Steven Ertelt   Dec 29, 2017   |   2:06PM    Lincoln, Nebraska
The Planned Parenthood abortion business has been on a mission to defend and promote abortion. In the latest effort to brag about abortions, Planned Parenthood is now unveiling a new pro-abortion license plate.
The new Nebraska license plate would have the silly and unscientific slogan, "My body my choice." Never mind that an abortion involves the body of an unborn child who scientifically could never be the woman's body or part of it.
The new abortion-supporting license plates will cost an additional $70 for drivers. It appears Planned Parenthood has enough applications to support the plate and it told state officials that 263 Nebraska drivers went to promote abortion on their vehicles.
Why the nation's biggest abortion business thinks that Nebraskans want to have a pro-abortion license plate on their vehicles is a good question. It appears that the abortion company falsely thinks most Nebraskans support abortion even though it is one of the most pro-life states in the country.
Meg Mikolajczyk, associate general counsel and senior public affairs manager for Planned Parenthood of the Heartland, said in a press release that the plates are an opportunity for people to voice their own opinion on women's health issues.
"After all, the majority of Nebraskans and Americans overall believe that a woman should maintain her right to reproductive choice as established under Roe v. Wade," she said.
Polling data makes it clear that a majority of Americans are pro-life on abortion.
A  counter protester had thrown a rock at the vehicle, causing the driver to swivel around and ram into people and cars in its way, before driving off with someone's shoe attached to its bumper.
The 'pro-white' rally was organized to protest Charlottesville's decision to remove a statue of Confederate General Robert E. Lee
( Daily Mail ) At least one person is dead after a driver intentionally plowed into a group of anti-fascist protesters hitting up to 26 people in Charlottesville, Virginia, after violent clashes erupted between white nationalists and activists on Saturday.
Video shows the Dodge Charger accelerating into the crowd throwing bodies into the air as people scream before reversing at high speed – sending 19 people to the hospital for their injuries and leaving one dead.
It came after violent clashes erupted as hundreds of white supremacists including armed militias marched into Charlottesville sparking violent confrontations with the counter-protesters. Police cleared the scene with tear gas but the violence continued.

…..There were several hundred protesters marching in a long line when the car drove into a group of them and police said the crash happened near the intersection of Fourth and Water streets.
Matt Korbon, a 22-year-old University of Virginia student, said counter-protesters were marching when 'suddenly there was just this tire screeching sound.'
The silver sedan smashed into another car, then backed up, plowing through 'a sea of people.'
People scattered, running for safety in different directions, he said.
Witness Nic McCarthy told C-VILLE Weekly: 'There was someone in a dark vehicle that sped, very quickly, down this road and rammed into the crowd.
'People… He backed up and he went back in again.'
McCarthy added: 'There was a girl that was caught and she was trying to get up and it ran over her again. I hope the cops catch these terrorists.'
….Police were in position at Emancipation Park and downtown Charlottesville by 6am as they prepared for the rally.
Between 4,000 and 6,000 people from groups including white nationalists, neo-Confederates and alt-right activists were expected to protest at the park, which had recently been renamed from Lee Park.
Right-wing blogger Jason Kessler planned what he called a 'pro-white' rally to protest Charlottesville's decision to remove a statue of Confederate General Robert E. Lee.
Supporters and counter-protesters screamed, chanted, threw punches, hurled water bottles and unleashed chemical sprays on each other. Men dressed in militia uniforms were carrying shields and openly carrying guns.
The protest hadn't yet begun when two people were seriously injured and protesters reportedly deployed pepper spray, according to state police.
Read more: One dead as car mows down anti-fascists at white nationalist rally: Driver 'intentionally' accelerates into crowd and leaves 19 hurt after riot cops use tear gas to break up violent clashes in Charlottesville