left-wing violence
A woman who said she experienced hateful online attacks after thanking Eric Trump for his commitment to St. Jude Children's Research Hospital was able to thank the president's son directly Tuesday on "Fox & Friends."
Sherrie Hopper said that her nephew, Zachary, was treated at St. Jude and had a "small basketball-sized" cancerous tumor removed from one of his kidneys in 2012.
Hopper had thanked Trump for his support of St. Jude Children's Research Hospital of Tennessee on Twitter, and said she and her family are "eternally grateful" for his commitment.
After Trump shared the post, Hopper posted a video for the "#WalkAway Campaign" saying that the "hate" her family had received online was "unreal."
---
---
White House senior advisor Stephen Miller: "Outraged, Miller threw the sushi away, he later told his colleagues."
( Daily Caller ) A bartender followed White House senior advisor Stephen Miller out of a restaurant, flipped him off and cursed at him, according to an article in the Washington Post published on Monday.
Miller allegedly ordered $80 of takeout sushi from a local restaurant near his apartment. Once he left, the employee shouted his name to get his attention, and verbally attacked him, the article said.
The White House official was so disgusted, he threw the food away.
This is not the first time Miller has been the subject of public scrutiny. Last month, a group of protesters stood outside his apartment handing out flyers that accused him of "crimes against humanity" for his influence on the "zero tolerance" policy.
Trump administration officials and conservatives alike have increasingly faced protests while in public. Senate Majority Leader Mitch McConnell, DHS head Kirstjen Nielsen, and former White House strategist Steve Bannon have all been confronted while going about their lives in public.
Read more: http://dailycaller.com/2018/07/09/bartender-confronted-stephen-miller/
'Irate' man arrested for threats against Trump supporters, local politician
The New York Post reported:
A Long Island man was arrested Friday for threatening to kill supporters of President Donald Trump and Republican Rep. Lee Zeldin – then nearly hitting a Zeldin campaign staffer with his car, according to Suffolk County police. It was the latest in a string of attacks against the administration and its allies.
Martin Astrof, 75, of Nesconset, "became irate" at the Suffolk County campaign headquarters of Rep. Lee Zeldin at 11:15 a.m. Friday, local police said.
He threatened to kill a campaign worker, as well as other Zeldin and Trump supporters – then "backed his car up in an aggressive manner nearly striking the worker," according to authorities.
Astrof fled the scene and was arrested at his home Friday afternoon. He was expected to be arraigned Saturday on a felony charge of making a terroristic threat, and on second-degree reckless endangerment charges.
Zeldin, a fervent Trump backer, decried the attack on Friday night.
"In the US, political scores are settled at the ballot box, not by trying to kill your political opponents," he tweeted. "Donato Panico is a great American, supporter of @realDonaldTrump & one of my campaign vols. He shouldn't have been targeted like this today for his passion & involvement."
Boynton Beach homeowner Jeff Good says he was attacked over President Trump flag in yard
WPTV reported:
A fun night of fireworks was ruined for a Boynton Beach man. Jeff Good says he was attacked for having a President Trump flag in his yard.

Good said he was watching fireworks in his driveway when someone drove in front of his house and started yelling at him about President Trump.

"He was saying vile things about our president," said Good.

The driver of the car then told Good he had to remove his flag. When Good told him no, he said the driver punched him in the face.

Good said he instinctively tried to punch the man back, but the man drove off with Good's arm stuck in the car, and Good was then dragged for about 30 feet.

"I have some bumps and bruises that I don't think you want to see," said Good as he was showing the scars on his hands and elbow.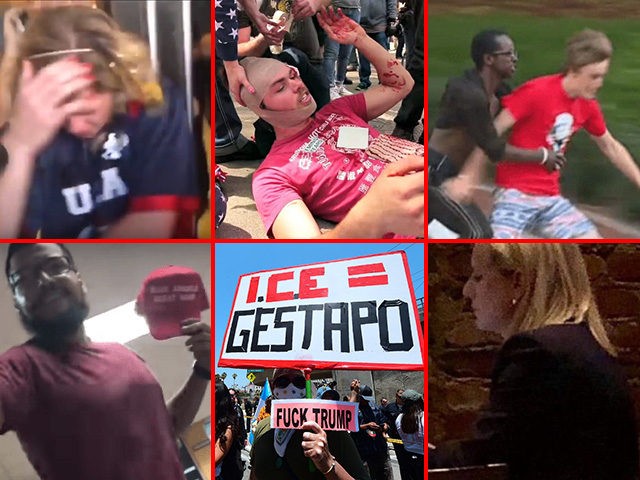 Please email jnolte@breitbart.com  with any updates or anything you think deserves to be added to this list.
Here is the list, so far, and remember that if any one of these things happened to a Democrat, the media would use the story to blot out the sun for weeks. But what we have when it comes to Trump supporters is a media eager to normalize harassment and violence.
This list will be updated as needed…
Please email jnolte@breitbart.com  with any updates or anything you think deserves to be added to this list.
Read more: https://www.breitbart.com/big-journalism/2018/07/05/rap-sheet-acts-of-media-approved-violence-and-harassment-against-trump-supporters/
'The left in 2018: Unhinged' file:
Secret Service Officer assaulted outside White House at immigration protest by violent leftist named Carmona who was screaming "Where's the President?". Carmona punched an officer in the jaw and the left eye. Two officers took Carmona to the ground and placed leg shackles on him because they said he was kicking at the officers.
NBC News reported:
A U.S. Secret Service officer was injured in an assault while on patrol outside the White House on Saturday shortly after the major immigration rally in Lafayette Park, according to newly filed federal court records.
The man, who is only identified as Carmona in court records, is accused of illegally parking his BMW along Pennsylvania Avenue, moving a bicycle rack-style security barrier erected for the rally and screaming at the officers "Where is the president?" according to a Secret Service affidavit obtained by the News4 I-Team.
The court filings say that after Secret Service officers tried to stop Carmona for illegal parking, Carmona moved the security barrier and then punched an officer in the jaw and the left eye. Two officers took Carmona to the ground and placed leg shackles on him because they said he was kicking at the officers, according to the affidavit.
The affidavit says a Secret Service officer suffered a possible concussion and a knee injury.
"Carmona was placed under arrest for assaulting a federal law enforcement officer. While being placed under arrest, Carmona asked 'Where is the President?' He also stated to officers 'Just end it, just kill me,'" the affidavit says.
A judge ordered that Carmona undergo a forensic exam Thursday morning at D.C. Superior Court. The judge also ordered that Carmona stay away from Officer Young, the White House Grounds and several streets in Northwest D.C.