Kim Jong-un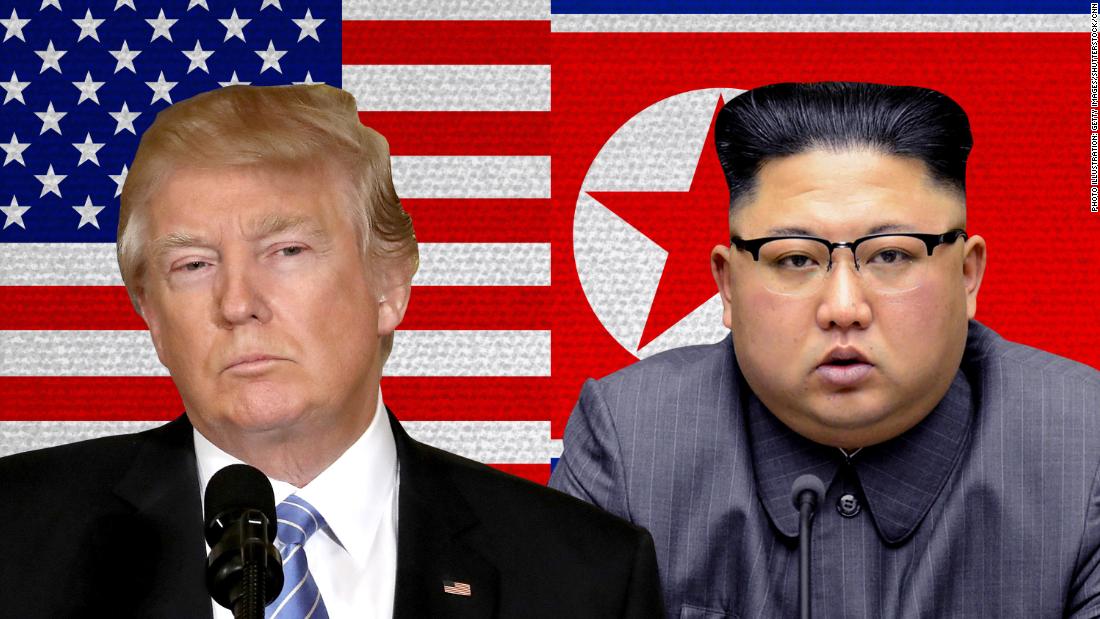 By Dave Boyer – The Washington Times – Friday, May 4, 2018
South Korean President Moon Jae-in will visit President Trump at the White House later this month ahead of Mr. Trump's historic summit with North Korea's leader on the pivotal issue of denuclearization.
The White House said Friday that Mr. Trump will host Mr. Moon on May 22, their third meeting since Mr. Trump took office.
White House press secretary Sarah Huckabee Sanders said Mr. Trump's upcoming meeting with North Korean leader Kim Jong-un will be high on the agenda, following Mr. Moon's first meeting with Mr. Kim on April 27.
"President Trump and President Moon will continue their close coordination on developments regarding the Korean Peninsula," she said. "This third summit between the two leaders affirms the enduring strength of the United States–Republic of Korea alliance and the deep friendship between our two countries."
Read more: Trump to host South Korea's Moon Jae-in ahead of summit with North Korea's Kim Jong-un
President Donald Trump has accepted North Korean dictator Kim Jong-un's dramatic offer to meet, and he'll do it by May, a South Korean official said Thursday evening.
South Korea's national security adviser Chung Eui-yong informed U.S. press of the expected in-person conversation and said the goal of the unprecedented meeting between the two countries' leaders is permanent denuclearization of the Korean Peninsula.
Chung did not say where the meeting would take place.
A half hour after the foreign official announced the meeting steps from the West Wing, the White House confirmed Trump's participation. But it did not second Chung's claim that talks would be held within the next two months.
A statement from White House Press Secretary Sarah Sanders said the place and time of the meeting was still to be determined.
'President Trump greatly appreciates the nice words of the South Korean delegation and President Moon. He will accept the invitation to meet with Kim Jong Un at a place and time to be determined,' Sanders said. 'We look forward to the denuclearization of North Korea. In the meantime, all sanctions and maximum pressure must remain.'
Read more: Trump agrees to meet Kim Jong-un: North Korean despot invites President to talks before May and agrees to suspend missile tests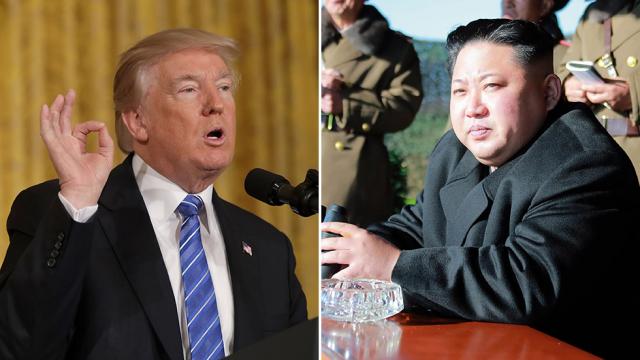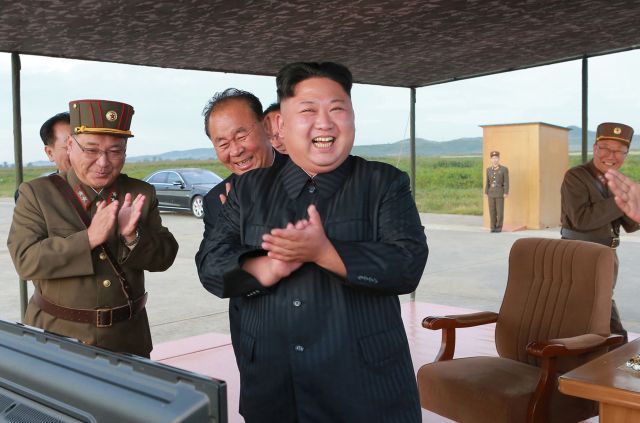 President Trump is more fun than all the boring, left-wing, late night comedians combined. In another epic tweet while in Vietnam for APEC summit, you just can't help but laugh when you read this.
Why would Kim Jong-un insult me by calling me "old," when I would NEVER call him "short and fat?" Oh well, I try so hard to be his friend – and maybe someday that will happen!
A 5.6 magnitude earthquake has struck near a test site in North Korea, sparking fears the regime has launched its sixth nuclear test.
China's earthquake administration said it detected the quake in northeastern North Korea and described it as a 'suspected explosion', according to Reuters.
The depth was recorded as zero meters deep. Yonhap, South Korea's official news agency, reports the quake struck in Kilju county where North Korea's nuclear test site Punggyeri is located.
South Korea's Joint Chiefs of Staff says the quake was artificial and it's analyzing whether the North conducted a nuclear test.
It says it detected a seismic wave from 12.34pm to 12.36pm Sunday around Punggyeri.
North Korea conducted its fifth test last September – which also caused a massive earthquake.
Just hours earlier, the country claimed it has developed a more advanced nuclear weapon that has 'great destructive power'.
Photos released on Saturday show the country's leader Kim Jong-un inspecting a hydrogen bomb that will be loaded on a new intercontinental ballistic missile.
The hydrogen bomb's power is adjustable and can be detonated at high altitudes. The regime claims it can build as many of the nuclear weapons as it wishes.
Read more: BREAKING NEWS – Fears North Korea has launched its SIXTH nuclear test: 5.6 'artificial' earthquake is detected near test site, after regime boasted it had loaded a hydrogen bomb onto an ICBM
President Donald Trump told the country that any threat to the U.S. would be met with 'fire and fury and frankly power, the likes of which this world has never seen before'
North Korea said it is 'carefully examining' a plan to strike the U.S. Pacific territory of Guam with missiles
( Daily Mail ) Two U.S. Air Force B-1B bombers from the military base in Guam participated in a strategic bilaterial mission with South Korea and Japan hours before North Korea revealed it was considering a plan to fire missiles at Guam.
The 10-hour mission from Guam's Andersen Air Force Base took place on Monday and was the first for the aircraft and crews recently deployed from South Dakota's Ellsworth Air Force Base to support U.S. Pacific Command's Continuous Bomber Presence missions, Pacific Air Forces Public Affairs stated.
'How we train is how we fight and the more we interface with our allies, the better prepared we are to fight tonight,' one of the pilots with the 37th Expeditionary Bomb Squadron B-1 said.
The crews practiced intercept and formation training, which gave them an opportunity to improve their combined capabilities and tactical skills.
'These flights with Japan and the Republic of Korea (ROK) demonstrate solidarity between Japan, ROK and the U.S. to defend against provocative and destabilizing actions in the Pacific theater,' according to a release from the Air Force.
The bombers flew in the vicinity of Kyushu, Japan, the East China Sea, and the Korean peninsula. The U.S. released photos of the mission late Tuesday – seemingly in response to North Korea's threat to strike Guam.
North Korea said it is 'carefully examining' a plan to strike the U.S. Pacific territory of Guam with missiles. That threat happened just hours after President Donald Trump told the country that any threat to the U.S. would be met with 'fire and fury.'
Read more: 'America will be defended': US offers a sneak peak of Trump's 'fire and fury' as supersonic B-1B bombers fly out from Guam Air Force base that North Korea threatened to strike with missiles