hate crime
"Look at that f—-t's pants," one of the teens told the other
From NY Daily News:
Boffa and his boyfriend, 25-year-old Gardella, were walking arm-and-arm on Grand St. near Bedford Ave. at about 6:10 p.m. when two boys, ages 15 and 13, walked by them, snickering about the older man's laugh and skinny jeans.
"Look at that f—-t's pants," one of the teens told the other, according to Boffa.
Boffa stopped and asked the teens to repeat themselves.
"Then it went from 0 to 60," Boffa said. "They shoved us and started spitting at us calling us 'f—-t.' That's when one of them picked up the brick."
The two victims ran off — and soon realized that the suspects, as well as six other teens, were chasing them
READ MORE: Brick-throwing Brooklyn teens spouting homophobic slurs hit with hate crime charges
White hater Angela Jones: "She actually took a hammer and she hit his vehicle and the boat," Caroline County Sheriff Tony Lippa said. "She actually clawed him. He took her down to the ground to prevent her from doing any more damage."
CAROLINE COUNTY, Va. – New Jersey officers arrested a suspect in a malicious wounding case at a Central Virginia gas station off Interstate 95 that left one man bloodied, and his boat and Porsche damaged.
Members of the Essex County, N.J. Sheriff's Office, Fugitive Unit, arrested 26-year-old Angela Jones Wednesday in connection with the April 1 assault at the Carmel Church Exxon station located on Route 207, near I-95, in Caroline County.
Witnesses described seeing who they believed to be Jones, use a hammer to inflict damage to a 2016 Porsche S.U.V. and a boat being towed by the S.U.V. in the parking lot of the Exxon station.
Jones, according to officials, attacked the owner of the S.U.V. and the boat while allegedly referring to him as "rich" and "white."
Surveillance footage from the Exxon station and eye-witness accounts led to the quick identification of Jones by Caroline Deputy, A. Garthaffner, who obtained her arrest warrants.
Police in Newark said they were stunned by news of the alleged crime.
"We are kind of disappointed here," said Essex County (NJ) Sheriff Armando Fontoura. "We're a tolerant town.  But this is nonsense."
Bob, who asked his last name not be published, and his wife had stopped at the gas station while driving back home from Florida to Massachusetts.
Bob said while he was pumping gas, a woman started screaming at him.
"This lady was a couple pumps over and talking to me and yelling at somebody about having a message for her. I had no idea what she was talking about," Bob said. "I was coming around the side of the car and next thing I know a car blocks me in. She comes out of her car gets in my face and yelling at me about some sort of message I got for her."
He said he attempted to ignore her, but she eventually threatened to put a hole in his "fancy boat."
That's when, Bob said, the woman grabbed a hammer.
"She actually took a hammer and she hit his vehicle and the boat," Caroline County Sheriff Tony Lippa said. "She actually clawed him. He took her down to the ground to prevent her from doing any more damage."
"I let her go and she grabbed the hammer again and hit the boat again," Bob said. "[The hammer] broke. That's when she figured out she better get out of there because she didn't have a weapon anymore."
While Bob and the woman were struggling with each other, a witness snapped a photo of the woman's vehicle.
Bob's wife, who was in the gas station bathroom during the attack, returned to find her bloodied husband.
"There were some racial slurs directed at her, at which time the accused spit in her face," Sheriff Lippa said. "According to the victim, there were racial slurs that were yelled at her before she spit at her and that's what we're looking into as far as it being a hate crime."
During the attack, the couple said the woman said she was "sick of fancy white people."
SOURCE: WTRV
( Milo ) A New York man by the name of Andrew King has been arrested on suspicion of spray painting swastikas outside his home and later claiming he was targeted by Trump supporters because of his Jewish heritage,

reports News10.
Back in February, Andrew King reportedly spoke with The Daily Gazette about the supposed hate crime.
"Just a vein of fear went right through me," he said. "All that history attached to that Nazi symbol."
King went on to tie the supposed hate crime to Trump supporters, stating he would be leaving the swastikas up to "show people who thrive on hate, in my opinion, that love trumps hate in the long run."
He also stated he would be communicating with religious leaders in the community regarding how long to keep the symbols up.
READ MORE: Anti-Trumper Accused Of Faking Jewish Heritage & Spray Painting Swastikas On His House
The Chicago thugs who Facebook live their torture of special needs man are Jordan Hill, 18; Tesfaye Cooper, 18; and sisters Brittany, 18, and Tanisha Covington, 24.
The four black teens who kidnapped, tortured and yelled ""F— white people!" and "F— Donald Trump!" at a mentally disabled white man have been charged with a hate crime. Police said the four thugs show no remorse. Of course there's no remorse. The pathetic morons believe they are sick criminals because of Donald Trump, the white pepole, America and the Republican Party.
READ MORE:
Black teens are charged with a HATE CRIME after live-streaming torture of white disabled man who they held prisoner for days before he escaped – as cops reveal they have shown NO remorse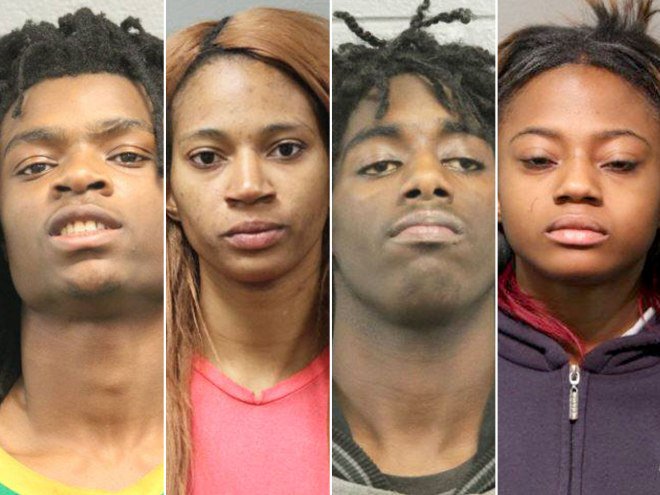 (Daily Mail ) Iranian is almost stabbed to death in Dutch migrant centre after fellow asylum seekers 'discovered he was GAY'
WARNING: GRAPHIC CONTENT 

Asylum seeker was stabbed at centre in Bellingwolde, in northern Holland

Police initially thought the attack on the 25-year-old was drugs related

But witnesses say it was a result of victim being gay, LGBT group claims

34-year-old Tunisian migrant detained on suspicion of attempted murder
Read more:Iranian stabbed at Dutch migrant centre in 'homophobic attack'
FAKE NEWS ALERT! Remember few days ago a Muslim woman claimed she was allegedly attacked by  two while male Trump supporters and her hijab was removed and wallet stolen? She lied and police no longer doing investigation of the story.
Buzzfeed reported, via Religion of Peace:
A woman who claimed she was attacked and robbed by two men near the University of Louisiana at Lafayette, including one wearing a Donald Trump hat, made up the story, police said in a statement.

The woman had alleged the men yelled obscenities at her and took away her wallet and hijab, a scarf sometimes worn by Muslim women, The Advertiser reported.

Lafayette Police officials said in a statement the incident is no longer under investigation, the paper reported.

"During the course of the investigation, the female complainant admitted that she fabricated the story about her physical attack as well as the removal of her hijab and wallet by two white males," the statement reportedly read.

Police did not immediately respond to a BuzzFeed News request for additional information.