Grenfell Tower
Grenfell Tower  cladding, or exterior insulation, added in 2015 to comply with "green energy" requirements, allowed the fire to quickly engulf the building.
Grenfell Tower  installed a cheaper cladding made of "powder-coated aluminium panels that are usually filled with plastic insulation, which is flammable,"
From Daily Caller:
It's unknown what sparked the Grenfell Tower fire Monday, but the exterior cladding, or exterior insulation, added in 2015 to comply with "green energy" requirements, allowed the fire to quickly engulf the building.
…The company operating Grenfell installed cladding in 2015 as part of a $12 million retrofit. The Kensington and Chelsea Tenant Management Organization, which owns the building, installed a cheaper cladding made of "powder-coated aluminium panels that are usually filled with plastic insulation, which is flammable," The Guardian reported.
…. Experts say that flames were able to engulf Grenfell Tower so quickly because a space between the cladding and the building created a chimney effect through which the fire rapidly spread upwards.
"I have never seen a fire that has engulfed an entire building like this in a career of more than 30 years," Matt Wrack, who heads the Fire Brigades Union, told The Telegraph.
"It could be that this is the quest for sustainability trumping other concerns," echoed Dr. Jim Glockling of the Fire Protection Association.
…The building owners planned on putting in fire barriers on each floor, but it's not clear if they ever did, The Guardian reported.
Glockling told The Guardian that his own tests on the cladding found if the barriers had any breaches, by a pipe or other object, "a chimney effect may quickly develop that will cause the very rapid consumption of the insulation and expansion of the damage area."
Read more: Why The U.S. Is Unlikely To See A Deadly 'Green' Building Fire Like London's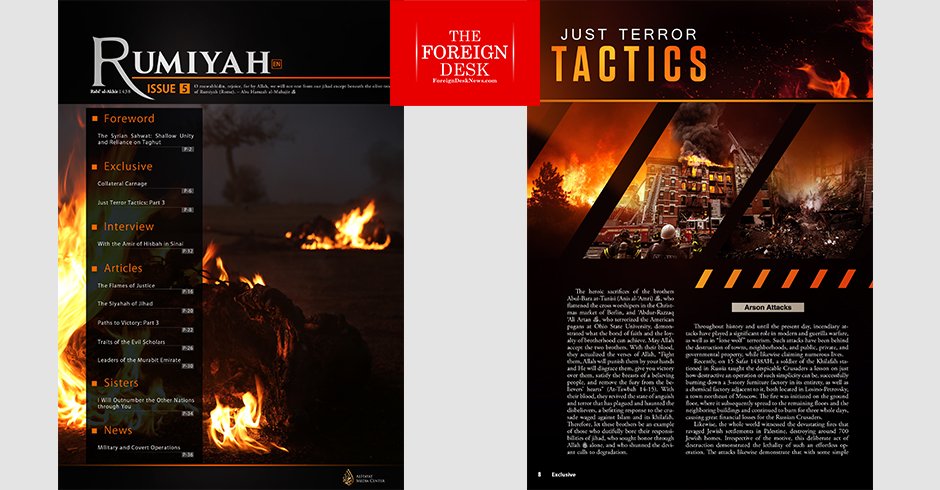 Is the London fire an arson jihad by ISIS?
ISIS recently called for 'lone-wolf' jihadis to wage 'arson jihad' against the west in their magazine Rumiyah
"Suggested target locations for arson attacks, the magazine states, "include houses and apartment buildings, forest areas adjacent to residential areas, factories that produce cars, furniture, clothing, flammable substances, etc., gas stations, hospitals, bars, dance clubs, night clubs, banks, car showrooms, schools, universities, as well as churches, Rafidi [Shiite] temples, and so forth. The options are vast, leaving no excuse for delay."
Conflicting stories on what started the fire. While residents report smelling burning plastic, report says the inferno believed to have started when a fridge exploded and ripped through a 27-storey west London tower block in just 15 minutes.
A survivor broke down on live TV as he said his neighbour on the fourth floor had confessed that his 'fridge had exploded' and the fire swamped the building –  but the fire service told MailOnline it is too early to confirm the cause
12.30am
: Residents report smelling burning plastic
12.54am
: London Fire Brigade receive the first call
Based from the pictures and report, Grenfell Tower has lots of Muslim residents. What percentage, that we don't know.
PJ media wrote an article on arson jihad last January. Story below:
ISIS Singles Out Dallas Megachurch in Call for Arson Jihad
The Islamic State's latest issue of Rumiyah magazine counsels terrorists on waging arson attacks — with a Dallas megachurch suggested as a possible target.
The October issue of ISIS' Rumiyah — which is published in multiple languages including English, Russian, German, Croatian, Pashto, Urdu and Indonesian — instructed lone jihadists to launch random knife attacks, with a warning to pick a suitable blade for the job.
The November issue moved on to a different type of lone attack tutorial — or "just terror" attacks, as ISIS calls them — encouraging jihadists to use a heavy vehicle such as a U-Haul to plow into a crowd.
And after Ohio State student Abdul Razak Ali Artan rammed his car into a group of people on a sidewalk, got out and began stabbing on Nov. 28, wounding 11 but claiming no lives, the December issue doubled back to the knife tutorial with simpler, illustrated instructions.
ISIS recommended arson as a simple terror tactic that arouses little suspicion in the planning stages "to destroy the property of the Crusaders and, in some cases, kill several of them, sending them from the fire of this world to the inferno of Hellfire."
"Because many flammables are a part of everyday living, arson attacks are extremely difficult to prevent. Indeed, no more than a large container of gasoline (petrol) is needed for a successful attack. Of course, the gasoline can be acquired from any local gas station, where it is filled into the container," the article continues. "This procedure should not arouse any suspicion, as it is quite common to follow, especially when obtaining gas for a lawnmower, amongst other reasons."
Instructions then follow on how to make a Molotov cocktail, emphasizing that "due to the fast rate at which gasoline burns away, it is better that one transforms the contents of his Molotov cocktail into a sticky, long-burning napalm solution, to ensure – by Allah's permission – that the intended target properly catches fire before the gas finishes burning."
To make napalm, ISIS recommends jihadists save Styrofoam from toy packaging or pick up "foam cups used for hot coffee at donut shops."
Suggested target locations for arson attacks, the magazine states, "include houses and apartment buildings, forest areas adjacent to residential areas, factories that produce cars, furniture, clothing, flammable substances, etc., gas stations, hospitals, bars, dance clubs, night clubs, banks, car showrooms, schools, universities, as well as churches, Rafidi [Shiite] temples, and so forth. The options are vast, leaving no excuse for delay."
Read more: ISIS Singles Out Dallas Megachurch in Call for Arson Jihad