green energy
Grenfell Tower  cladding, or exterior insulation, added in 2015 to comply with "green energy" requirements, allowed the fire to quickly engulf the building.
Grenfell Tower  installed a cheaper cladding made of "powder-coated aluminium panels that are usually filled with plastic insulation, which is flammable,"
From Daily Caller:
It's unknown what sparked the Grenfell Tower fire Monday, but the exterior cladding, or exterior insulation, added in 2015 to comply with "green energy" requirements, allowed the fire to quickly engulf the building.
…The company operating Grenfell installed cladding in 2015 as part of a $12 million retrofit. The Kensington and Chelsea Tenant Management Organization, which owns the building, installed a cheaper cladding made of "powder-coated aluminium panels that are usually filled with plastic insulation, which is flammable," The Guardian reported.
…. Experts say that flames were able to engulf Grenfell Tower so quickly because a space between the cladding and the building created a chimney effect through which the fire rapidly spread upwards.
"I have never seen a fire that has engulfed an entire building like this in a career of more than 30 years," Matt Wrack, who heads the Fire Brigades Union, told The Telegraph.
"It could be that this is the quest for sustainability trumping other concerns," echoed Dr. Jim Glockling of the Fire Protection Association.
…The building owners planned on putting in fire barriers on each floor, but it's not clear if they ever did, The Guardian reported.
Glockling told The Guardian that his own tests on the cladding found if the barriers had any breaches, by a pipe or other object, "a chimney effect may quickly develop that will cause the very rapid consumption of the insulation and expansion of the damage area."
Read more: Why The U.S. Is Unlikely To See A Deadly 'Green' Building Fire Like London's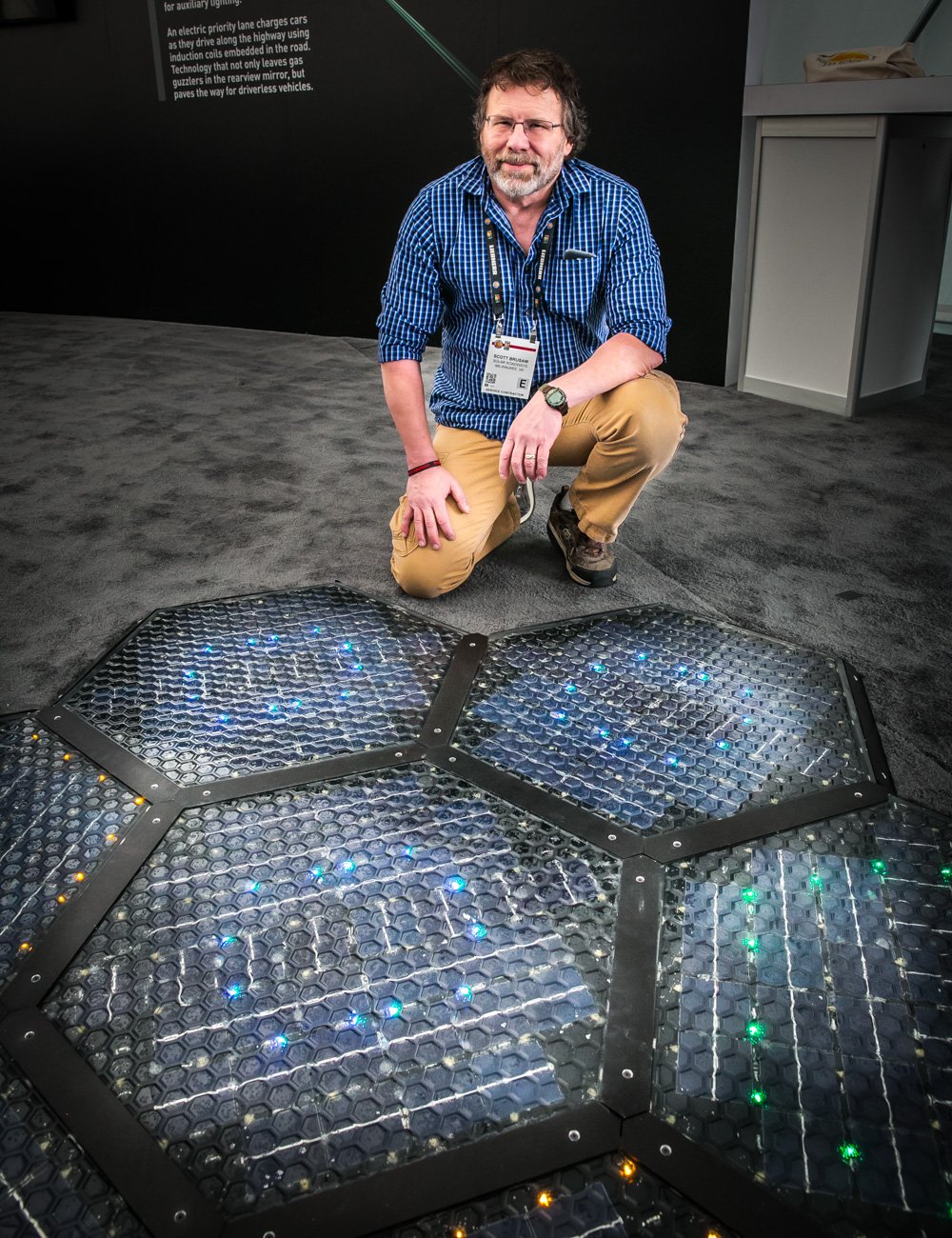 the panels generated 1.06 kWh, enough to barely power a single microwave.
Idaho-based Solar Roadways create panels that can barely power ONE microwave oven – even after six years of development – and now the company is going to build an expensive solar road in Idaho for $4.3 million. They produce less power than the old solar panels, or plasma tv, or microwave and we are supposed to be amazed. Last month, the solar boondoggle got a visit from the fire department after a smoldering electrical box was detected. Picture below:
Andrew Follett at The Daily Caller reported:
An expensive solar road project in Idaho can't even power a microwave most days, according to the project's energy data.

The Solar FREAKIN' Roadways project generated an average of 0.62 kilowatt hours (kWh) of electricity per day since it began publicly posting power data in late March. To put that in perspective, the average microwave or blow drier consumes about 1 kWh per day.

On March 29th, the solar road panels generated 0.26 kWh, or less electricity than a single plasma television consumes. On March 31st, the panels generated 1.06 kWh, enough to barely power a single microwave. The panels have been under-performing their expectations due to design flaws, but even if they had worked perfectly they'd have only powered a single water fountain and the lights in a nearby restroom.

Solar FREAKIN' Roadways has been in development for 6.5 years and received a total of $4.3 million in funding to generate 90 cents worth of electricity.