felony
California latest progress: People with HIV can now go to the blood bank and donate their blood and just in case they want to spread it, that too is ok.
As Donald Trump Jr. tweets: "Why would anyone with HIV knowingly donate to a blood bank if there wasn't malicious intent?"
From L.A. Times:
Gov. Jerry Brown signed a bill Friday that lowers from a felony to a misdemeanor the crime of knowingly exposing a sexual partner to HIV without disclosing the infection.
The measure also applies to those who give blood without telling the blood bank that they are HIV-positive.
Modern medicine allows those with HIV to live longer lives and nearly eliminates the possibility of transmission, according to state Sen. Scott Wiener (D-San Francisco) and Assemblyman Todd Gloria (D-San Diego), authors of the bill.
"Today California took a major step toward treating HIV as a public health issue, instead of treating people living with HIV as criminals," Wiener said in a statement. "HIV should be treated like all other serious infectious diseases, and that's what SB 239 does."
Supporters of the change said the current law requires an intent to transmit HIV to justify a felony, but others noted cases have been prosecuted where there was no physical contact, so there was an argument intent was lacking.
Brown declined to comment on his action.
Read more: http://www.latimes.com/politics/essential/la-pol-ca-essential-politics-updates-gov-brown-downgrades-from-felony-to-1507331544-htmlstory.html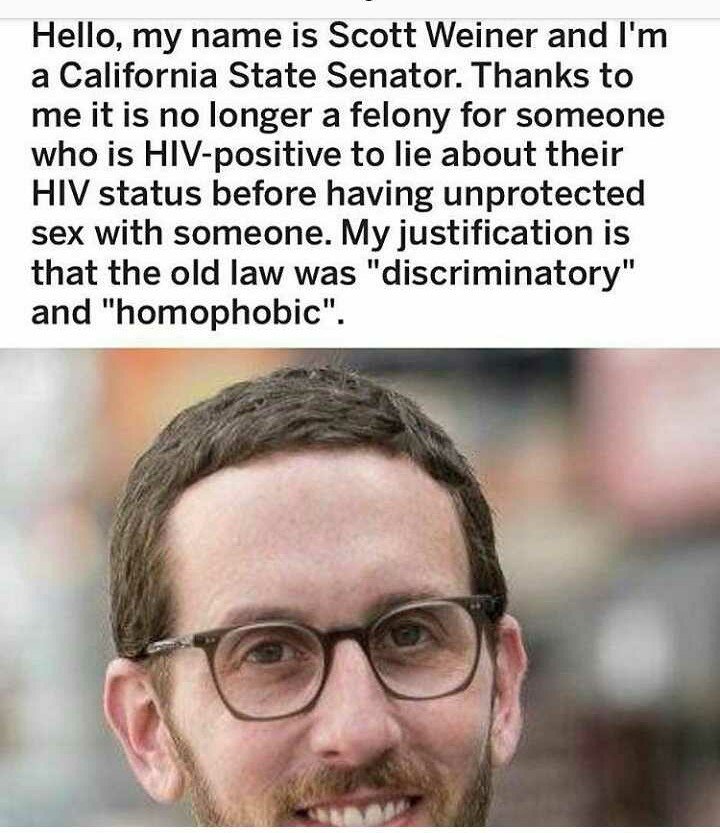 According to the police document, Burgess was arrested for filing a false felony report and for violating a personal protection order
Earlier this year, Bill O'Reilly was fired by Fox News after accuser Perquita Burgess  claimed O'Reilly once walked past her and said, "hey, hot chocolate," but was not looking at her when he said it(?) . This allegedly happened in 2008 while working at a temporary job at FOX News.
In April, O'Reilly got fired and Perquita got a big payoff from the company. Of course!
Via The Daily Mail:
'He walks past and doesn't look at me. When he said it, I didn't respond. I was mortified because it not only was sexual, I took that as a very plantational remark. I've been around enough racism. Such a blatant person, with such a high profile, making me feel uncomfortable, but then not even acknowledging me as a human being.'
Newsmax reveals:
Newsmax has obtained two documents that cast doubt on Burgess's credibility.

A Detroit Police report dated Feb. 11, 2015, documents Burgess's arrest on charges of making a false report and obstructing a court order.

According to the police document, Burgess called authorities and alleged her boyfriend had struck her in the face with a gun. Police said when they arrived at the scene Burgess "appeared intoxicated."

The arresting officer stated: "I asked Ms. Burgess where the gun was that she was struck with in the face, she replied there is no gun. I again asked her where the gun was, and if she had been assaulted. Ms. Burgess stated there was no gun, and he didn't assault me!"

The boyfriend told police she had threatened him, saying she would call "the cops saying you hit me with a gun!"

According to the police document, Burgess was arrested for filing a false felony report and for violating a personal protection order
SUSAN RICE COULD BE CHARGED WITH FELONY AND FACE UP TO 10 YEARS IN JAIL! Susan Rice ordered U.S. spy agencies to produce "detailed spreadsheets"  of Donald Trump's phone calls despite of no illegal activities detected.
Her crime? Michael Doran, former NSC senior director, told Daily Caller 'a  leaking of signal intelligence" was committed. "That's a felony. And you can get 10 years for that." Doran  pointed out "a stream of information that was supposed to be hermetically sealed from politics and the Obama administration found a way to blow a hole in that wall."

From DAILY CALLER: Susan Rice Ordered Spy Agencies To Produce 'Detailed Spreadsheets' Involving Trump
"What was produced by the intelligence community at the request of Ms. Rice were detailed spreadsheets of intercepted phone calls with unmasked Trump associates in perfectly legal conversations with individuals," diGenova told The Daily Caller News Foundation Investigative Group Monday.

"The overheard conversations involved no illegal activity by anybody of the Trump associates, or anyone they were speaking with," diGenova said. "In short, the only apparent illegal activity was the unmasking of the people in the calls."

Col. (Ret.) James Waurishuk, an NSC veteran and former deputy director for intelligence at the U.S. Central Command, told TheDCNF that many hands had to be involved throughout the Obama administration to launch such a political spying program.

"The surveillance initially is the responsibility of the National Security Agency," Waurishuk said. "They have to abide by this guidance when one of the other agencies says, 'we're looking at this particular person which we would like to unmask.'"

"The lawyers and counsel at the NSA surely would be talking to the lawyers and members of counsel at CIA, or at the National Security Council or at the Director of National Intelligence or at the FBI," he said. "It's unbelievable of the level and degree of the administration to look for information on Donald Trump and his associates, his campaign team and his transition team.  This is really, really serious stuff."

Michael Doran, former NSC senior director, told TheDCNF Monday that "somebody blew a hole in the wall between national security secrets and partisan politics." This "was a stream of information that was supposed to be hermetically sealed from politics and the Obama administration found a way to blow a hole in that wall."

Doran charged that potential serious crimes were undertaken because "this is a leaking of signal intelligence."

"That's a felony," he told TheDCNF. "And you can get 10 years for that. It is a tremendous abuse of the system. We're not supposed to be monitoring American citizens. Bigger than the crime, is the breach of public trust."

Waurishuk said he was most dismayed that "this is now using national intelligence assets and capabilities to spy on the elected, yet-to-be-seated president."

"We're looking at a potential constitutional crisis from the standpoint that we used an extremely strong capability that's supposed to be used to safeguard and protect the country," he said. "And we used it for political purposes by a sitting President. That takes on a new precedent."
Read more: 'Abuse Of The System' Susan Rice Ordered Spy Agencies To Produce 'Detailed Spreadsheets' Involving Trump