Donald Trump
The bill reads: "The President shall terminate all membership by the United States in the United Nations in any organ, specialised agency, commission, or other formally affiliated body of the United Nations.
Rep. Mike Rogers: 'Why should the American taxpayer bankroll an international organization that works against America's interests around the world? The time is now to restore and protect American sovereignty and get out of the United Nations."

FROM:   AMERICA'S BREXIT? Trump's new bill could pull USA out of United Nations in funding row
Proposed by congressman Mike Rogers, the American Sovereignty Restoration Act also seeks a complete withdrawal from membership of the World Health Organisation.

And Republicans have even demanded the UN remove its headquarters from New York in a shocking blow to global relations.

Doing so would mean repealing the United Nations Participation Act of 1945, which was enacted just months after the end of World War II.

Quietly introduced on January 3, the act was quickly passed on to the House Committee on Foreign Affairs, where it has been sponsored by at least half a dozen supporters including Missouri Representative Jason Smith.

The bill reads: "The President shall terminate all membership by the United States in the United Nations in any organ, specialised agency, commission, or other formally affiliated body of the United Nations…

"The United States Mission to the United Nations is closed. Any remaining functions of such office shall not be carried out."

Rep. Mike Rogers: 'Why should the American taxpayer bankroll an international organization that works against America's interests around the world? The time is now to restore and protect American sovereignty and get out of the United Nations."
From The Business Insider:
The bill, titled the American Sovereignty Restoration Act of 2017, was proposed on January 3. It is cosponsored by a handful of Republican lawmakers, including North Carolina Rep. Walter Jones, Arizona Rep. Andy Biggs, Missouri Rep. Jason Smith, Kentucky Rep. Thomas Massie, Tennessee Rep. John Duncan Jr., and Florida Rep. Matt Gaetz.
FIRST DAY, THREE STRIKES! President Trump signed three executive orders on Monday morning:
1. WITHDRAWAL OF U.S. FROM TRANS PACIFIC PARTNERSHIP ( TPP )
2. BAN ON FUNDING OF ABORTION OVERSEAS:
3.  FREEZE ON FEDERAL HIRING EXCEPT MILITARY:
Trump also met with business leaders announcing he wants to cut regulation by 75% or 'maybe more' – Read more: Wants to slash regs by 75% — or 'maybe more'…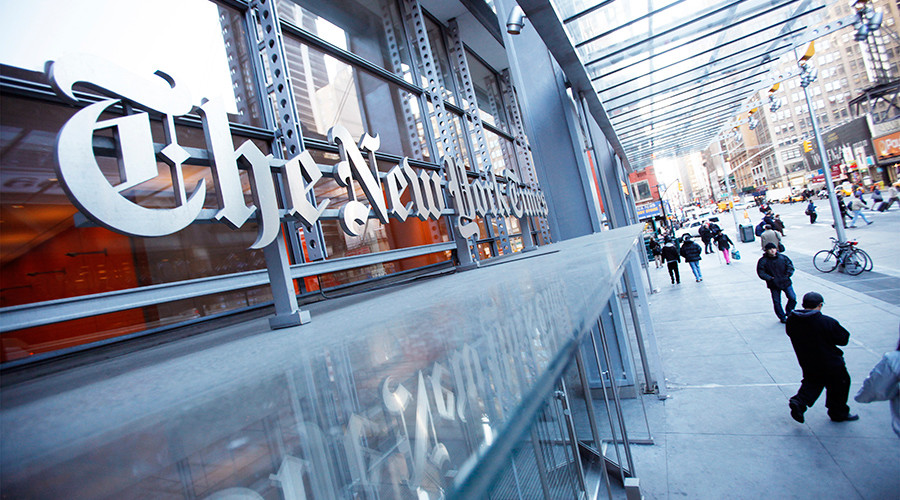 ( Rt.com ) After apparently being hacked, a Twitter account belonging to the New York Times reported that Russia intended to launch a missile attack against the US. The newspaper is investigating the situation.
The gaffe affected the NYT's video account, @nytvideo, which tweeted out the hoax on Sunday at around 9:40am ET, citing a "leaked statement" from Russian President Vladimir Putin.
Though the alarming tweet was quickly deleted, others followed that were claimed by the hacker group OurMine, which has previously taken responsibility for hijacking a number of high-profile accounts on social media.
OurMine said it had "re-hacked" the account in order to stem the spread of misinformation after noticing that it had been broken into by a third party. Their messages were eventually deleted too.
READ MORE: Hacked NYT tweet claims Russia will attack US with missiles
Okay, so Madonna promised blow jobs to Hillary fans if they'd vote for Hillary – and they obviously declined her offer because Hillary lost. The day after Trump's inauguration as POTUS 45, the angry aging, singer during her D.C. speech at  women's march, told her captive audience how she 'thought of blowing up the White House'.  After Secret Service decided to investigate her loony threat, Madonna explained her speech as nothing but a 'metaphor'. Then  earlier, the aging singer posted this on twitter:
 F**K DONALD TRUMP AND F**K THE SECRET SERVICE
Afraid Secret Service would go after her, the courageous new leader of the Democrat women deleted the post.
RELATED LINK: I didn't really mean I want to blow up the White House, says Madonna: Star claims she spoke in 'metaphor' at anti-Trump march as Secret Service investigate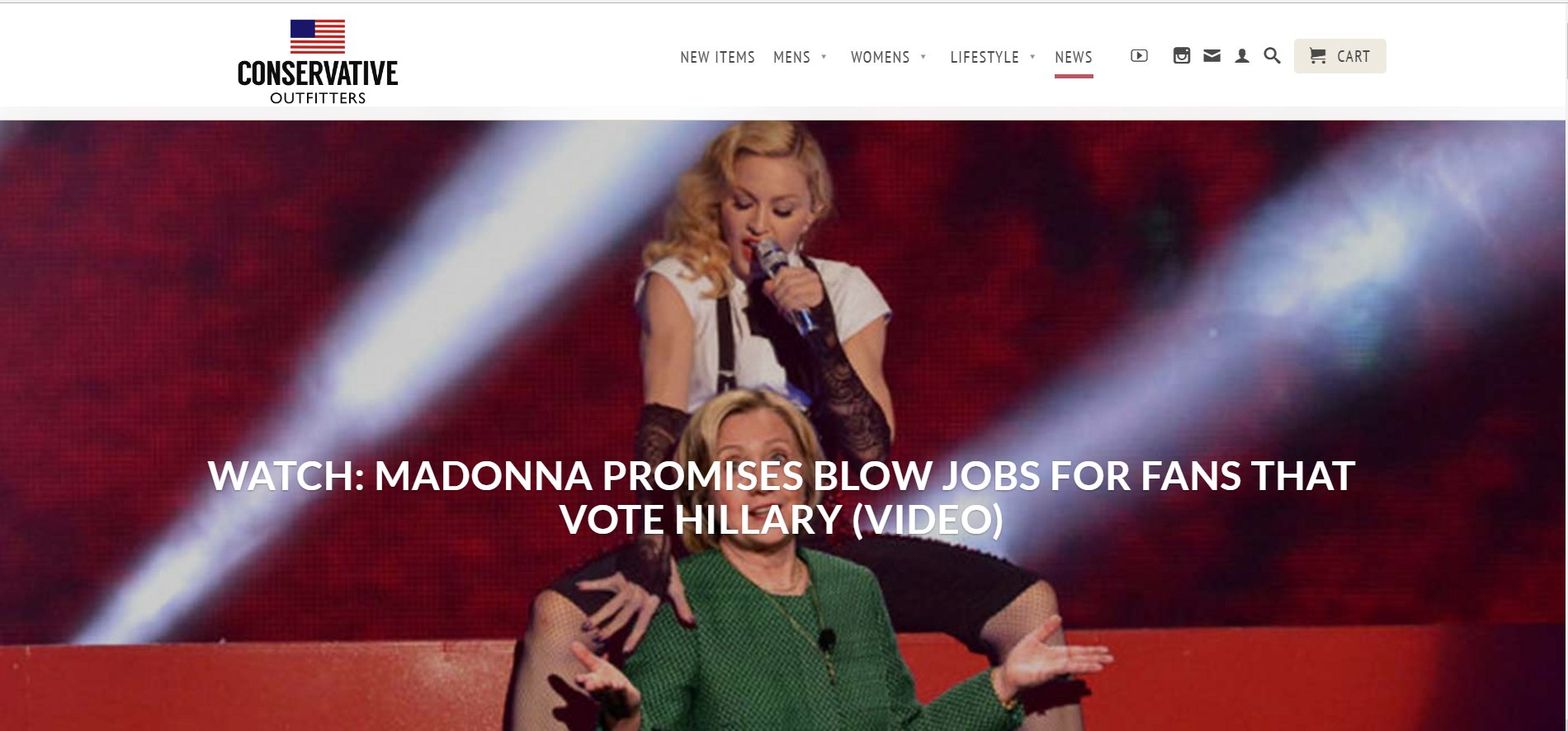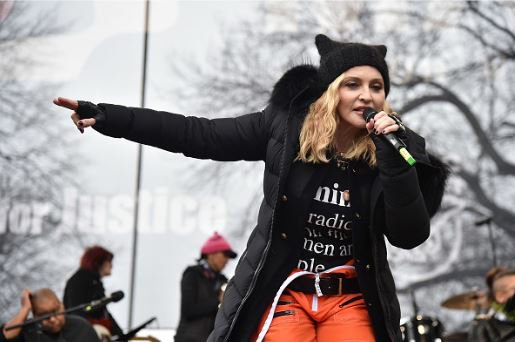 Trump may not enforce individual health insurance mandate: aide
Reuters
WASHINGTON (Reuters) – The Trump administration may no longer enforce a rule requiring individual Americans to carry health insurance or pay a penalty if they do not, a senior White House official said on Sunday Speaking on ABC's "This Week" program, Kellyanne Conway, counselor to the president, said President Donald Trump "may stop enforcing the individual mandate."
Separately, on CBS' "Face the Nation" show, she reiterated Republican promises that no one would lose their health insurance under Obamacare while a replacement is being developed.
"For the 20 million who rely upon the Affordable Care Act in some form, they will not be without coverage during this transition time," she said.
On Friday Trump signed an executive order concerning the 2010 healthcare law, urging U.S. agencies to "waive, defer, grant exemptions from, or delay the implementation" of provisions deemed to impose fiscal burdens on states, companies or individuals.
Healthcare experts had speculated that Trump could expand exemptions from the individual mandate.
Senate Majority Leader Mitch McConnell, speaking on "Fox News Sunday," reiterated Republican promises to replace Obamacare and allow patients to buy health insurance across state lines using health savings accounts.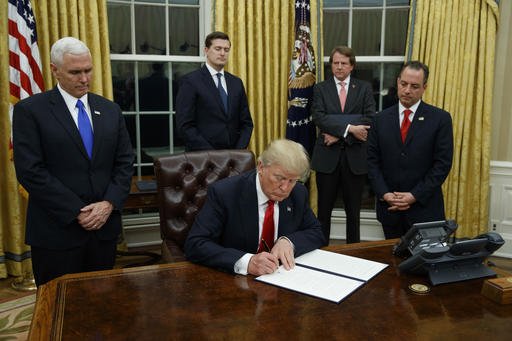 UNHINGED!  CELEBTARD ASHLEY JUDD READS A POEM SAYING  TRUMP HAS 'WET DREAMS' ABOUT DAUGHTER IVANKA HIS FAVORITE 'SEX SYMBOL' DURING D.C. MARCH OF DERANGED FEMALE DONKEYS!
READ MORE: Ashley Judd lowers the tone at huge DC women's march by reading a poem claiming Trump has 'wet dreams' about Ivanka 'his favorite sex symbol' and comparing him to HITLER