Department of Homeland Security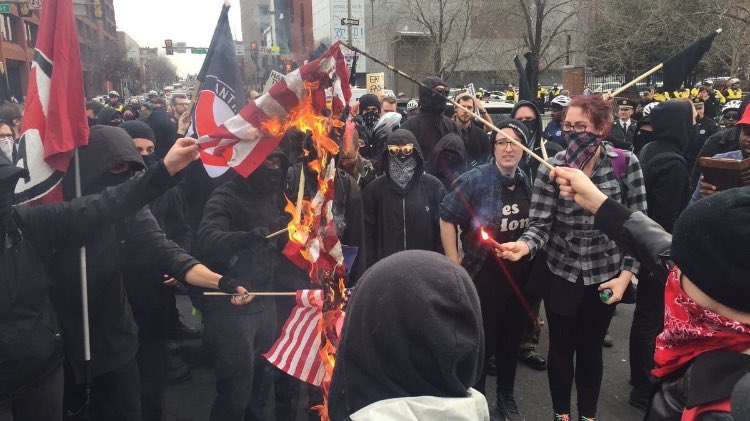 New Jersey has officially listed Antifa as a domestic terror group. The Democrat Party 24/7 on call street soldiers, the Antifa thugs, fit the very definition of terrorism, which is "the unlawful use of violence and intimidation, especially against civilians, in the pursuit of political aims."
A petition to formally recognize Antifa as a terror group already has over 35k signatures. To show your support sign 
here.
From Infowars
The Department of Homeland Security in New Jersey has officially listed Antifa as a domestic terrorist organization after a rash of violent attacks by the group targeting supporters of Donald Trump.
Under the heading 'Anarchist Extremists: Antifa', the njhomelandsecurity.gov website characterizes Antifa under the designation of "domestic terrorism".
"In the past year, Antifa groups have become active across the United States, employing a variety of methods to disrupt demonstrations," states the advisory, before going on to list a number of violent disruptions, including Milo Yiannopoulos' speaking event at the University of California Berkeley on February 1st, which was cancelled after members of Antifa violently attacked free speech advocates.
The advisory also lists how Antifa has engaged in doxxing of individuals to expose them to abuse and violent harassment.
The designation is of course completely valid since Antifa fits the very definition of terrorism, which is "the unlawful use of violence and intimidation, especially against civilians, in the pursuit of political aims."
MILWAUKEE (AP) — Milwaukee County Sheriff David Clarke, who built a following among conservatives with his provocative social media presence and strong support of Donald Trump, said Wednesday that he's taken a job as an assistant secretary in the Department of Homeland Security.
The tough-talking, cowboy hat-wearing firebrand said in an interview with WISN-AM talk radio host Vicki McKenna that he will work in the Office of Partnership and Engagement as a liaison to state, local and tribal law enforcement agencies. He will start in June.
"I'm both honored and humbled to be appointed to this position," Clarke said.
A DHS spokesman didn't immediately reply to a phone message and email. A spokesman for the sheriff didn't immediately respond to messages.
Clarke has made himself a darling of the political right through his brash social media presence, his staunch support for Trump's crackdown on illegal immigration and his support for patrolling of Muslim neighborhoods. He's one of the most polarizing figures in Wisconsin politics.
"Our country deserves better," Milwaukee County Executive Chris Abele, who has repeatedly clashed with Clarke, said of his appointment to the DHS position.
Abele said Clarke has engaged in "gratuitous name calling, insults of other public officials, questioning judges' sentences. In general the focus is on what you should be angry about, not what to like."
Clarke was one of the few African-Americans to speak at the Republican Party convention last year. He has been vocal about gun rights and critical of what he called the "hateful ideology" of the Black Lives Matters movement, saying at times, "Stop trying to fix the police, fix the ghetto."
Clark has been sheriff of Milwaukee County since 2002 and spent more than two decades before that with city's police department.