Democrats
Texas Senator Ted Cruz blasts Democrats today during confirmation hearing of  U.S. Supreme Court nominee Neil Gorsuch's Supreme Court.
Democrats use their usual "baseless" claims against Gorsuch accusing him of being "against the little guy because he has dared to rule on the law — the law that Congress has passed — and not on the specific identity of the specific litigants appearing before him."
Cruz was apparently referencing comments by individuals like Democratic Senator Mazie Hirono from Hawaii, who claimed she saw "a pattern" of ignoring "the little guy."
Cruz reminded the Democrats on what is the job of a Supreme Court judge, "a judge's job is not to protect the little guy or the big guy. A judge swears in oath to uphold the constitution fairly, impartially and equally for every litigant."
"In the past weeks as well, some of my Democratic colleagues have questioned Judge Gorsuch's independence, suggested that he needs to answer questions about the actions and statements and even the tweets of the President who appointed him."
"I would ask, was Justice Ginsburg or Justice Breyer asked about the sexual harassment that had been filed against President Clinton by Paula Jones? No, neither was asked about that lawsuit."
"Those questions were not asked because they were inappropriate political questions that have nothing to do with the record of the nominee before this committee."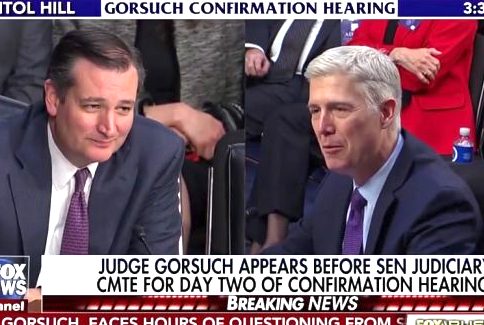 Support for the current president of the United States forced two Chicago music store owners to close their business because of threats and negative publicity they were receiving.

Suzzanne Monk and Alexander Duvel own "Worlds of Music Chicago" but will be shuttering their brick-and-mortar business in April because of extenuating circumstances, they told "Fox & Friends Weekend."

---

---
 Suzzanne Monk also wrote a letter to editor of a Chicago business news the reason why they are shutting down their store:
'Two choices for Trump supporters in Chicago: Be silent or be bullied'

So, after 25 years, after a lifetime for my husband, we have to leave. In the end, it wasn't the high taxes, constant road construction or high crime. It wasn't the unchecked gang violence or political cronyism. In the end, we have to leave because of the hate you are willing to tolerate.

I'd like to say, it's not you, it's me—but Chicago, I've got to be honest . . . it's you. You've changed. You are no longer the nose-to-the-grindstone hardworking Democratic City of the Big Shoulders. You have a Trump-sized chip on that big shoulder, and it has turned you into a city of fear, hate and division. A city that encourages political bullying.
SOURCE: Chicago business & financial news & analysis – Crain's Chicago Business
Congress gave the longest standing ovation for widow of Navy Seal Ryan Owens. We all choked up and cry as we watched Carryn Owens crying. But as for the Democrats? Meh! They refused to give standing ovation nor showed any emotion. Pathetic losers!
---
( Milo ) President Trump delivered what is being hailed as the best speech of his career. The best moment came when he paid tribute to the widow of Navy SEAL William 'Ryan' Owens.
We are blessed to be joined tonight by Carryn Owens, the widow of a U.S. Navy special operator, Senior Chief William "Ryan" Owens. Ryan died as he lived: a warrior, and a hero — battling against terrorism and securing our nation. I just spoke to General [Jim] Mattis, who reconfirmed that, and I quote, "Ryan was a part of a highly successful raid that generated large amounts of vital intelligence that will lead to many more victories in the future against our enemies." Ryan's legacy is etched into eternity. For as the Bible teaches us, there is no greater act of love than to lay down one's life for one's friends. Ryan laid down his life for his friends, for his country and for our freedom — we will never forget him.
It was a remarkable moment, except for the Democrats who decided not to stand or clap. House Minority Leader Nancy Pelosi, Senator Bernie Sanders and most of the blue team sat, while most humans tried unsuccessfully to hold back tears.
READ MORE: TERRIBLE: Stone-Faced Democrats Refuse To Stand For Navy SEAL Widow Honored By Trump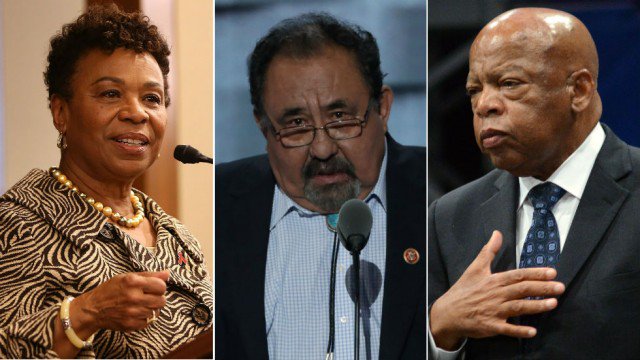 Politico – Donald Trump's team is preparing to give away the seats of House Democrats who are bailing on the president-elect's swearing-in Friday.
"We'd love for every member of Congress to attend but if they don't, we've got some great seats for others to partake in," said Trump transition spokesman Sean Spicer on a Tuesday morning call with reporters. "It's a shame that these folks don't want to be part of the peaceful transfer of power."
Spicer's comments come as a growing surge of House Democrats – mostly from safe districts won by Hillary Clinton – announce their intentions to skip Trump's inauguration, many to protest his lingering feud with Rep. John Lewis (D-Ga.) over the Martin Luther King Jr. holiday weekend. Lewis, who last week said Trump was not a legitimate president, is "all talk" and "no action," Trump declared on Twitter over the weekend.
So far, at least 41 Democrats say they will be skipping the ceremony. But Democratic leaders still plan to attend the inauguration, and no senators have announced they will sit the ceremony out.
READ MORE: Trump team set to give away inauguration seats of Dems who boycott swearing-in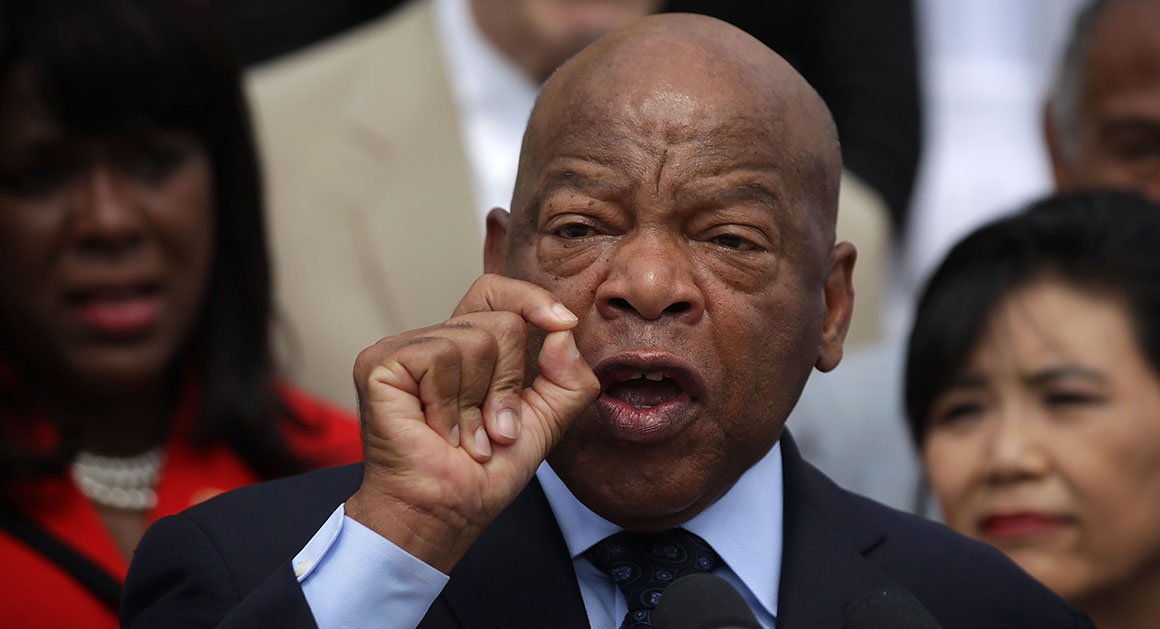 SHOCK REPORT: 8 Men Control The Same Amount Of Wealth As Half The World – 6 Support Democrats
6 of the top 8 richest men are Americans and 5 of the those men are tied in with the Democrats.
Gateway Pundit – Presenting it's findings before the annual gathering of global political and business elites, anti-poverty organization Oxfam says the gap between the super rich and the poor is significantly greater than it was a year ago.
From the AP:
The gap between the super-rich and the poorest half of the global population is starker than previously thought, with just eight men, from Bill Gates to Michael Bloomberg, owning as much wealth as 3.6 billion people, according to an analysis by Oxfam released Monday
READ MORE: SHOCK REPORT: 8 Men Control The Same Amount Of Wealth As Half The World
WHILE DEMOCRATS BELIEVE IN KILLING UNWANTED BABIES ( MOST OF THEM WERE UNWANTED I BET ), THEY, HOWEVER,  VALUE DEAD PEOPLE DURING ELECTIONS BY EXTENDING THEIR RIGHT TO  REGISTER AND VOTE STRAIGHT FROM THE GRAVE.
After Donald Trump sharing his concern about voter fraud and rigged election 'by the dishonest and distorted media pushing Crooked Hillary – but also at many polling places,'
Rudy Giuliani backed up Trump's concern by citing how Democrats use dead people during election.
He told CNN's  Jake Tapper on 'State of the Union': 'I'm sorry, dead people generally vote for Democrats rather than Republicans.'
Giuliani said if he were to say "that I think the election in Philadelphia and Chicago is going to be fair, I would have to be a moron to say that. I would have to dislearn everything I learned in 40 years of being a politician.'
'I remember a case when I was associate attorney general where 720 dead people voted in Chicago in the 1982 election. I remember in my own election about 60 dead people voted.'
"I can't sit here and tell you that they don't cheat, and I know because they control the polling places in these areas. There are no Republicans," he said of some major cities. "Then it's very hard to get people there who will challenge votes. So what they do is they leave dead people on the rolls and then they pay people to vote [as] those dead people, four, five, six, seven, eight [times]."
Tapper asked Giuliani if he thought only Democrats cheated.
'I have found very few situations where Republicans cheat,' the former mayor said. 'They don't control the inner cities the way Democrats do. Maybe if Republicans controlled the inner cities, they would do as much cheating as Democrats.'