David Clarke
MILWAUKEE (AP) — Milwaukee County Sheriff David Clarke, who built a following among conservatives with his provocative social media presence and strong support of Donald Trump, said Wednesday that he's taken a job as an assistant secretary in the Department of Homeland Security.
The tough-talking, cowboy hat-wearing firebrand said in an interview with WISN-AM talk radio host Vicki McKenna that he will work in the Office of Partnership and Engagement as a liaison to state, local and tribal law enforcement agencies. He will start in June.
"I'm both honored and humbled to be appointed to this position," Clarke said.
A DHS spokesman didn't immediately reply to a phone message and email. A spokesman for the sheriff didn't immediately respond to messages.
Clarke has made himself a darling of the political right through his brash social media presence, his staunch support for Trump's crackdown on illegal immigration and his support for patrolling of Muslim neighborhoods. He's one of the most polarizing figures in Wisconsin politics.
"Our country deserves better," Milwaukee County Executive Chris Abele, who has repeatedly clashed with Clarke, said of his appointment to the DHS position.
Abele said Clarke has engaged in "gratuitous name calling, insults of other public officials, questioning judges' sentences. In general the focus is on what you should be angry about, not what to like."
Clarke was one of the few African-Americans to speak at the Republican Party convention last year. He has been vocal about gun rights and critical of what he called the "hateful ideology" of the Black Lives Matters movement, saying at times, "Stop trying to fix the police, fix the ghetto."
Clark has been sheriff of Milwaukee County since 2002 and spent more than two decades before that with city's police department.
WOW!'A BUNCH OF MEDIOCRE NEGROES' MET WITH TRUMP, SHERIFF CLARKE CALLS 'JIGABOO' DEMOCRAT LACKEY' MARC LAMONT HILL IN ANSWER.
CNN commentator Marc Lamont Hill said Monday night that Steve Harvey and other black people who have met with President-elect Donald Trump are a 'bunch of mediocre negroes' – CNN Commentator: 'Bunch Of Mediocre Negroes' Meeting With Donald Trump
In response Milwaukee County Sheriff David Clarke, used the racist term "jigaboo" to refer to CNN contributor Marc Lamont Hill on Tuesday.
Clarke fired back on Twitter: "I am tired of this jigaboo telling black people who they should be, what they should do. He's a lackey for Democrats."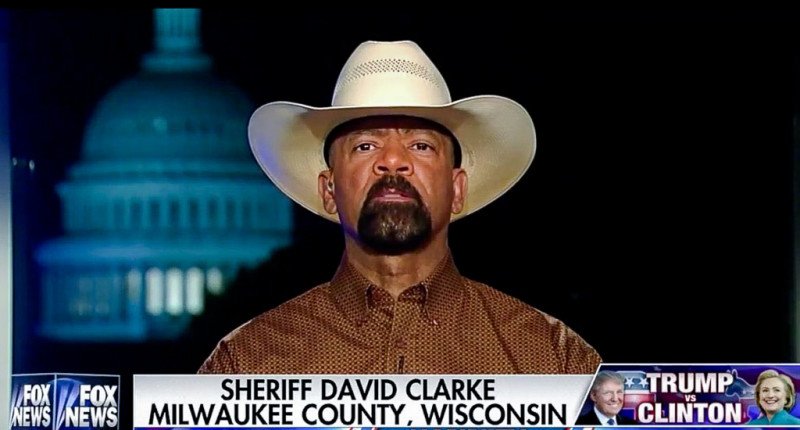 Appearing on various Fox shows today, Milwaukee County Sheriff David Clarke trashes Democrat Party who runs Milwaukee unopposed for 60 years and blames liberal policies of Uncle Sam as the destroyer of black community in America.
David Clarke says:
CLARKE: Here's what causes riots: We have inescapable poverty in the city of Milwaukee.  Milwaukee's like the sixth poorest city in America.  You have massive black unemployment.  I think it's at 32%.  You have a failing K-12 public education system.  It's one of the worst in the nation.  You have questionable lifestyle choices.  Some of this is self-inflicted.  All these kids with no fathers around, father-absent homes.  When fathers aren't around to shape the behavior of young men, they oftentimes grow up to be unmanageable misfits.  Those are the ingredients; Milwaukee has all of them
Clarke on Hannity tonight calls "Uncle Sam is a horrible father, and we're seeing the results of that."
CLARKE:  There are millions of young men across the country who are in that same situation.  You know what encourages this?  The growth of the welfare state.  These are underclass behaviors.  Seventy percent of the kids born in Milwaukee, at least for the last decade or so, are born without an engaged father in their life.  So I look at the progressive policies that have marginalized black dads. They pushed them to the side and said, "You're not needed. Uncle Sam is going to be the dad.

"He's gonna provide for the kids. He's going to feed the kids," and so on and so forth. But Uncle Sam has been a horrible father. Uncle Sam does not love these kids.  It might keep a little food in their mouth and that's about it.  But we all know the importance of an intact family, what it can do to shape the behavior of kids.  When you have the situation here like we have here in Milwaukee… It's in Chicago, it's in Baltimore, it's in New York and some other areas.

This has been a total collapse, a disaster.  These progressive policies have hit the black community like a nuclear blast.  And until we reverse this, this government dependency… That's what creates all of this, and it encourages it, by the way, along with some questionable lifestyle choices.  But until the black community does a self-evaluation and until they begin to self-criticize about some of the lifestyle choices they're making, this stuff is gonna continue to fester, and it's gonna continue.
READ MORE: Milwaukee Sheriff David Clarke Just Absolutely Nails It
Related link: Sheriff Clarke: Progressive policies have hit black community like 'nuclear blast'