Chicago
Support for the current president of the United States forced two Chicago music store owners to close their business because of threats and negative publicity they were receiving.

Suzzanne Monk and Alexander Duvel own "Worlds of Music Chicago" but will be shuttering their brick-and-mortar business in April because of extenuating circumstances, they told "Fox & Friends Weekend."

---

---
 Suzzanne Monk also wrote a letter to editor of a Chicago business news the reason why they are shutting down their store:
'Two choices for Trump supporters in Chicago: Be silent or be bullied'

So, after 25 years, after a lifetime for my husband, we have to leave. In the end, it wasn't the high taxes, constant road construction or high crime. It wasn't the unchecked gang violence or political cronyism. In the end, we have to leave because of the hate you are willing to tolerate.

I'd like to say, it's not you, it's me—but Chicago, I've got to be honest . . . it's you. You've changed. You are no longer the nose-to-the-grindstone hardworking Democratic City of the Big Shoulders. You have a Trump-sized chip on that big shoulder, and it has turned you into a city of fear, hate and division. A city that encourages political bullying.
SOURCE: Chicago business & financial news & analysis – Crain's Chicago Business
( Breitbart ) The surge in shootings that marked the early weeks of the new year continued, resulting in more than 300 people shot in the first 30 days of 2017.
The Chicago Tribune reports the number of shooting victims January 1 through January 30 is 302; this includes fatal and non-fatal shootings. The number of homicides alone is 54, which means the city has averaged 1.8 killings a day every day this year.
On January 23, Breitbart News reported that shootings and murders for January 1 through January 22, 2017, were up markedly over the number of shootings and murders for the same period in 2016. According to the Tribune, "At least 228 people were shot in Chicago [January 1 through January 22, 2017]." That was an increase of 16 victims above the number shot during the same period in 2016. There were "at least 42 homicides," marking a "23.5 percent … [increase from] the 34 homicides from the same period in 2016."
This news follows the grim report that gun-controlled Chicago had nearly 4,400 shootings and almost 800 murders.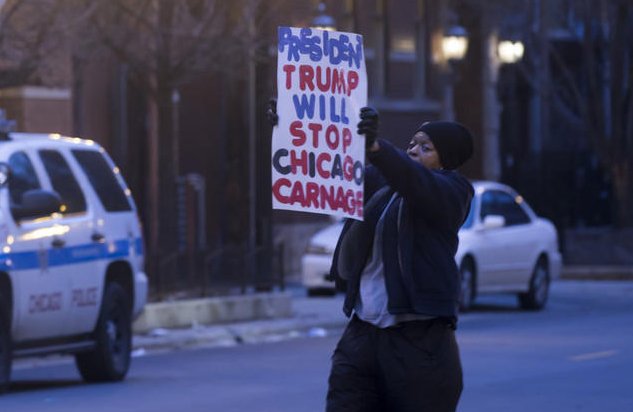 "drink that shit right fucking now."
Chicago Police are reportedly investigating a second video connected to the kidnapping and torture of an 18-year-old, mentally disabled Chicago teen. In the video, the assailants can be heard yelling, "drink that shit right fucking now."
The suspects — Jordan Hill, 18, Tesfaye Cooper, 18, Brittany Covington, 18, and Tanishia Covington, 24 — were set to appear in Central Bond Court on Friday afternoon.
According to CBS, the second video — in which the assailants force the victim to drink from a toilet — surfaced on Twitter Thursday morning.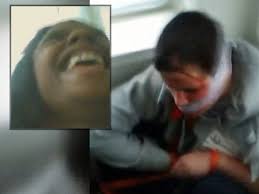 ILLINOIS – Chicago police have arrested four blacks, including two women, involved with the kidnapping and torture of an 18 year-old man with special needs who had been reported missing. A Brittany Herring filmed the ordeal on her phone and posted it to Facebook Live, but has since been deleted from her social media page
Police were able to make arrests after video the suspects streamed online went viral.
The mentally challenged man was forced to say 'F**k Donald Trump and 'F**K white people'.
In the video, believed to be from Tuesday, the victim's clothes were cut, he was peppered with cigarette ashes, and then his hair cut with a knife until his scalp bled. Several people can be seen laughing and eating during the attack, in addition to making disparaging remarks about President-elect Donald Trump and using racially charged language.
SOURCE: RAW VIDEO: Teens kidnap and torture Trump supporter in Chicago (GRAPHIC)
Democrat-owned Chicago is not just a sanctuary city for illegals but it's also America's most dangerous city. And every holiday, expect Chicago to explode in all kinds of violence and murder. Last Christmas weekend, there were 53 shootings and 11 dead. Sadly for the left, they can't blame the race card and march against 'white oppression' because these ghetto crimes are committed by minorities.
( NYDaily ) Eleven of the 53 people shot over the weekend died Monday from their wounds and others remain in serious or critical condition.
Anthony Guglielmi, a Chicago Police Department spokesman, said in a statement to the Daily News that "the majority of these shootings and homicides were targeted attacks by gangs against potential rivals who were at holiday gatherings."
READ MORE: Christmas weekend violence in Chicago leaves more than 50 shot and at least 11 dead
UPDATE: Woman now identified as Jennifer Boyle.
---
A white young woman was recorded going on a "racist" rant directed at black employees of a Michaels craft store in Chicago after they asked her to pay $1 for a reusable bag on Thanksgiving Eve.
The 10-minute video posted by Jessie Grady, another shopper who witnessed the incident, has been viewed thousands of times on Youtube.
Boyle ranted a Grady:
"I was just discriminated against by two black women and you being a white woman and you literally thinking that's OK," the angry woman tells her. "Why don't you go home to your husband who's cheating on you."
Throughout the video, an off-camera employee is repeatedly heard asking the shopper to calm down and stop using profanity in the presence of children.
"I have been discriminated against twice by you," she says to the employee, before turning her attention to another woman farther in the store.
"This woman came around and screamed at me from across the goddamn store like an animal! An animal! Animal," she says. "You screamed at me from across the store like you were in your own living room. You're an animal."
She accused employees of discrimination because she voted for Trump – hey woman, you refused to pay for a $1 bag and don't ever excuse your rude behavior. Before Trump became president, you already have an attitude problem, so don't use the race card and expect anyone to defend you.
In a 1:48-minute video clip, tipped to Chicagoist by a reader, a woman who appears to be the same person who delivered the now-infamous rant last week in Lakeview is seen shouting at two employees at a Chicago coffee shop. The video was filmed a Peet's Coffee in July, according to the YouTube description, most likely the Boystown location.

"You think because you're in Boystown you're safe?… Corporate's not in Boystown," she says at one point in the video.

"You're the bitch! You are the bitch! You are literally the bitch!" the woman is seen shouting at staff as she makes her way angrily to the counter.

She then mocks an employee after he informs her that he is the floor manager, claiming that he was the one who initially called her a bitch. She then says she thought she was in mortal danger from the barista who appears to have been working the register.

READ MORE: http://chicagoist.com/2016/11/28/video_woman_who_berated_staff_at_mi.php
TWO VIDEOS FROM BOYL'S RANT: MICHAELS AND PEET'S COFFEE SHOP
Before you liberals get high and mighty, just remember the brutal attack of a black, homeless Trump supporter by Hillary thugs.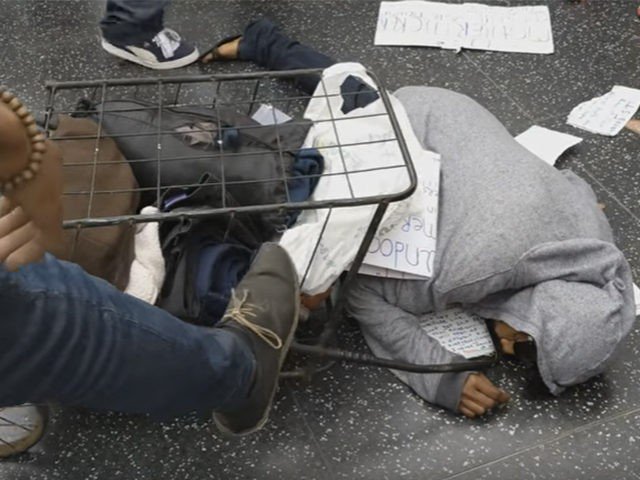 Homeless Trump supporter attacked by racist Hillary thugs .
Young woman below is a racist, narcissist, spoiled brat with no manners.