Chicago
4Chan posted pictures of dozens of expensive, unmarked, buses took to Chicago filled with "protestors" holding uniform and expensively printed signs. Thousands of people have recently taken to the streets of Chicago to protest the current minimum wage and demand an increase to $15/hr.
Yesterday, hundreds of paid protesters went to McDonalds headquarters and Trump tower for their protests:
The Flag Project with StandUp KC in Chicago about to March to Trump Tower for a living wage! #FightFor$15 #Resist
Two Chicago police officers were shot and wounded late Tuesday when two vehicles pulled up alongside their car and someone started firing indiscriminately in what authorities believe was a targeted attack.
One officer was shot in the arm and hip and the other in the back, police spokesman Anthony Guglielmi said. Police Superintendent Eddie Johnson visited them at Stroger Hospital and said both were alert and expected to recover.
'We believe that the officers were definitely targeted,' Guglielmi said.
The shooting happened in the Back of the Yards neighborhood, a high crime area on the city's South Side.
The officers were conducting a follow up investigation to a previous incident when two vehicles pulled up and those inside began firing. The officers were wearing civilian clothes at the time but had on vests with police badges on them, Guglielmi said.
A manhunt was underway for the suspects and Johnson said police were questioning 'a few' people of interest in the case. Johnson said police found several weapons and a vehicle they believe are linked to the shooting.
Chris Villanueva, 36, said he was walking back to his car in a strip mall parking lot south of the shooting scene, when he heard about a dozen rapid-fire shots.
'I thought it was fireworks maybe, but around here you hear gunshots a lot,' he told the Chicago Sun-Times. 'Next thing, cops are everywhere.'
Read more: Manhunt underway after two cops are shot while sitting in their car 'in targeted attack' in Chicago's South Side 
Outrageous! An O'Hare airport cop slammed a United Airlines passenger into an arm rest, dragging the bleeding and unconscious Chinese man who was bumped off the overbooked flight to make room for airline's own staff.
From Daily Mail:
An airport cop who body-slammed a United passenger and dragged him off an overbooked flight was put on leave today – as his bosses condemned his actions amid mounting outrage over video of the incident.

The Chicago Department of Aviation said it 'obviously' did not condone the behavior of the security officer who was filmed slamming the man into an arm rest, knocking him unconscious and dragging him away by his arms as he bled from the mouth at O'Hare.

United is facing growing anger after they selected the 69-year-old man – who claimed to be a doctor – to be bumped from the overbooked flight to Louisville to make room for its staff on Sunday night.

The airline's CEO apologized today even as new video emerged of the man, who had refused to leave the flight, bleeding heavily from the mouth and mumbling about suicide in the aftermath of his brutal treatment.

In the clip, the dazed man chants 'just kill me, just kill me' as blood pours from his mouth.

It seems to have been filmed after another clip that shows the victim somehow broke free from the airport cops and ran back onto the plane chanting 'I need to go home, I need to go home.'

Their statement released on Sunday night said:  'Aviation Officers arrived on scene attempted to carry the individual off of the flight when he fell. His head subsequently struck an armrest causing injuries to his face.'

It claimed that the man had begun yelling his displeasure at being selected to leave and was taken to hospital with non life-threatening injuries.

Today the department retreated from the statement, referring all enquiries to the Aviation Department.

READ MORE: Airport cop is SUSPENDED over United scandal as new video shows the victim mumbling 'kill me' after he was body-slammed and dragged off overbooked flight to make room for airline's own STAFF
HOW DOES UNITED DECIDE WHO GETS BUMPED FROM OVERBOOKED FLIGHTS?
United's contract of carriage states that passengers to be forcibly taken off a flight in the event of overbooking will be 'determined based on a passenger's fare class, itinerary, status of frequent flyer program membership, and the time in which the passenger presents him/herself for check-in without advanced seat assignment.'
That means that if you have a certain type of fare class, checked in early, have a flier status such as gold, or even just own a barely used frequent flier card, you are less likely to be bumped.
But passengers taking advantage of budget seats appear to be of less value to the airline
Support for the current president of the United States forced two Chicago music store owners to close their business because of threats and negative publicity they were receiving.

Suzzanne Monk and Alexander Duvel own "Worlds of Music Chicago" but will be shuttering their brick-and-mortar business in April because of extenuating circumstances, they told "Fox & Friends Weekend."

---

---
 Suzzanne Monk also wrote a letter to editor of a Chicago business news the reason why they are shutting down their store:
'Two choices for Trump supporters in Chicago: Be silent or be bullied'

So, after 25 years, after a lifetime for my husband, we have to leave. In the end, it wasn't the high taxes, constant road construction or high crime. It wasn't the unchecked gang violence or political cronyism. In the end, we have to leave because of the hate you are willing to tolerate.

I'd like to say, it's not you, it's me—but Chicago, I've got to be honest . . . it's you. You've changed. You are no longer the nose-to-the-grindstone hardworking Democratic City of the Big Shoulders. You have a Trump-sized chip on that big shoulder, and it has turned you into a city of fear, hate and division. A city that encourages political bullying.
SOURCE: Chicago business & financial news & analysis – Crain's Chicago Business
( Breitbart ) The surge in shootings that marked the early weeks of the new year continued, resulting in more than 300 people shot in the first 30 days of 2017.
The Chicago Tribune reports the number of shooting victims January 1 through January 30 is 302; this includes fatal and non-fatal shootings. The number of homicides alone is 54, which means the city has averaged 1.8 killings a day every day this year.
On January 23, Breitbart News reported that shootings and murders for January 1 through January 22, 2017, were up markedly over the number of shootings and murders for the same period in 2016. According to the Tribune, "At least 228 people were shot in Chicago [January 1 through January 22, 2017]." That was an increase of 16 victims above the number shot during the same period in 2016. There were "at least 42 homicides," marking a "23.5 percent … [increase from] the 34 homicides from the same period in 2016."
This news follows the grim report that gun-controlled Chicago had nearly 4,400 shootings and almost 800 murders.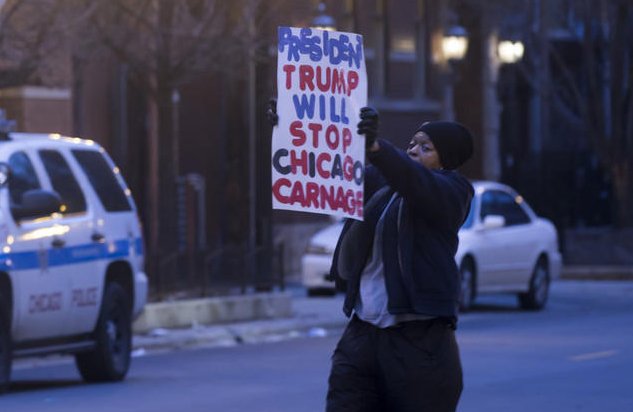 "drink that shit right fucking now."
Chicago Police are reportedly investigating a second video connected to the kidnapping and torture of an 18-year-old, mentally disabled Chicago teen. In the video, the assailants can be heard yelling, "drink that shit right fucking now."
The suspects — Jordan Hill, 18, Tesfaye Cooper, 18, Brittany Covington, 18, and Tanishia Covington, 24 — were set to appear in Central Bond Court on Friday afternoon.
According to CBS, the second video — in which the assailants force the victim to drink from a toilet — surfaced on Twitter Thursday morning.