CBS
LOL! President Trump told CBS host John Dickerson his program 'Face the Nation' is actually 'Deface the Nation' because of its fake reporting .
Trump: 'I love your show. I call it Deface the Nation. But, you know, your show is sometimes not exactly correct.'
Via Breitbart:
President Trump: I think we're doing great on trade deals. It's set. And I think we're doing well. I mean, our country is being out-traded at every single point. We're losing tremendous amounts of money on trade. And I think actually, I've been very consistent. You know, it's very funny when the fake media goes out, you know, which we call the mainstream media which sometimes, I must say, is you.

John Dickerson: You mean me personally or?

President Trump: Well, your show. I love your show. I call it Deface the Nation. But, you know, your show is sometimes not exactly correct. But when they talk about currency manipulation, and I did say I would call China, if they were, a currency manipulator, early in my tenure. And then I get there. Number one, they — as soon as I got elected, they stopped.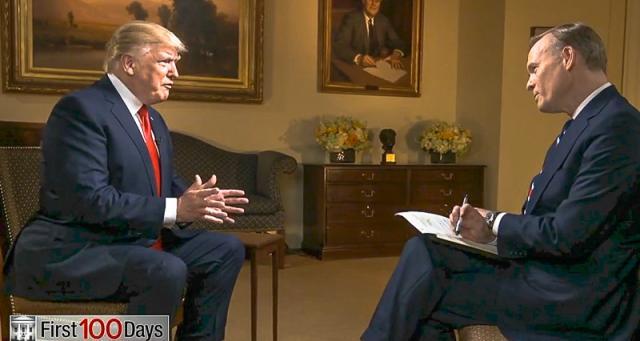 From Red Alert Politics :
In the wake of nationwide protests from liberals demanding that President Trump release his tax returns, a young Republican named Jeff Halm took it upon himself to troll his local CBS News affiliate when he was reached for comment.
"I wanted something that conveyed my disdain for the line of questioning," Halm told Red Alert Politics in an email. "I wanted to push a little to see if they knew I was messing with them."
Halm, who is president of the Chicago Young Republicans (CYR; a chapter of the Young Republican National Federation), is a regular guest of CBS 2 for giving the conservative perspective on politics. When they tried to get a reaction from him on the Trump tax protests, Halm lifted a line directly out of Hillary Clinton's playbook and said, " What difference at this point does it make?""
Halm posted the video to Twitter writing that the reporter had no idea he used a Hillary quote.
Hillary infamously said this line during a House Oversight Committee hearing in May 2013 to testify about her role in the 2012 Benghazi attack that left four Americans dead, including US Ambassador to Libya J. Christopher Stevens.
Read more: Red Alert Politics
Bill Clinton is not helping Hillary Clinton's case at all. After her famous 9/11 collapse/seizure, when Charlie Rose of CBS asked if there was a more serious illness at work.
Clinton responded: 'Well if it is, it's a mystery to me and all of her doctors, because frequently — well not frequently, rarely — but on more than one occasion, over the last many, many years, the same sort of thing happened to her when she got severely dehydrated.
CBS lame excuse when asked why they removed the word? 'One clip that ran on CBS Evening News was edited purely for time while on deadline for the live broadcast'.
Bill Clinton also admit Hillary's cause of illness is a 'mystery to me and all of her doctors'.
'I think her lifestyle and her underlying indicators … means it's almost certain she's in better health than her opponent, but we don't know because he hasn't disclosed.'
If Hillary is in better health than Trump, how about she duplicate Trump's schedule – minus her handler, her medic team, and her ambulance. Let's see how long she would last.