Amy Schumer
Anti-Trump, D-list comedian Amy Schumer's Netflix special  'The Leather Special' gets Emmy Award for Worst Comedy Special Ever and was leather whipped with bad so reviews, earning an overall one-star rating, reports The Federalist.
Schumer's special begins with her declaring, "every comic has one moment where they wear leather and they regret it. This is my f*cking moment!"
Schumer cracks jokes like, "on my p*ssy's best day it smells like a small barnyard animal" and "have you ever had a guy cum in your mouth and go 'does it taste okay?'"
Examples of what viewers said:
'Emmy Award for Worst Comedy Special Ever'
Wow, just wow, emmy award for worst comedy special ever. Amy just isn't funny. This little dumpling needs to get a little job somewhere like 7-11 and leave the comedy to talented people like Eliza Sleshinger.
Rating: 1 star
'Netflix Better Find a Way to Refund the Last 56 Minutes of My Life'
She is awful. NFlix better find a way to refund the last 56 minutes of my life. Just. . . just awful.
Rating: 1 star
'She Pauses to Accommodate for the Applause After the Jokes. . . But There Are No Jokes So There is No Applause'
Odd. She pauses to accommodate for the applause after the jokes….. but there are no jokes so there is no applause. She gets some pity applause, but it's very odd to watch her on the stage. Full disclosure, I did not watch the entire thing, I just couldn't.
'Amy is 1 Special Away From Being Broke and Homeless'
Absolutely horrible. Amy is 1 special away from being broke and homeless. Female comics are the best! Amy is not. . . . . .
CLICK FOR MORE REVIEWS: 'Horribly Unfunny': Amy Schumer's Netflix Special Gets Trashed With One-Star Reviews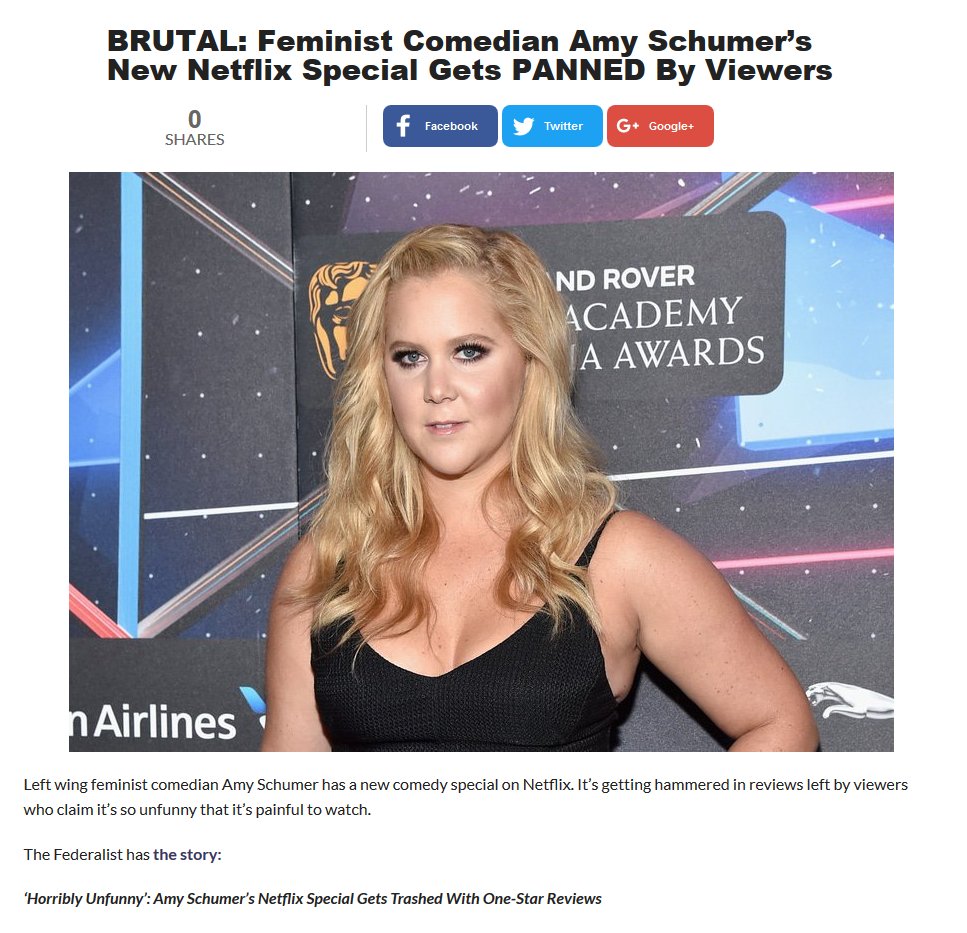 MY REACTION – 'CHUNKY AMY AS BARBIE?' I'm not into fat-shaming but Amy Schumer's anti-Trump political rhetoric during election, insulting Trump voters and threatening to leave the country if Trump wins,  makes me want to write my first reaction when I read this news. The movie is to prove that real beauty is inside. I see 'slutty' Amy and I don't see beauty inside either. She's like her friend Hillary Clinton insisting she's not a crook despite of overwhelming proof.
Amy Schumer said she's 'a little sluttier than the average bear'.  She also 'raped' a drunk guy named Matt when she was in high school because he paid attention to her.
It is set in Barbieland, a world inhabited by the many different version of the doll – more than 180 – whose names, personalities and professions are defined by the particular outfit they wear.

However Schumer's Barbie – who isn't 'perfect enough, is a bit eccentric and doesn't quite fit the mould' – is an outcast.

She then goes on an adventure in the real world, before returning to save her hometown, armed with the knowledge that real beauty is on the inside, and the key to happiness is freeing oneself from an unattainable standard of perfection.

Read more: 'Better lose a lot of weight for that role!': Body shamers troll Amy Schumer after it's announced she'll star in Barbie movie
Amy Schumer 'a little sluttier than the average bear' : 'Inside Amy Schumer': It's Not Just Sex Stuff
One of Amy Schumer's comedy routines begins with the declaration, "I'm a little sluttier than the average bear. I really am."

Sex as a subject for Schumer wasn't a conscious decision. She says she was always a sexual girl, but that as she grew older and came into her own, sex was simply the thing she was thinking about and talking about with her girlfriends. She questions how attractive she is and "how slutty" she is — and it's something she goes back and forth on. These thoughts, questions and conversations spilled naturally into her comedy.
.