algorithm
Liberal publishers have gained about 2 percent more web traffic from Facebook than they were getting prior to the algorithm changes implemented in early February.
On the other hand, conservative publishers have lost an average of nearly 14 percent of their traffic from Facebook
Facebook's Campbell Brown, a former anchor on NBC and CNN who now leads Facebook's news partnerships team : We are, for the first time in the history of Facebook, taking a step to try to to define what 'quality news' looks like and give that a boost."
( Gateway Pundit ) A recent study by George Upper at The Western Journal confirms that Facebook's much-publicized demotion of publishers' content in users' news feeds has negatively impacted conservative-leaning publishers significantly more than liberal-leaning outlets.
According to the report –
Liberal publishers have gained about 2 percent more web traffic from Facebook than they were getting prior to the algorithm changes implemented in early February.

On the other hand, conservative publishers have lost an average of nearly 14 percent of their traffic from Facebook.

This algorithm change, intentional or not, has in effect censored conservative viewpoints on the largest social media platform in the world. This change has ramifications that, in the short-term, are causing conservative publishers to downsize or fold up completely, and in the long-term could swing elections in the United States and around the world toward liberal politicians and policies.
According to the report, perhaps no media entity has been hit as hard as The Gateway Pundit as shown in the chart below –
Facebook is now admitting their liberal bias and actions to suppress the conservative America loving point of view –
Campbell Brown, a former anchor on NBC and CNN who now leads Facebook's news partnerships team, told attendees at a recent technology and publishing conference that Facebook would be censoring news publishers based on its own internal biases:

"This is not us stepping back from news. This is us changing our relationship with publishers and emphasizing something that Facebook has never done before: It's having a point of view, and it's leaning into quality news. … We are, for the first time in the history of Facebook, taking a step to try to to define what 'quality news' looks like and give that a boost." (Emphasis added.)

Based on The Western Journal's analysis — and an overwhelming amount of insider reports from new media publishers — it is clear that Facebook's definition of "quality news" is news with a liberal slant.
Read more: http://www.thegatewaypundit.com/2018/03/report-facebooks-recent-algorithm-change-crushing-conservative-sites-boosting-liberals/
WikiLeaks founder Julian Assange told GOP Rep. Dana Rohrabacher that he is ready to provide information proving Russia did not hack the Democratic National Committee.
From True Pundit:
According to a lengthy New Yorker report , Assange developed an algorithm last year used to randomly select for release emails hacked from Democratic politicians and staffers
The publishing algorithm, which Assange named "Stochastic Terminator," helped WikiLeaks publish sets of internal documents and communications, including those of Hillary Clinton's campaign chairman John Podesta, with the goal of making it more difficult for the campaign to "to adjust to the problem, to spin, to create antidote news beforehand," Assange told the New Yorker's Raffi Khatchadourian .
Assange explained that the algorithm, which he developed leading up to WikiLeaks' first release of Podesta's emails last September, "was built on a random-number generator, modified by mathematical weights that reflected the pattern of the news cycle in a typical week," Khatchadourian wrote.
Read more: Julian Assange explains how WikiLeaks used an algorithm to catch the Clinton camp off-guard with email dumps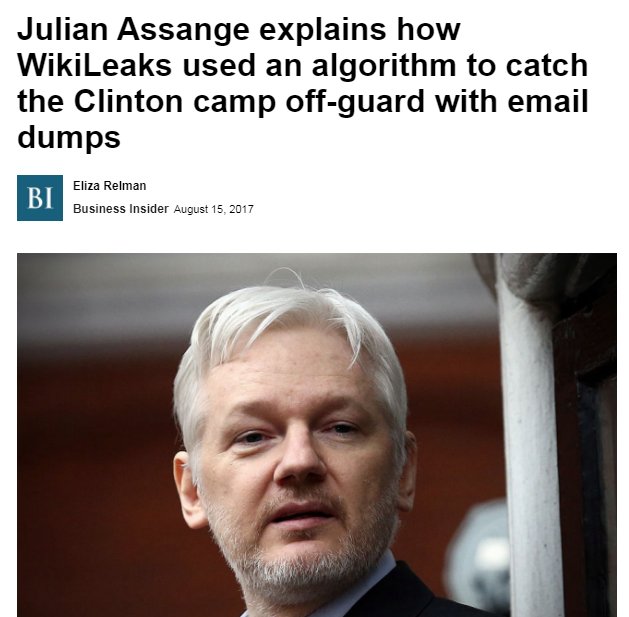 The Hill reports:
Rep. Dana Rohrabacher, a California Republican who is friendly to Russia and chairs an important House subcommittee on Eurasia policy, became the first American congressman to meet with Assange during a three-hour private gathering at the Ecuadorian embassy in London, where the WikiLeaks founder has been holed up for years,
Rohrabacher recounted his conversation with Assange to The Hill.
"Our three-hour meeting covered a wide array of issues, including the WikiLeaks exposure of the DNC emails during last year's presidential election," Rohrabacher said,  "Julian emphatically stated that the Russians were not involved in the hacking or disclosure of those emails.
Pressed for more detail on the source of the documents, Rohrabacher said he had information to share privately with President Donald Trump.
"Julian also indicated that he is open to further discussions regarding specific information about the DNC email incident that is currently unknown to the public," he added.