Alexandria
Federal Judge Delays Sentencing For General Mike Flynn AGAIN
The Los Angeles Times reported:
As part of Flynn's plea deal, he agreed to cooperate with federal prosecutors and his sentencing has been delayed. The special counsel's office and Flynn's lawyers recently asked the probation office to prepare a pre-sentence report, a standard step that normally involves an investigation into a convicted criminal's background to document extenuating circumstances that might lessen the sentence, or a criminal history to justify a heavier sentence.

U.S. District Judge Emmet G. Sullivan called for the hearing to determine why the court shouldn't follow its standard practice of preparing a report and scheduling a sentencing date at the same time. The probation office is already overworked, Sullivan said Tuesday.

Flynn's lawyers and prosecutors agreed to delay preparation of the pre-sentence report, although Flynn's lead attorney, Robert Kelner, emphasized that he hopes to move quickly toward resolution.

"Gen. Flynn is eager to proceed … when that is possible," he told the judge.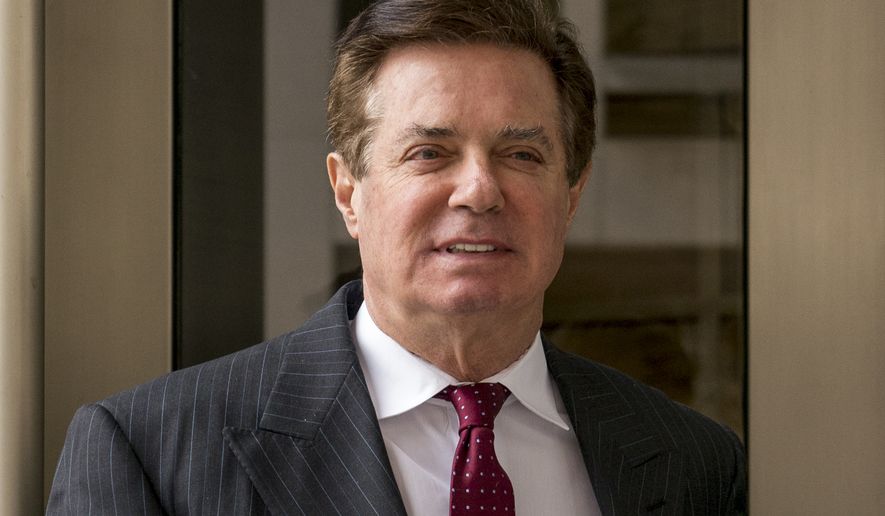 By Jeff Mordock – The Washington Times – Updated: 5:55 p.m. on Tuesday, July 10, 2018
A federal judge Tuesday ordered former Trump campaign chairman Paul Manafort to be relocated to a jail in Alexandria, Virginia.
Judge T. S. Ellis III, who is overseeing Mr. Manafort's Virginia case said the move was necessary so he can more easily communicate with his lawyers.
Mr. Manafort is currently incarcerated to the Northern Neck Jail, which is about two hours away from his Washington, D.C.-based attorneys.
Judge Ellis said Mr. Manafort must be moved to "ensure the defendant has access to his counsel and can adequately prepare his defense."
The request to relocate Mr. Manafort was one of several motions made last week by his attorneys. They also asked for the trial be moved until the fall and relocated to Roanoke, Virginia, arguing Northern Virginia "skews left" too much for Mr. Manafort to receive a fair trial.
Read more: https://www.washingtontimes.com/news/2018/jul/10/paul-manafort-be-moved-alexandria-jail/
( Daily Mail ) House Majority Whip Steve Scalise was in a critical condition in hospital on Wednesday afternoon after he was shot by a Trump-hating gunman who opened fire on Republican congressional baseball practice.
The Louisiana congressman was shot in the hip as he stood on second base at the field in Alexandria, Virginia at 7am on Wednesday. His staff initially described his condition as 'stable' but the Medstar Hospital in Washington DC later said that Scalise was in critical condition after having surgery.
He was among five injured when James T. Hodgkinson, 66, opened fire on the Republicans with an assault rifle from the third base dugout at Eugene Simpson Stadium Park in Alexandria, Virginia, as the group practiced batting at around 7.00am.
Ohio Rep. Brad Wenstrup, who tended to Scalise on the scene immediately after the incident, told CNN he was concerned that he was unable to locate an exit wound for the bullet that he said hit the lawmaker in the hip.
He said he posited that the bullet might have impacted on the hip bone, but raised a concern that the bullet could have ricocheted. In that case, it could have caused internal bleeding or impacted internal organs.
Wenstrup is a podiatrist who served in Iraq. The lack of a clear path for the bullet through Scalise's leg could explain why he remained in critical condition following surgery. Wenstrup raised concerns about fluid loss in the case of Scalise.
Lawmakers who witnessed the incident described a period of time running several minutes where Scalise lay bleeding but was unable to get medical attention because of the active shooter situation. He indicated he was able to get control of the external wound, but wasn't aware of whether there were internal injuries or internal blood loss. Rep. Mo Brooks described working with Wenstrup to use a belt to make a tourniquet to stop blood loss.
Read more: Steve Scalise is in CRITICAL condition: House majority whip's condition is downgraded after surgery following baseball shooting