ISIS suggests luring targets by placing an ad at an unemployment center for a job Muslims would not take, then "subdue" each victim as they arrive at the interview site, even if that means renting a fake office, before murdering en masse.
advertising a studio apartment for rent, small enough not "attract large families," and capture and kill the interested tenants. "It might even help to include in the ad that the apartment is 'ideal for students,'" ISIS adds.
Locations suggested for public hostage-taking operations include malls, movie theaters, nightclubs, ice-skating rinks, restaurants and college campuses — any peak-traffic, preferably low-light environment that "allows for one to take control of the situation by rounding up the kuffar present inside and allows one to massacre them while using the building as a natural defense against any responding force attempting to enter and bring the operation to a quick halt."
PJ Media, by Bridget Johnson, May 4, 2017:
The Islamic State magazine that has published tutorials on vehicle, knife and arson attacks as a tool of lone jihad is now encouraging terrorists to acquire guns at shows and shops and take hostages not for ransom but "to create as much carnage and terror as one possibly can."
The latest issue of Rumiyah magazine, distributed online in 10 languages including English, offers another installment of the "Just Terror Tactics" series, praising lone jihadists including U.S. terrorists who have "set heroic examples with their operations."
The objective of taking hostages, would-be jihadists are told, is "not to hold large numbers of the kuffar hostage in order to negotiate one's demands," but to sow terror with "the language of force, the language of killing, stabbing and slitting throats, chopping off heads, flattening them under trucks, and burning them alive, until they give the jizyah [tax] while they are in a state of humiliation."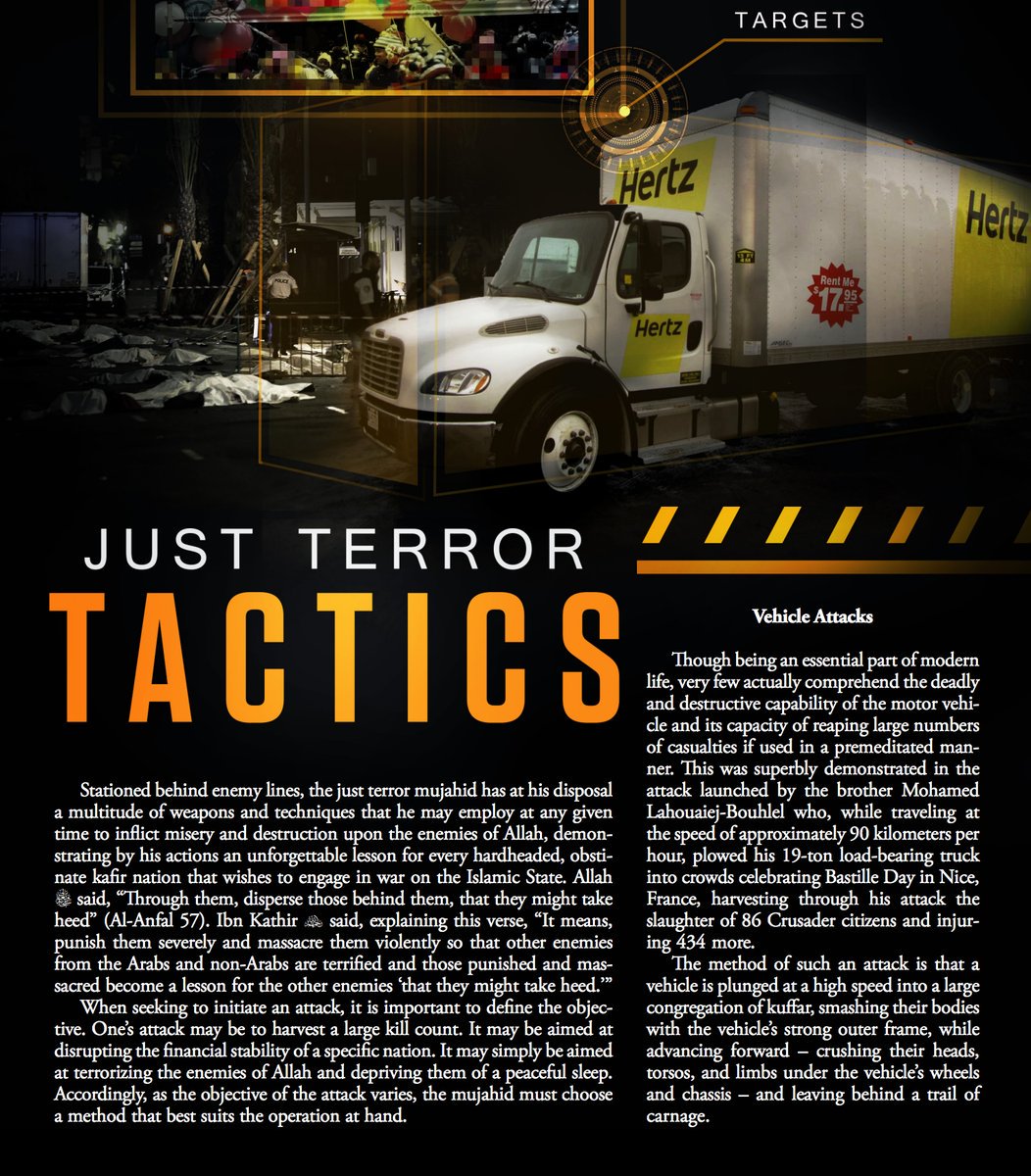 "The scenario for such an attack is that one assaults a busy, public, and enclosed location and rounds up the kuffar [disbelievers] who are present. Having gained control over the victims, one should then proceed to slaughter as many of them as he possibly can before the initial police response, as was outstandingly demonstrated by the mujahidin who carried out the Bataclan theatre massacre during the course of the blessed Paris raid," the article instructs.