NEWS
FAKE NEWS! Portland stabber is not a Trump guy! Jeremy Christian voted for Bernie Sanders but he liked to pose as a Trump supporter in order to discredit pro-Trump people.
Mike Cernovich tweeted earlier that a source informed him that Christian is a Bernie supporter that would "intentionally start scuffles and do Nazi salutes for attention."
On Facebook, he also called for assassination of AG Jeff Sessions, death to Hillary Clinton voters and how he's going to kill everyone who voted for Trump.
He also got quite the criminal record: robbery, kidnapping, weapons charges, parole violations, failure to appear in court, contempt.
Jeremy Christian stabbed to death two men on a MAX train Friday when they tried to intervene as he yelled racial slurs at two young Muslim women. According to police, he was ranting about many things, using "hate speech or biased language," and at one point focused on the young women.
He was kicked out of a free speech event by Trump supporters. One person asked him if he's 'smoking crack' as others shouted, 'Don't do drugs! Don't do drugs!'
Video at the Free Speech event:
Not shocking at all! Two thirds of all Americans – regardless of political orientation – believe the mainstream media is fake news, according to a Harvard University study.  Mainstream media are the fake news thugs of the Democrat Party.
From The Hill :
Nearly two-thirds of Americans say the mainstream press is full of fake news, a sentiment that is held by a majority of voters across the ideological spectrum.
According to data from the latest Harvard-Harris poll, which was provided exclusively to The Hill, 65 percent of voters believe there is a lot of fake news in the mainstream media.
That number includes 80 percent of Republicans, 60 percent of independents and 53 percent of Democrats. Eighty-four percent of voters said it is hard to know what news to believe online.
"Much of the media is now just another part of the partisan divide in the country with Republicans not trusting the 'mainstream' media and Democrats seeing them as reflecting their beliefs," said Harvard-Harris co-director Mark Penn. "Every major institution from the presidency to the courts is now seen as operating in a partisan fashion in one direction or the other."
BOYCOTT USAA!
Sean Hannity is well known for his support for the military and the veterans, and has a strong fan base among the military community.  After USAA decided to cancel  their ads on Hannity, furious members of  USAA – an insurance, bank and financial services company that caters to active duty military, veterans and their families-  are giving back to them what they just did to Sean- they are boycotting and canceling their membership.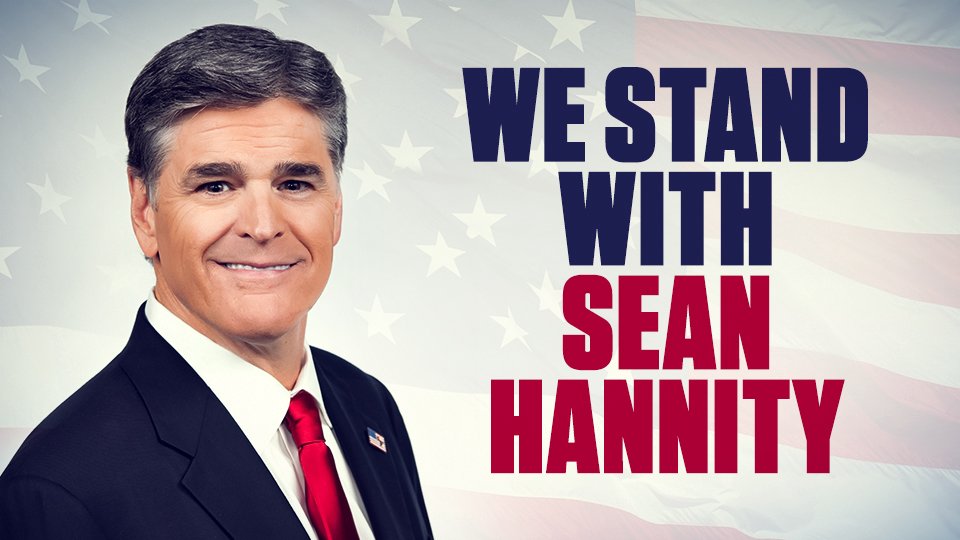 Is Fox News dumping Sean Hannity? They better not!
This is a weird post from Sean Hannity: "Did Hannity do last show?"
Uh oh My ANNUAL Memorial Day long weekend starts NOW. Destroy Trump/Conservative media breathless coverage starts! Did Hannity do last show?
If Fox News is going to fire Hannity, time to drop your cable subscription!
BOYCOTT THEM BACK! Liberal NAZIS like George Soros funded Media Matters has targeted Sean Hannity calling advertisers to pull out because of his Seth Rich coverage and today seven companies decided to do so.
After cars.com announce that it was pulling its commercials from Hannity show, six other advertisers followed suit, according to the New York Daily News.
They include two mattress companies, Leesa and Casper; exercise bike maker Peloton; military family insurer USAA; Crowne Plaza Hotels; and Ring, which provides outdoor home security.
BOYCOTT THESE COMPANIES! TIME TO SHOW OUR OUTRAGE!
Read more: Cars.com and others dump Sean Hannity – NY Daily News
'Awww, so you nice ladies stole hard-working and low-income Mexican women's tortilla recipes and are now turning a profit. That's not white basic privilege at all. #disgusting,' Alicia Dominguez
'Now that you all boldly and pretty f***ing unapologetically stole the basis of these women's livelihoods, you can make their exact same product so other white ppl (sic) don't have to be inconvenienced of dealing with a pesky brown middle woman getting in their way. Great job,' Shauna MacKinnon
'Stealing is in their nature so I'm not surprised. They're not creative so they had to get the idea from someone,' Tee McNeill
( Daily mail ) Two white women have been forced to close their pop-up burrito shop after they were accused of cultural appropriation.
Kali Wilgus and Liz 'LC' Connelly opened Kooks Burritos in Portland, Oregon, after taking a trip to Puerto Nuevo, Mexico, last December.
For the first few months, the weekend pop-up shop housed in an taco truck was a smash hit. It gained so much popularity, a local weekly newspaper decided to profile the entrepreneurial duo.
But that's when the trouble started for Wilgus and Connelly, after quotes they gave to the Williamette Week led to them being accused of stealing their success.
Explaining their trip, Connelly told the newspaper: 'I picked the brains of every tortilla lady there in the worst broken Spanish ever, and they showed me a little of what they did.
'In Puerto Nuevo, you can eat $5 lobster on the beach, which they give you with this bucket of tortillas. They are handmade flour tortillas that are stretchy and a little buttery, and best of all, unlimited.
'They wouldn't tell us too much about technique, but we were peeking into the windows of every kitchen, totally fascinated by how easy they made it look. We learned quickly it isn't quite that easy.'
Those comments were latched onto by a food blog in the Portland Mercury, which accused Wilgus and Connelly of 'preying' on the women they met in Mexico.
Related link: White women's burrito shop is forced to close after being hounded with accusations it was 'culturally appropriating Mexican food and jobs'