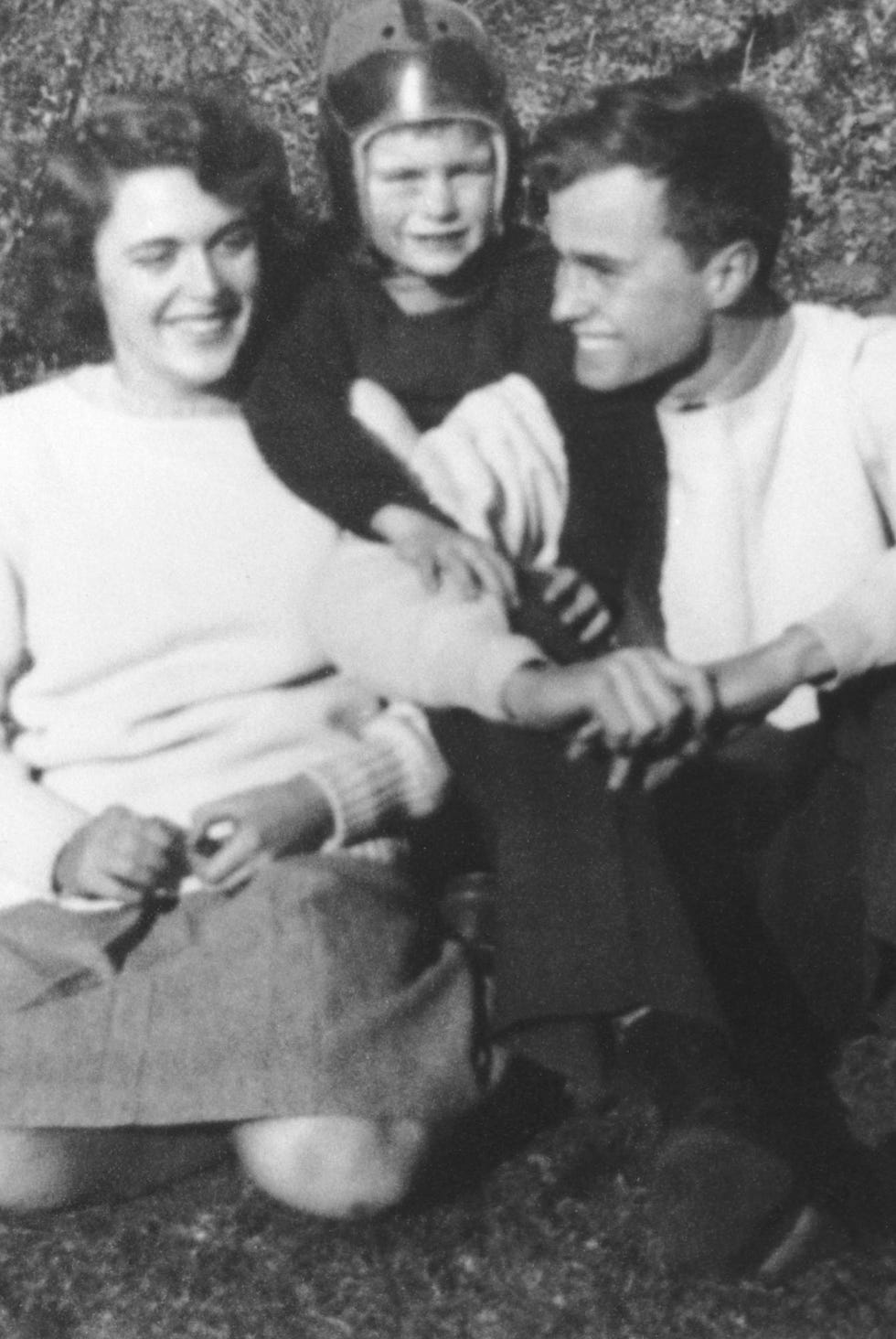 "The former First Lady called them "the two luckiest people in the world."
1940s: Early Beginnings
Barbara Pierce met George Herbert Walker Bush at age 16 at a dance while on Christmas vacation. "Since I didn't waltz, we sat the dance out. And several more after that, talking and getting to know each other," George said later. "It was a storybook meeting."
He studied at Phillips Academy in Andover, Massachusetts, and she attended boarding school Ashley Hall in Charleston, South Carolina. Despite the distance, they dated for a year and a half before George left on deployment in World War II. They posed with his brother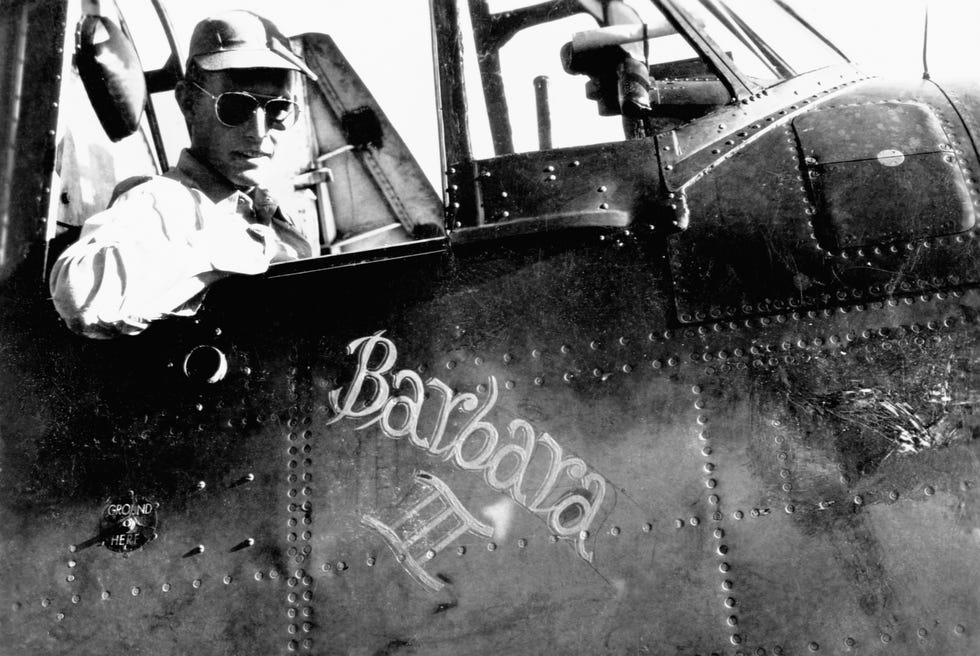 1943-1945: A Wartime Courtship
George proposed just before he left to serve as a naval bomber in Pacific, naming his torpedo bombers after his fiancée. Barbara didn't hear for him for more than a month after George was shot down on September 2, 1944, and the couple planned to wed on a date rescheduled to fit his leave.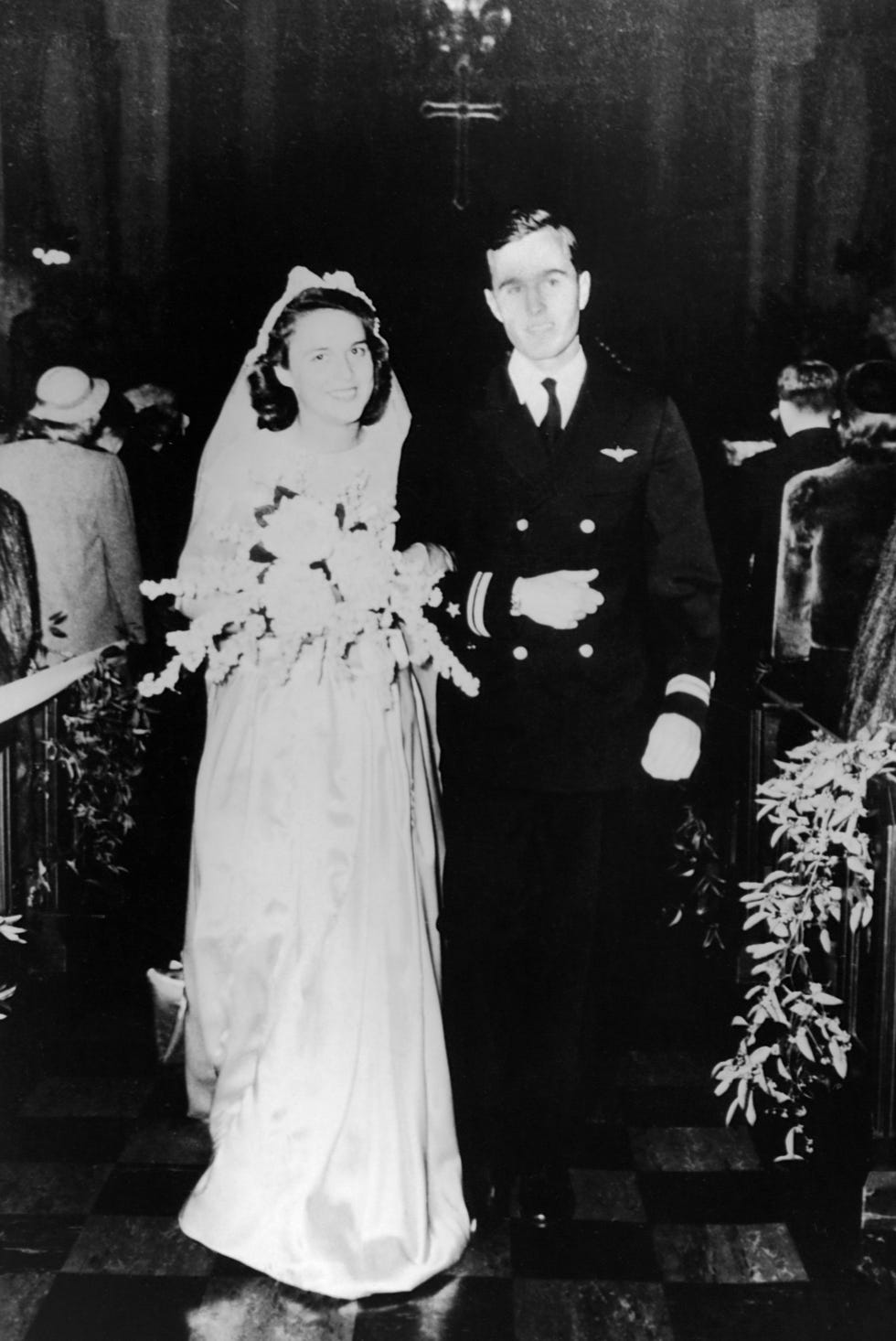 1945: Down the Aisle
Barbara married the navy lieutenant on January 6, 1945, in her hometown of Rye, New York, at the age of 19 — one of only a few first ladies to marry in her teens. "I have climbed perhaps the highest mountain in the world, but even that cannot hold a candle to being Barbara's husband," George wrote in a collection of letters published in 1999.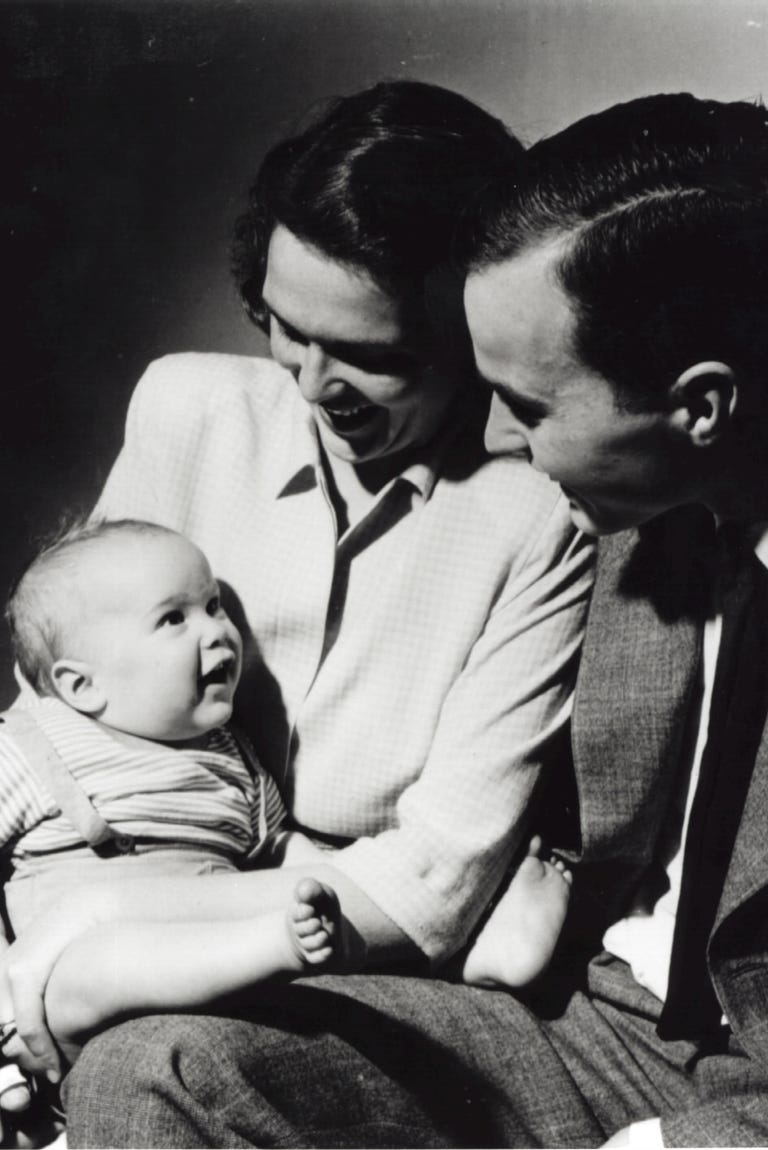 1947: Baby on Board
After the war, George resumed his studies at Yale University in New Haven, Connecticut. Barbara worked at a campus store until they welcomed their first child, George W. Bush (pictured here in April 1947).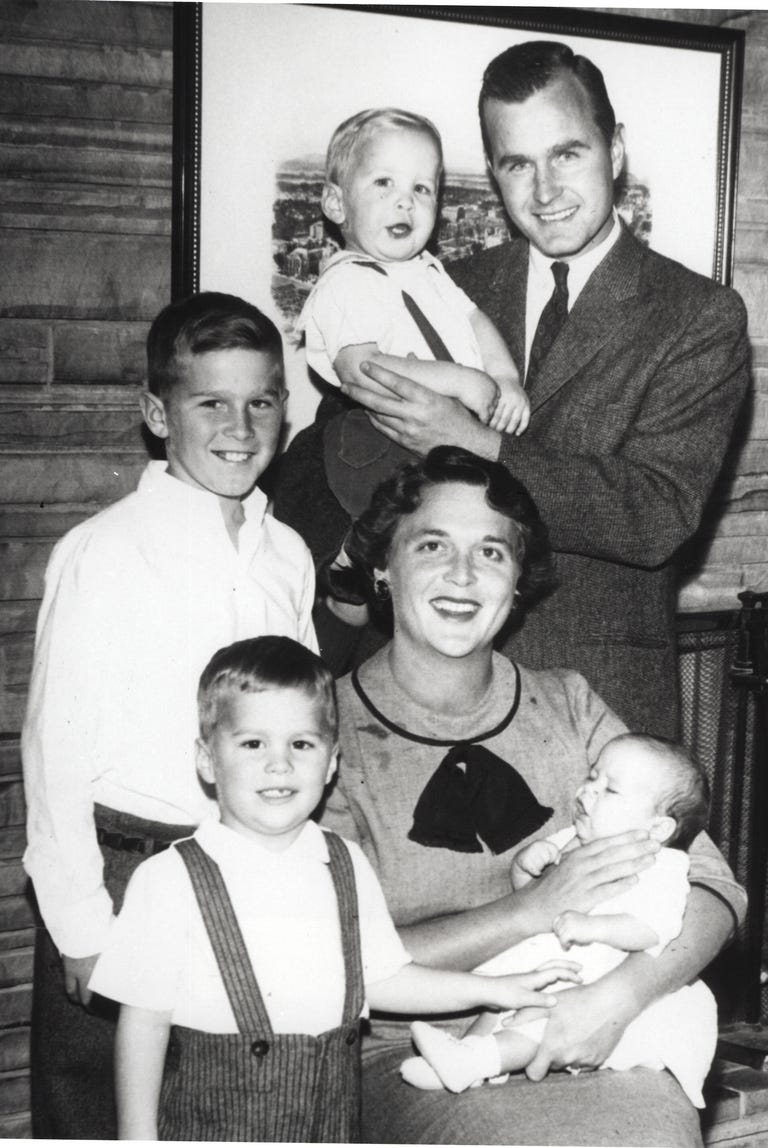 1956: Full House
By 1956, Barbara and George Bush had welcomed Neil, Jeb, and Marvin into the family. In 1959, they welcome their second daughter, Dorothy. Barbara spent most of her time parenting as George's career often took him away from home. He called his wife "the mainstay, of course, the parent who was always there to help solve the daily problems and emergencies of teen and preteen life."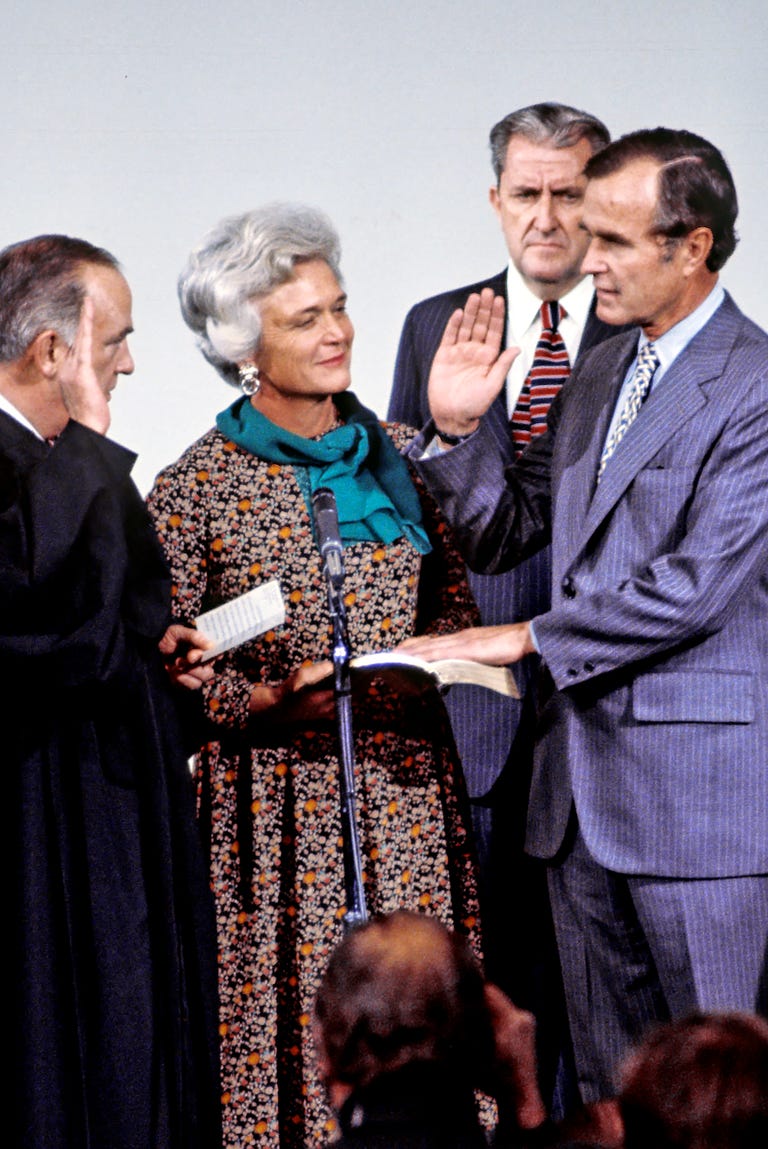 1976: Back to the U.S.
The Bushes returned stateside when George became Director of the Central Intelligence Agency in 1976. Barbara would later estimate she'd lived in 29 different houses by the time they reached the White House in 1989. The period marked a dark spot in their marriage, and Barbara suffered with a bout of depression. "Night after night, George held me weeping in his arms while I tried to explain my feelings," she said. "I almost wonder why he didn't leave me."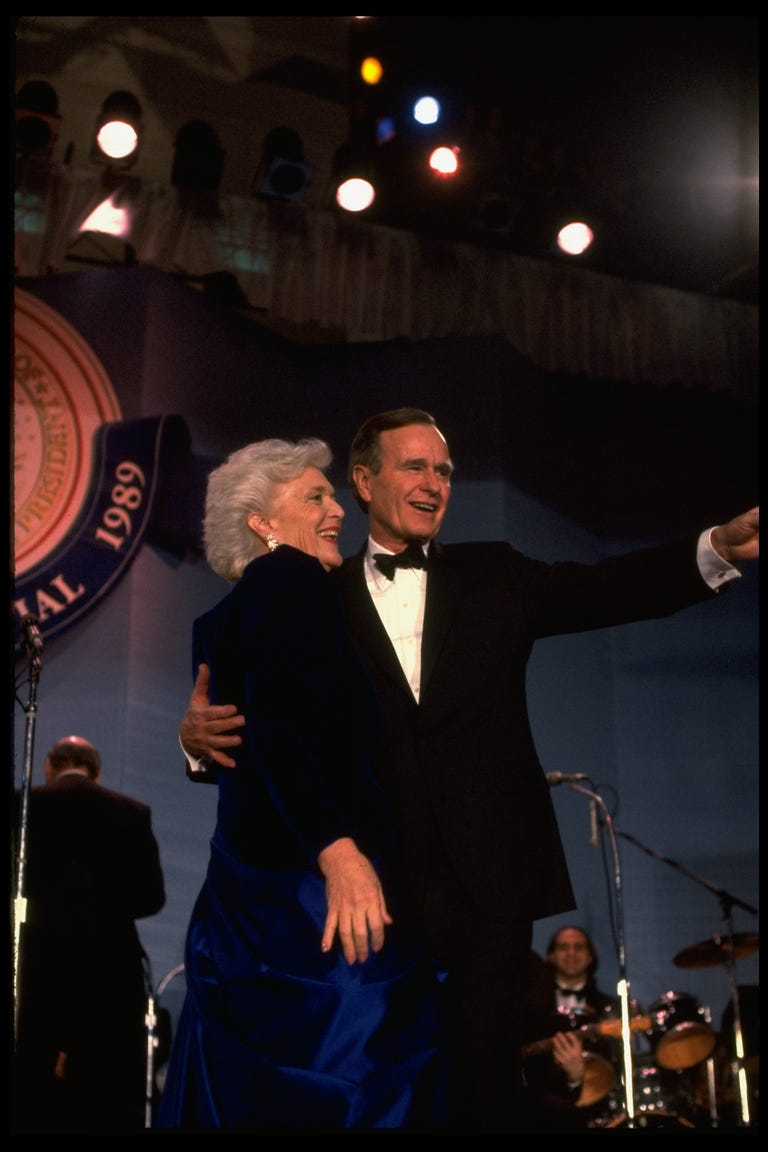 1989: Taking the White House
Barbara's promise to serve as a traditional first lady helped sweep George into the White House in the 1988 election, this time as president. While her domesticity enticed many voters in a post-Nancy Reagan-era, Barbara envisioned a radical future for the White House in at least one way. In a 1990 commencement speech at Wellesley University, she speculated that someone in the audience might become the president's spouse — "and I wish him well."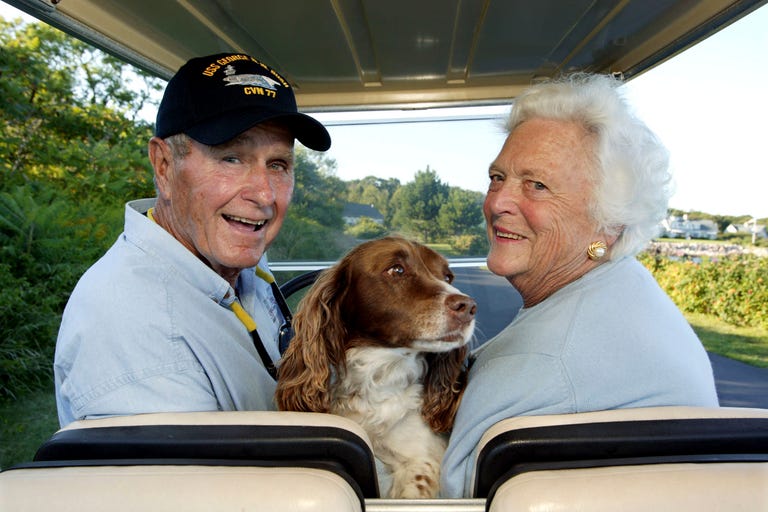 2004: Presidential Parents
In 2000, George and Barbara became mom and dad to the 43rd President of the United States, George W. Bush. The couple spent plenty of days at their famed compound in Kennebunkport, Maine, with beloved dog Millie.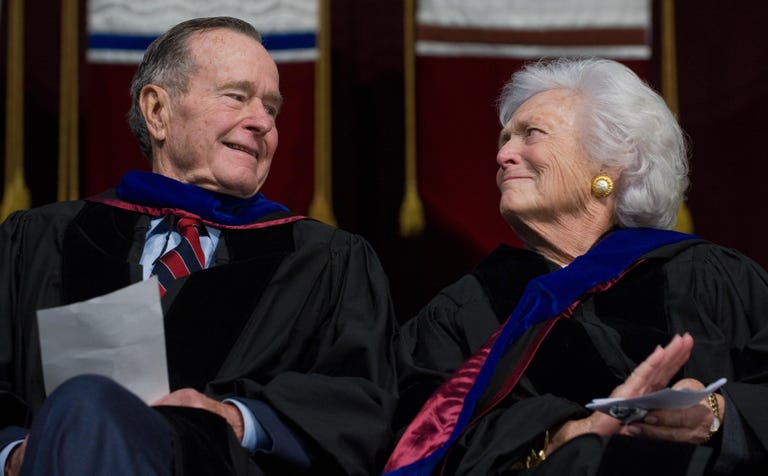 2008: Staying Strong Together
Besides publicly announcing her Graves' disease diagnosis in 1988, Barbara struggled with other health issues in the 2000s. A perforated ulcer, heart surgery, bronchitis, and pneumonia ailed Barbara over the the past decade. George also suffered from Parkinson's disease and a recurrent case of pneumonia. Barbara told CSPAN in 2013 that the couple prayed about every night "and sometimes we fight over whose turn it is."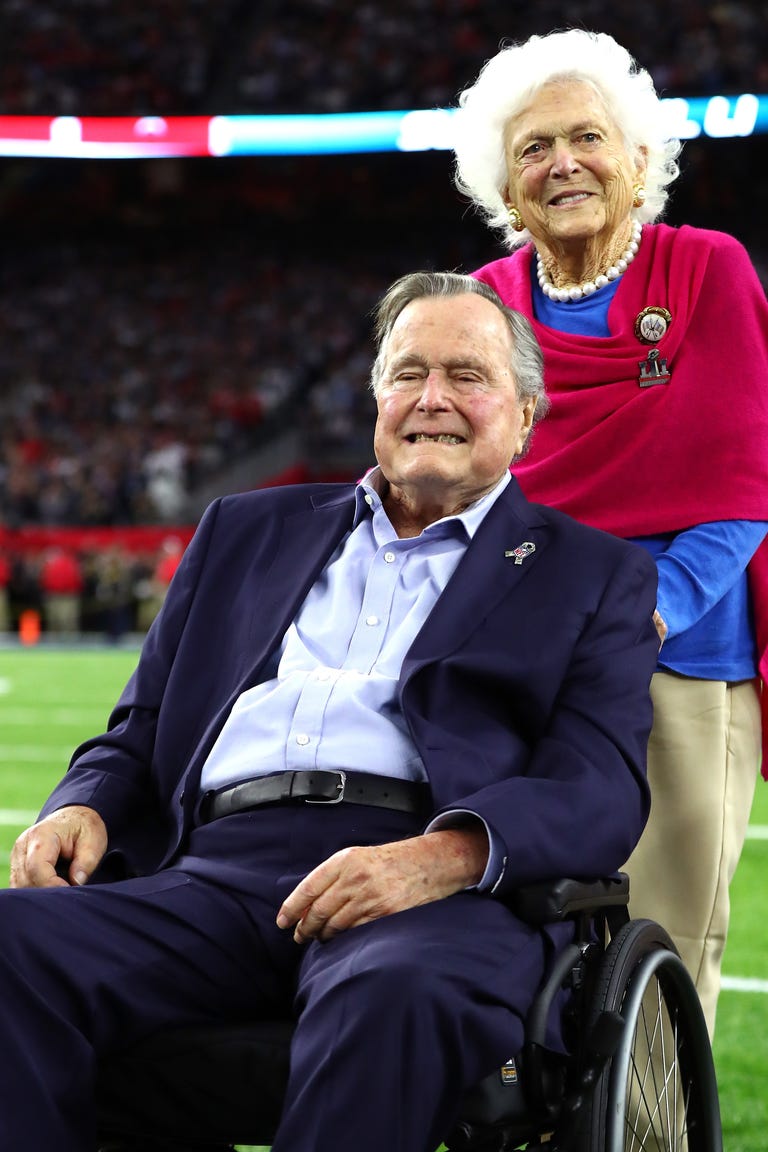 2017: Life in Houston
Firmly settled in Texas, George and Barbara spent their final days in Houston, where they appeared at the 2017 Super Bowl. According to granddaughter Jenna Bush Hager, George still said "I love you Barbie" every night as his wife received "comfort care" for her chronic obstructive pulmonary disease (COPD).
"I don't have a fear of death for my precious George or for myself because I know that there is a great God and I'm not worried about that," Barbara said in 2013. "I know we'll see Robin again, one way or another, and our families."
SOURCE: https://www.goodhousekeeping.com/life/relationships/g19832028/barbara-and-george-love-story/?slide=18