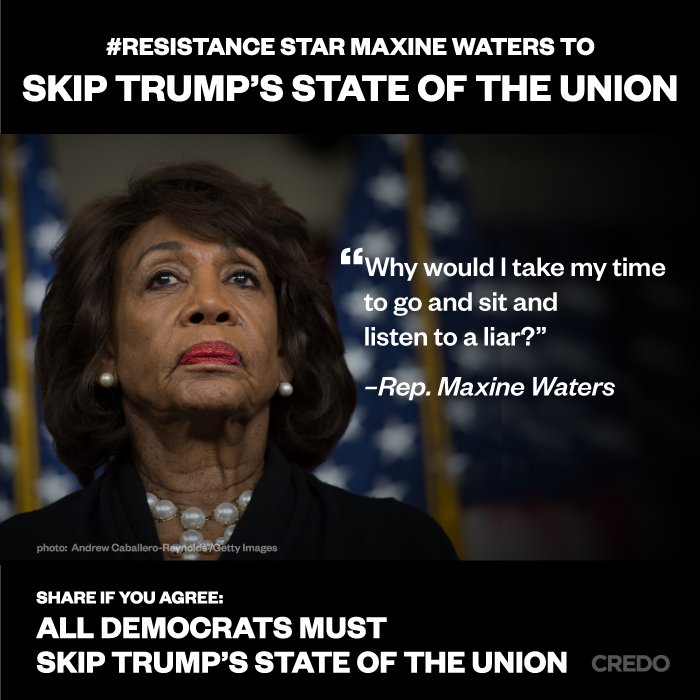 Resistance star Democrat Maxine Waters to skip President Trump first State of the Union address. Hey Maxine, why not ask all the Democrats to join you? We'd love to see that.
Rep. Maxine Waters says she will boycott Trump's State of the Union, calls him a 'liar'
Rep. Maxine Waters, D-Calif., on Friday became the latest Democrat to announce that she will not be attending President Trump's State of the Union address later this month — amid growing Democratic plans to protest the event.
"Why would I take my time to go and sit and listen to a liar?" Waters said on MSNBC. "To someone who lies in the face of facts, someone who can change their tune day in and day out. What does he have to say that I would be interested in? I don't trust him, I don't appreciate him and I wouldn't waste my time sitting in that house listening to what he has to say. He does not deserve my attention."
Waters is the third Democrat so far to announce a boycott of the Jan 30. event, with Rep. John Lewis, D-Ga., and Rep. Earl Blumenauer, D-Ore., both saying that they would be skipping it too.
Lewis made his announcement Friday, citing reports that Trump had referred to some African countries as "s—holes" in a conversation with lawmakers about immigration.
"I cannot in all good conscience be in a room with what he has said about so many Americans," Lewis said on MSNBC Friday. "I just cannot do it. I wouldn't be honest with myself."
Blumenauer said he would be skipping the event before Trump's remarks became public, but said it would be a waste of time and that he was staying home.
Read more: Rep. Maxine Waters says she will boycott Trump's State of the Union, calls him a 'liar'