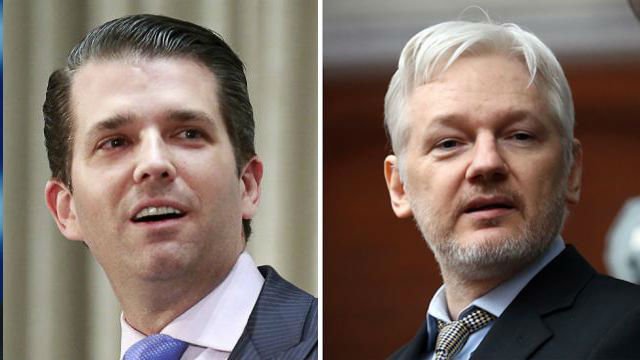 Julian Assange busted The Atlantic for its FAKE NEWS about Donald Trump Jr.- Wikileaks story.
Wikileaks founder, Julian Assange, latest tweet:
"Incredible. The Atlantic edited "Trump Jr" DM story to reverse its meaning even removing "that the Clinton campaign is constantly slandering us with" right after "pro-Russia". Full text changes everything."
Donald Trump Jr. tweets:
Here is the entire chain of messages with @wikileaks (with my whopping 3 responses) which one of the congressional committees has chosen to selectively leak. How ironic!
Wikileaks founder, Julian Assange:
"I cannot confirm the alleged DM's from @DonaldJTrumpJr to @WikiLeaks. @WikiLeaks does not keep such records and the Atlantic's presentation is edited and clearly does not have the full context. However, even those published by the Atlantic show that: 1/ WikiLeaks loves its pending publications and ignores those who ask for details. Trump Jr. was rebuffed just like Cambridge Analytica. In both cases WikiLeaks had publicly teased the publications. Thousands of people asked about them. 2/ WikiLeaks can be very effective at convincing even high profile people that it is their interest to promote links to its publications. 3/ WikiLeaks has such chutzpah that it allegedly tried to convince Trump Jr to leak his father's tax returns & his own "Russian lawyer meeting" emails (he did). WikiLeaks appears to beguile some people into transparency by convincing them that it is in their interest. 4/"
Finally, I tweeted this, publicly, back in July.
The Atlantic reports:
The messages, obtained by The Atlantic, were also turned over by Trump Jr.'s lawyers to congressional investigators. They are part of a long—and largely one-sided—correspondence between Wikileaks and the president's son that continued until at least July 2017.
The Atlantic reports:
The messages, obtained by The Atlantic, were also turned over by Trump Jr.'s lawyers to congressional investigators. They are part of a long—and largely one-sided—correspondence between Wikileaks and the president's son that continued until at least July 2017. The messages show Wikileaks, a radical transparency organization that the American intelligence community believes was chosen by the Russian government to disseminate the information it had hacked, actively soliciting Trump Jr.'s cooperation. Wikileaks made a series of increasingly bold requests, including asking for Trump's tax returns, urging the Trump campaign on Election Day to reject the results of the election as rigged, and requesting that the president-elect tell Australia to appoint Julian Assange ambassador to the United States.

[…]
On October 3, 2016, Wikileaks wrote again. "Hiya, it'd be great if you guys could comment on/push this story," Wikileaks suggested, attaching a quote from then-Democratic nominee Hillary Clinton about wanting to "just drone" Wikileaks founder, Julian Assange.

"Already did that earlier today," Trump Jr. responded an hour-and-a-half later. "It's amazing what she can get away with."

Two minutes later, Trump Jr. wrote again, asking, "What's behind this Wednesday leak I keep reading about?" The day before, Roger Stone, an informal advisor to Donald Trump, had tweeted, "Wednesday@HillaryClinton is done. #Wikileaks."