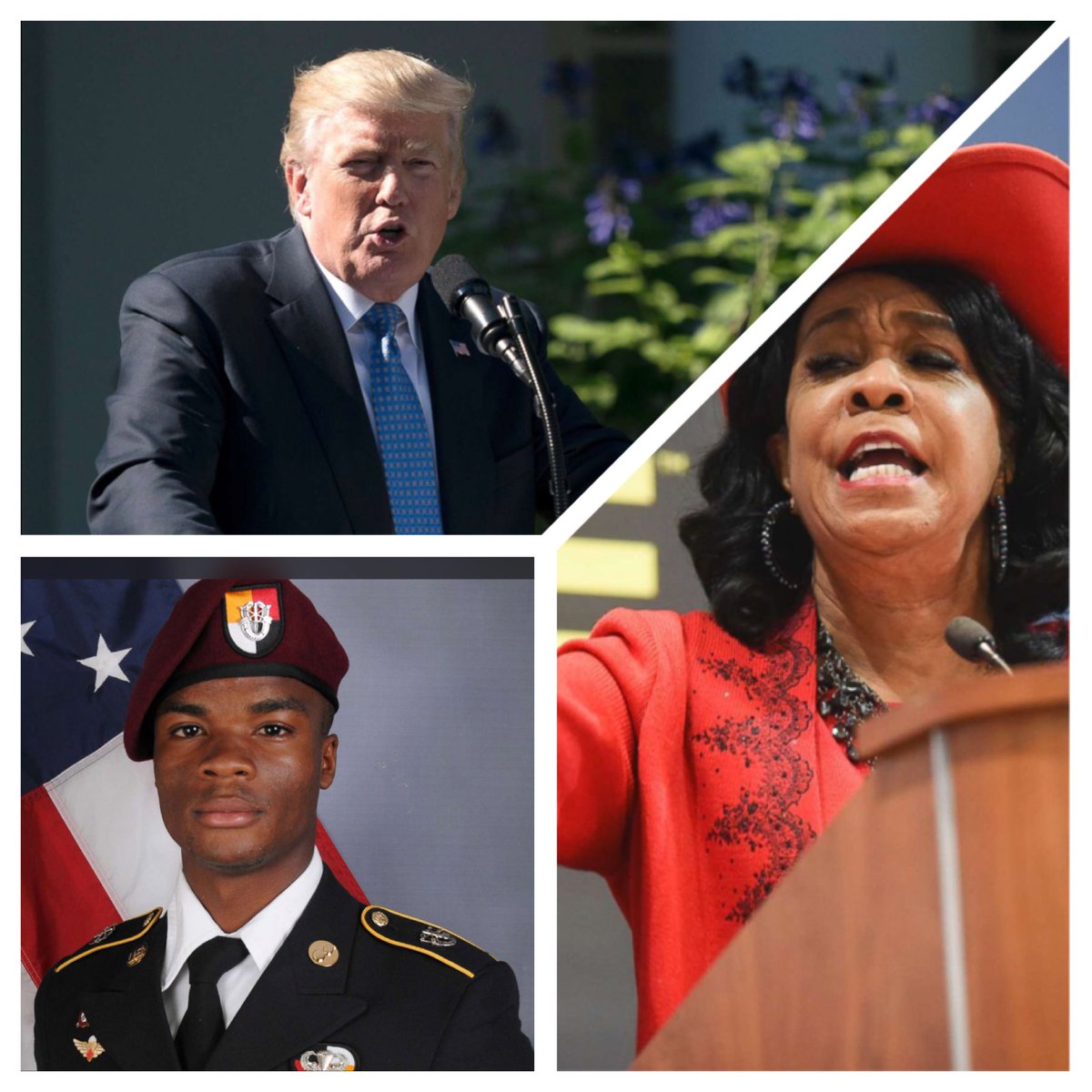 In a CNN interview, Democrat Rep. Frederica Wilson said she was on her way to the Miami airport with Myeshia Johnson to receive the body of Sgt. La David T. Johnson, when the president called.
"Basically he said, 'Well, I guess he knew what he signed up for. But I guess it still hurt.' That's what he said."
Wilson admitted to ABC News that she "didn't hear the entire conversation" and that she "just can't remember everything that he [Trump] said. But that stood out in everyone's, uh heart, on the call. You don't say that."
From Fox News:
What's going on with Wilson and Trump?
Army Sgt. La David Johnson and three other service members died in an Oct. 4 ambush in Niger. Islamic militants ambushed the soldiers.
Wilson claims she and Myeshia Johnson were in a car going to Miami International Airport to meet the soldier's body when Trump called. The fallen soldier's mother, Cowanda Jones-Johnson, told the AP Wednesday that the congresswoman's account was correct.
"Yes the statement is true," Jones-Johnson said.
Aside from his Wednesday tweet, Trump also spoke about the matter, claiming Wednesday he "didn't say what that congresswoman said, didn't say it all. She knows it, and she now is not saying it. I did not say what she said, and I'd like her to make the statement again, because I did not say what she said."
"I had a very nice conversation with the woman, with the wife who was – sounded like a lovely woman. Did not say what the congresswoman said, and most people aren't too surprised to hear that," he continued.
"I still stand by my account of the call b/t @realDonaldTrump and Myeshia Johnson. That is her name, Mr. Trump," Wilson tweeted.
Wilson did not back down from her account, suggesting that Trump "never wants to take ownership" of a mistake.
"If you are the leader of the free world, if you are president of the United States and you want to convey sympathy to a grieving family, a grieving widow, you choose your words carefully," Wilson told AP on Wednesday. "And everyone knows that Donald Trump does not choose his words carefully."
"She was crying for the whole time," Wilson said of the new widow. "And the worst part of it: when he hung up you know what she turned to me and said? She said he didn't even remember his name."
Read more: Who is Rep. Frederica Wilson, who criticized Trump for 'insensitive' remark to soldier's widow?