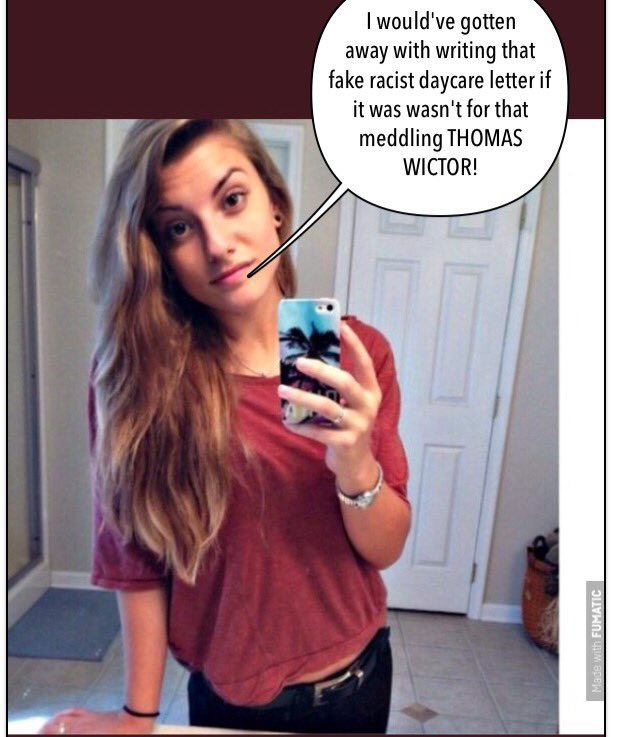 Lexi McKelley, daughter of a daycare center owner, is culprit behind racist letter?
Dominique McKelley, owner of Bridge 2 Creative Learning Center in Whitehall, Pennsylvania said she received last Tuesday a racist letter about her black employee –  The Morning Call reported .
hire a light skinned black she would blend more and not look like a 'NANNY'. She's not the fist thing a child nor the parents want to see soon as they walk in the daycare. So the choice is yours! Choose wisely remember WE THE PARENTS PAY YOUR MORTGAGE.
Thanks to investigative inquiry via twitter by author Thomas Wictor, we now know the racist letter is nothing but the hoax and the alleged culprit is the daughter of the daycare center.
I said this letter was fake.
(2) The entire town of Whitehall decided to make this infantile molehill into Mount Everest.
 The person who POSTED the letter is a mess.
The mother told the newspaper this:
Stop sending me e-mails. You accidentally admitted that you're POSING as your mother. I am the one man who you can't manipulate.
Stop harassing me, or I'll post your e-mails. Get help. Otherwise, you're doomed.
And now "Mom" is sending me semi-literate e-mails saying that I'VE DRAGGED HER DAUGHTER into it.
Going forward, leftists should stop with the FAKE RACISM ACCUSATIONS.