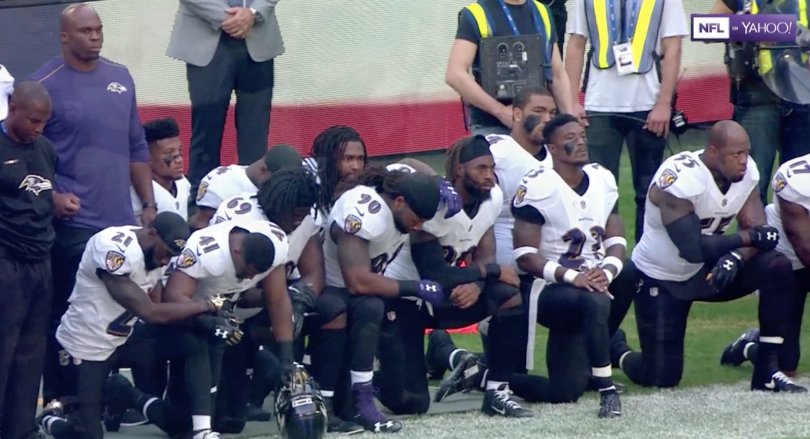 ( Daily Caller ) The 17 Baltimore Ravens and Jacksonville Jaguars players who took a knee during the presentation of the national anthem in London on Sunday have combined total contracts of nearly $450 million.
Combing the total value of each players contracts adds up to a whopping $448,373,425, a figure greater than the gross domestic product of over a handful of the world's nations.
ESPN reported that 10 Ravens players and roughly the same number of Jaguars players took a knee during the national anthem Sunday at Wembley Stadium in London.
The Ravens players include: Terrell Suggs, C.J. Mosley, Za'Darius Smith, Tim Williams, Tyus Bowser, Mike Wallace, Carl Davis, Tony Jefferson, Anthony Levine, and Lardarius Webb.
On the Jaguars sideline, Jalen Ramsey, A.J. Bouye, Calais Campbell, Yannick Ngakoue, Malik Jackson, Tashaun Gipson, and Leonard Fournette.
The players were likely kneeling in response to recent comments from President Donald Trump regarding the ongoing protests of the national anthem at NFL games across the country.
Trump said Sunday morning that NFL owners should either fire or suspend players who kneel during the national anthem, and fans should not keep watching games if players continue to protest.
Read more: http://dailycaller.com/2017/09/24/the-players-protesting-the-national-anthem-in-london-make-insane-salaries/