"Trump Village" is the new name of an 80 percent Muslim village in India
"I do not care if Trump is a Muslim baiter. All I know is he is against Muslims who cause violence and destroy countries. "
( Breitbart ) The village of Marora, a remote village in India, is celebrating a major name change that is being used not only to promote a campaign to encourage sanitation but also to celebrate U.S. President Donald Trump. The 80 percent Muslim town will now be called "Trump Village," reports say.
Located in the Mewat district in the Indian state of Haryana, in northern India, about 50 miles south of New Delhi, "Trump Village" is a town of around 2,000 residents. Along with the name change, the tiny village is undergoing a sanitation program encouraged by Indian Prime Minister Narendra Modi, who is striving to bring many of his country's small towns into the modern era.
The ceremony to rechristen the town "Trump Village" was part of the campaign to promote proper sanitation that featured the grand opening of brand new toilets as well as a new vocational training facility for the town's female population.
If anyone worried that President Trump's well-known crackdown on immigration from some war torn, majority Muslim countries would cause a controversy, few villagers seemed concerned.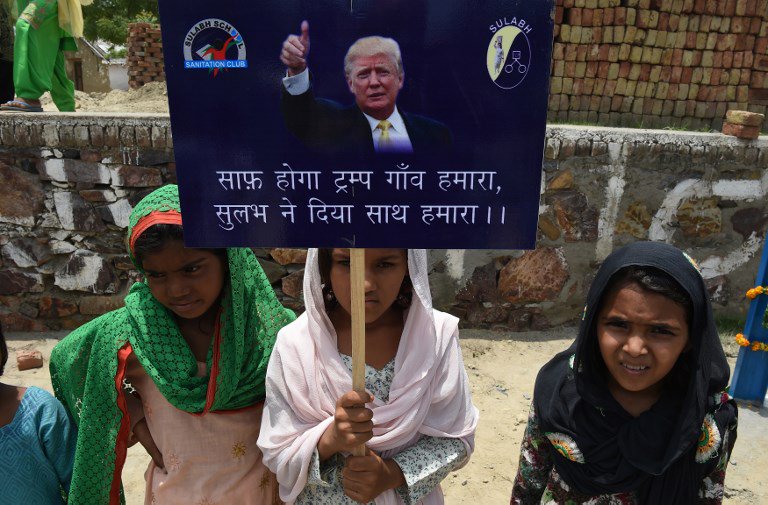 "I do not care if Trump is a Muslim baiter. All I know is he is against Muslims who cause violence and destroy countries. He is the president of a powerful country," villager Zorauddin told German public broadcaster, Deutsche Welle.
According to Sulabh International chief Bindeshwar Pathak, the idea to rename Marora "Trump Village" came to him on a visit to the U.S.
"The idea was born when I was in the U.S. recently," Pathak told DW. "Trump's slogan is 'Make America Great Again, ' and our Modi's credo is 'Make in India' so I thought why not make a humble beginning honoring the friendship of the two."
Sulabh International is an integral part of PM Modi's Clean India Campaign.
An American official was also present for the renaming of the village. According to DW, "Puneet Ahluwalia, vice-chairman of the Fairfax County Republican Committee in the U.S. and a member of Trump's Asian Pacific American Advisory Committee, was also present at the occasion and inaugurated some of the newly built toilets."
"He is the leader of the free world," Ahluwalia added. "This is a great tribute, and there are shared ideals
Read more: Town Renamed 'Trump Village' — 80% Muslim!