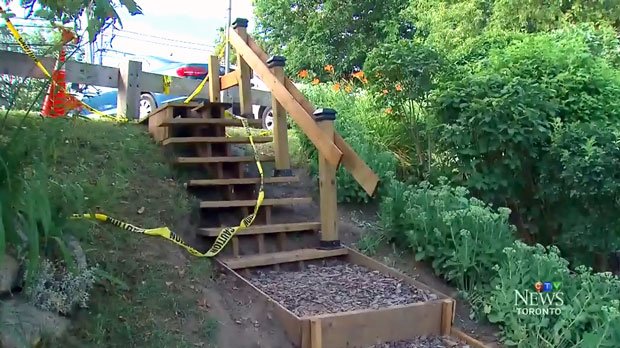 After city gave $65,000 price tag estimate for building park stairs, a Toronto man decided go ahead and build the stairs himself in his community park after several neighbours fell down the steep path. Instead of $65k, Adi Asttl only spent $550. The embarrassed city demolished the stairs for not meeting 'safety regulations' and promise to build a new one – for the price of $10,000  this time instead of original $65,000 estimate.
From CTV News:
A Toronto man who spent $550 building a set of stairs in his community park says he has no regrets, despite the city's insistence that he should have waited for a $65,000 city project to handle the problem. The city is now threatening to tear down the stairs because they were not built to regulation standards.

Retired mechanic Adi Astl says he took it upon himself to build the stairs after several neighbours fell down the steep path to a community garden in Tom Riley Park, in Etobicoke, Ont. Astl says his neighbours chipped in on the project, which only ended up costing $550 – a far cry from the $65,000-$150,000 price tag the city had estimated for the job.
City of Toronto to tear down $550 park stairs :
If you build it, they will come — and tear it down.

A City of Toronto work crew was seen in Etobicoke's Tom Riley Park early Friday morning, removing a staircase that had been erected by maverick local handyman Adi Astl. Construction on new stairs, Mayor John Tory promises, will begin immediately.

Astl's stairs, declared unsafe by city bylaw officers, were quickly cordoned off with caution tape.

….The City estimates that the new stairs will cost $10,000. In an interview with CTV News Channel from Toronto City Hall, Tory vowed to make sure that cost estimates are more reasonable in the future