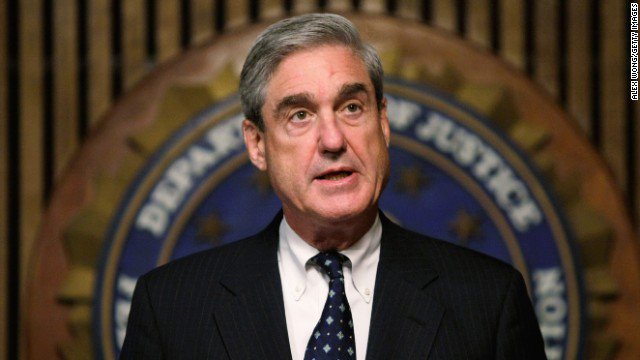 Lawnewz prediction: President Trump will fire Robert Mueller, DOJ special counsel for Trump-Russia collusion probe, in the next 100 days. "The clock starts now!"
The former FBI director and good friend of leaker James Comey is stacking his Special Counsel team with 15 Democrat donors and Obama lawyers.
Reasons cited for Mueller's firing:
– Mueller's friendship with Comey (the ultimate in disingenuous circular reasoning)

– Some other yet to be discovered and invented bias on the part of Mueller and his team

– The cost of the investigation

– The need to focus on "more important" issues
President of Judicial Watch, Tom Fitton recently called Special Counsel Robert Mueller's Russia investigation 'out of control' and argued that it should be shut down. 
Fitton: "…You know my count is 14, 15 lawyers to have working on this one investigation to investigate to investigate what? An employment dispute between Comey and the President?
I don't understand what this investigation is about. You have the conflicts caused by Comey leaking records to get Mueller appointed, you have Constitutional concerns about the way the office operates."
Lets be clear, it was extraordinary for the President to fire the FBI director. In fact, James Comey was only the second-ever to be fired in U.S. history. The President undoubtedly had the authority to do it but despite coming under fire during the 2016 election, Comey was long viewed as a fixture, a sometimes controversial but even-handed, non-partisan and eminently qualified director who would never get fired.  Especially because of the ongoing Russia investigation. Except that is exactly what happened, and why it happened. The President admitted as much. 

Since then the "witch hunt" investigation into the Trump campaign and alleged collusion with the Kremlin has taken a decidedly more perilous and personal turn for the President. And that's exactly why we think it won't be longer than 100 days before Trump pulls the trigger and "Comey" Mueller (no he can't technically fire him but he can certainly order it and make it happen). After all, as the campaign and his first few months in office prove, Trump puts his family above anything else. As information continues to seep out about the work that Mueller is doing and the subpoenas start coming, we believe the President will be increasingly frustrated and the administration will undoubtedly continue to seek to undermine Mueller's credibility. And lets be clear, by any objective standard Mueller is an unassailable, apolitical public servant.