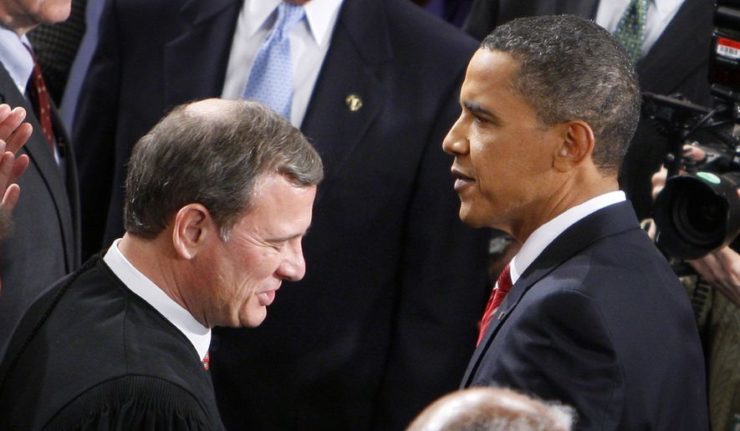 "John Roberts, the chief justice of the Supreme Court, was hacked,"

"There has been a wiretap on Trump for years." – ever since he said Obama's birth certificate is fake?

John Brennan and under James Clapper and these individuals were running domestic surveillance programs in the United States collecting information on Americans. Bank accounts, phone numbers, chats, emails, and they collected a massive amount of it under the Obama administration
Now we know why! In 2012, Supreme Court Chief Justice John Roberts shocked the entire nation when he made a "decisive vote to uphold the constitutionality of Obamacare."
It's now alleged that Roberts is another victim of Obama administration surveillance program  overseen by Obama CIA director John Brennan and Obama director of national intelligence James Clapper.  President Donald Trump is also a victim of Obama wiretapping.
While there's still no available evidence that Roberts was blackmailed, the allegation that he was "hacked" by Obama officials provides some more context into his controversial decision.
Previously released tapes made public by Federal Judge G. Murray Snow and "real estate billionaire" Timothy Bilxseth describe the surveillance program to Maricopa County Sheriff Joe Arpaio and detective Mike Zullo.
The tapes are corroborated by Wikileaks "Vault 7" release, alongside public comments by CIA and NSA contractor Dennis Montgomery, who was given immunity and who  worked on the program for Brennan and Clapper on spying on various individuals.
At the 18:00 minute mark of the tape, you can hear Blixseth's commentary:
"You know who that guy is? That's the head of the FISA court they hacked into, Reggie Walton," Blixseth tells the investigators.

"John Roberts, the chief justice of the Supreme Court, was hacked," Blixseth tells Arpaio and Zullo.
"I provided to the FBI seventeen businesses of Donald Trump, including the Trump Tower, the Trump leasing programs, all of these different programs, and including Trump himself and the various family members that had been wiretapped under these programs," Montgomery said in a recent interview. "There has been a wiretap on Trump for years."
"I started by going to Maricopa County and showing that Sheriff Arpaio himself was wiretapped under the Obama administration," the whistleblower said.
"I was a CIA contractor both under John Brennan and under James Clapper and these individuals were running domestic surveillance programs in the United States collecting information on Americans. This isn't political. They were collecting information on Republicans and Democrats. But they collected everything they could find. Bank accounts, phone numbers, chats, emails, and they collected a massive amount of it under the Obama administration," Montgomery said.
Read the full report here.