Barack Obama warns of " an aggressive kind of nationalism" – how about aggressive and dangerous kind of 'religionism' like radical Islam? Obama also praises Islamic Indonesia for its 'tolerance and its Constitution.'
INDONESIA 'TOLERANCE' IS FAKE NEWS! Indonesia adopts sharia law and when there's sharia, there's zero tolerance. The country has increased its crackdown on LGBT communities. Last month, two men in Aceh were publicly flogged for being gay. Jakarta Governor Basuki Tjahaja Purnama, an ethnic-Chinese Christian, was sentenced in May to two years in prison for blasphemy in a trial that came after mass Islamist-led rallies last year.
JAKARTA (Reuters) – When an angry mob of Islamists threatened to burn down a place hosting a gay and lesbian film festival in Jakarta in 2010, Indonesian police came to protect those staging it.

A volunteer at the festival, Adi, 28, now fears that instead of safeguarding their rights authorities are targeting his community, forcing them to hide their lifestyles or even consider moving abroad.

Indonesia's Islamists have long sought to criminalize gay sex. The Islamic Defenders Front (FPI), the vigilante group that threatened the now defunct Q! film festival in Jakarta, has previously broken up what they said were gay parties and then urged the police to detain the men. But what is sending a new chill through the gay community is that police seem to have taken on the vice patrol role themselves. In May, officers detained 141 men in a raid on the Atlantis sauna, accusing them of involvement in a gay prostitution ring in a part of Jakarta that is also home to many heterosexual "spas".

A month earlier, police raided a hotel in Indonesia's second-biggest city of Surabaya over an alleged "sex party" and made the 14 detained men undergo HIV tests before publicly releasing the results, local media reports said.
ABC News reports:
"The spirit of this country has to be one of tolerance. It's enshrined in Indonesia's constitution, it's symbolized by mosques and temples and churches beside each other," Obama said. "That spirit is one of the defining things about Indonesia. It is one of the most important characteristics to set as an example for other Muslim countries around the world."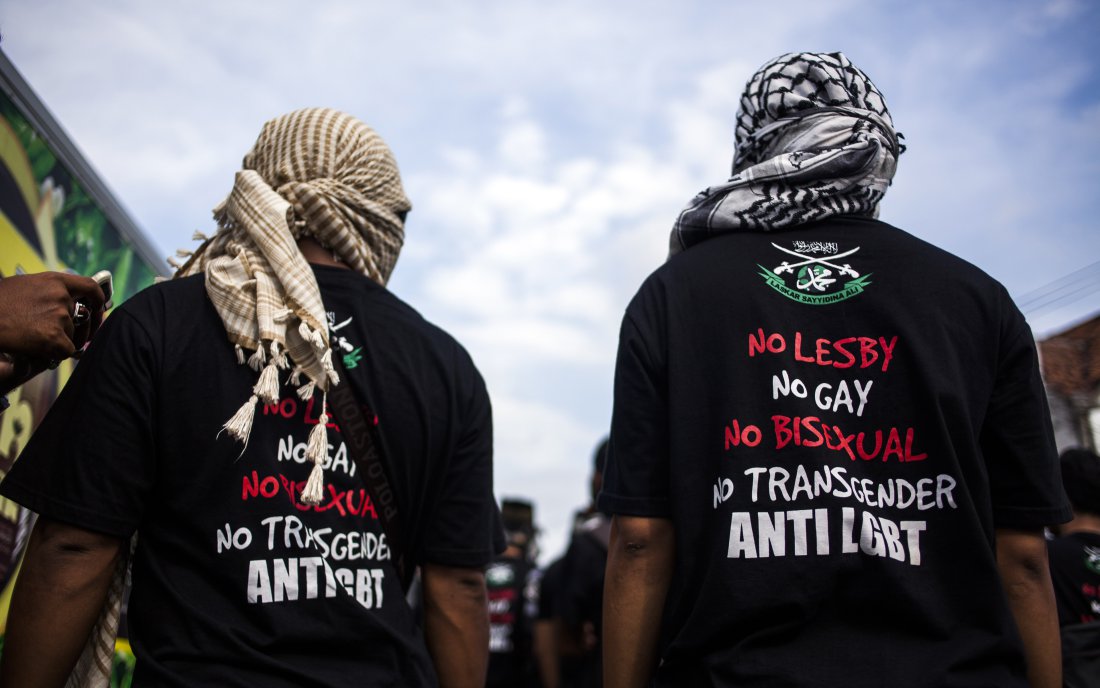 Here's Obama's speech on the danger of adopting an "an aggressive kind of nationalism."
Via The Guardian:
Barack Obama has called on the world to stand up for tolerance, moderation and respect for others – warning that sectarian politics could lead to chaos and violence.

The former US president said some countries had adopted " "an aggressive kind of nationalism" and "increased resentment of minority groups", in a speech in Indonesia on Saturday that could be seen as a commentary on the US as well as Indonesia.

But he said that increased prosperity had been accompanied by new global problems, adding that as the world confronts issues ranging from inequality to terrorism, some countries – both developed and less developed – had adopted a more aggressive and isolationist stance.

"If we don't stand up for tolerance and moderation and respect for others, if we begin to doubt ourselves and all that we have accomplished, then much of the progress that we have made will not continue," he said.

"What we will see is more and more people arguing against democracy, we will see more and more people who are looking to restrict freedom of the press, and we'll see more intolerance, more tribal divisions, more ethnic divisions, and religious divisions and more violence."